id: b652n3
Na realizację orkiestrowo-chóralnego dzieła muzycznego
Na realizację orkiestrowo-chóralnego dzieła muzycznego
Our users created 934 493 whip-rounds and collected 922 471 299 zł
What are you collecting for today?
Description
Pracuję zawodowo jako nauczyciel akademicki i nauczyciel w liceum. Moimi największymi fascynacjami naukowymi są czas i świadomość. Z wykształcenia jestem fizykiem teoretycznym, biologiem (ze specjalnością genetyka), filozofem, pedagogiem, muzykiem (muzyka sakralna). Aktualnie studiuję teologię, psychologię kliniczną oraz realizuję studia podyplomowe z zielarstwa i fitoterapii, arteterapii i muzykoterapii. Moje najbliższe plany związane z edukacją dotyczą studiów z matematyki teoretycznej na Uniwersytecie Wrocławskim oraz studiów artystycznych na ASP.
Marzę o tym, by zrozumieć naturę czasu, by pojąć świadomość, by dogłębnie poznać procesy starzenia się organizmów, a wszelkie moje badania naukowe ilustruję tworząc muzykę i malując obrazy. Sądzę, że pomiędzy naukami, sztuką i filozofią istnieją liczne morfizmy (pojęcie zaczerpnięte z teorii kategorii, która jest aktualnie jednym z przedmiotów moich fascynacji naukowych), które niekiedy nie są przez nas natychmiast dostrzegalne. Czuję się w dużej mierze niedostosowana do aktualnej rzeczywistości. Mam wielkie marzenia, jednak nie wystarczy mi środków na ich realizację.
Skomponowaną przeze mnie muzykę w formie midi znaleźć można na moim kanale na YouTube pod linkiem: https://www.youtube.com/@svenesssemeloduria/videos
Pewną część obecnej tam muzyki skomponowałam jako nastolatka. Później została ona spisana na orkiestrę i chóry.
Jednym z moim marzeń jest nagranie Septalogii w wersji orkiestrowej, jednak takie przedsięwzięcie jest niezwykle kosztowne. Muszę bowiem zapłacić za realizację muzyki częściowo przez orkiestrę komputerową, częściowo zaś przez muzyków. Chciałabym, by ta muzyka stała się żywa.
Moja septologia nosi tytuł "He Archiereia". To słowo pochodzi z języka greckiego, a po polsku brzmi "Arcykapłanka". To opowieść o ciernistej drodze, na której końcu czeka nas Świt - alegoria zbawienia lub zmartwychwstania. Muzyka nawiązuje do rozmaitych motywów z dziedziny nauk ścisłych, przyrodniczych, jak i humanistycznych ze szczególnym uwzględnieniem filozofii i teologii.
Nie zarabiam dostatecznie wiele, by móc podjąć się tej realizacji. Zależy mi na tym, aby na moje marzenie złożyły się te osoby, które zainteresuje ta muzyka oraz opowiadana muzycznie historia.
Będę wdzięczna każdemu, kto zechce przyjść z pomocą. Chciałabym móc podarować światu to, co we mnie najlepsze. Muzyka jest zaś początkiem mojej drogi. Stanowi moje osobiste preludium.
The world's first Payment Card. Accept payments wherever you are.
The world's first Payment Card. Accept payments wherever you are.
Find out more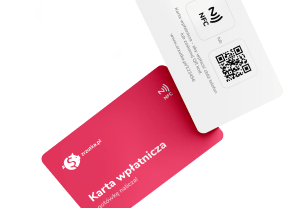 Nobody create moneybox for this whip-round yet. your moneybox may be the first!