id: sdfkc4
Leczenie glejak gwiaździak anaplastyczny III stopnia
Leczenie glejak gwiaździak anaplastyczny III stopnia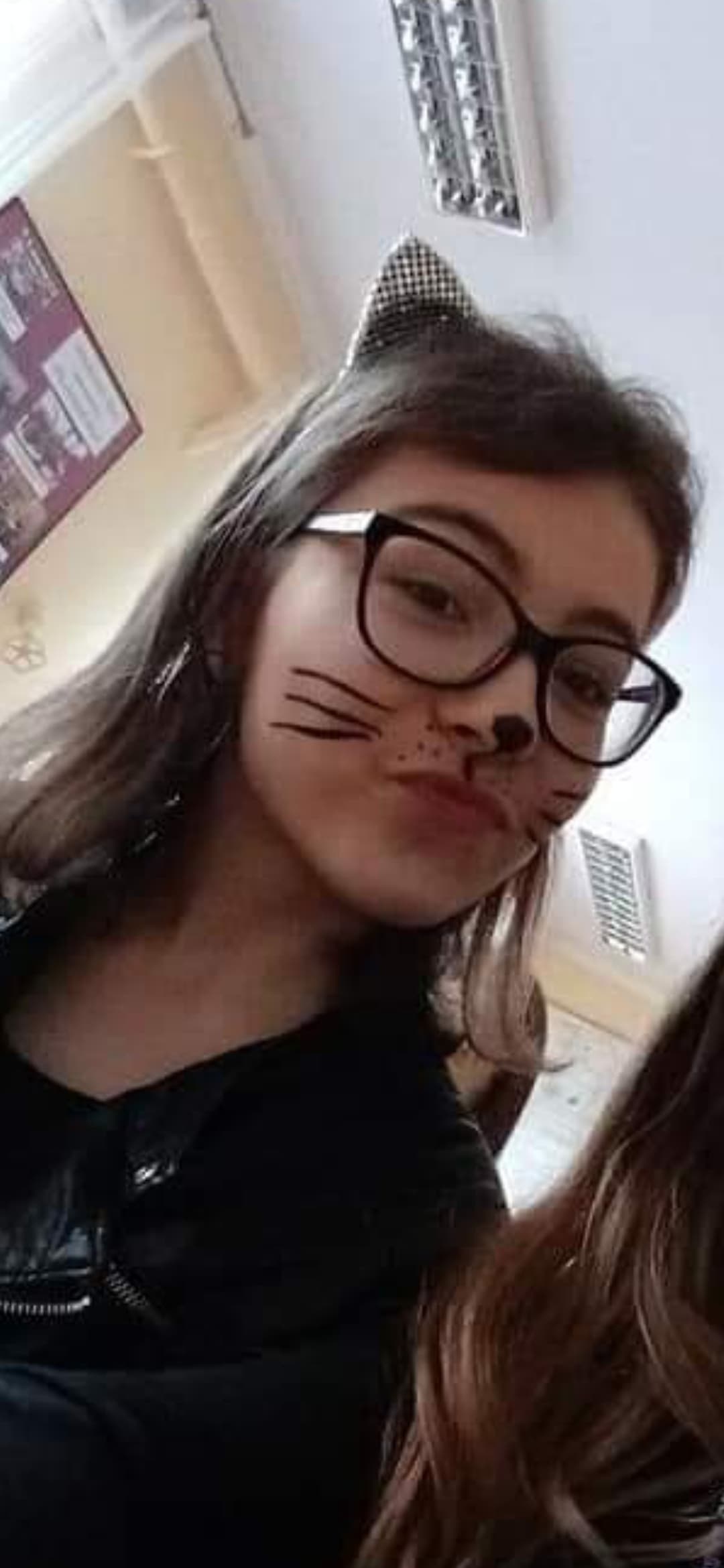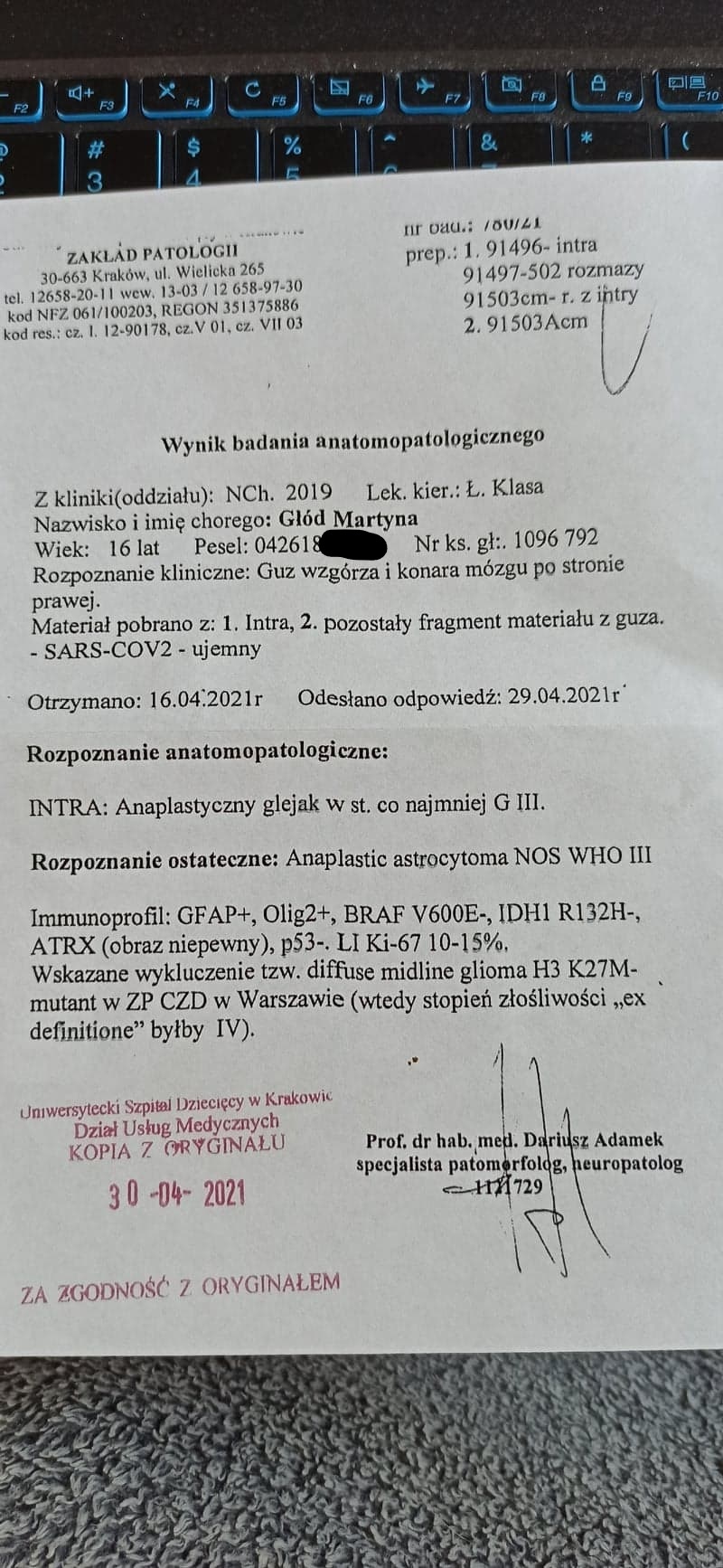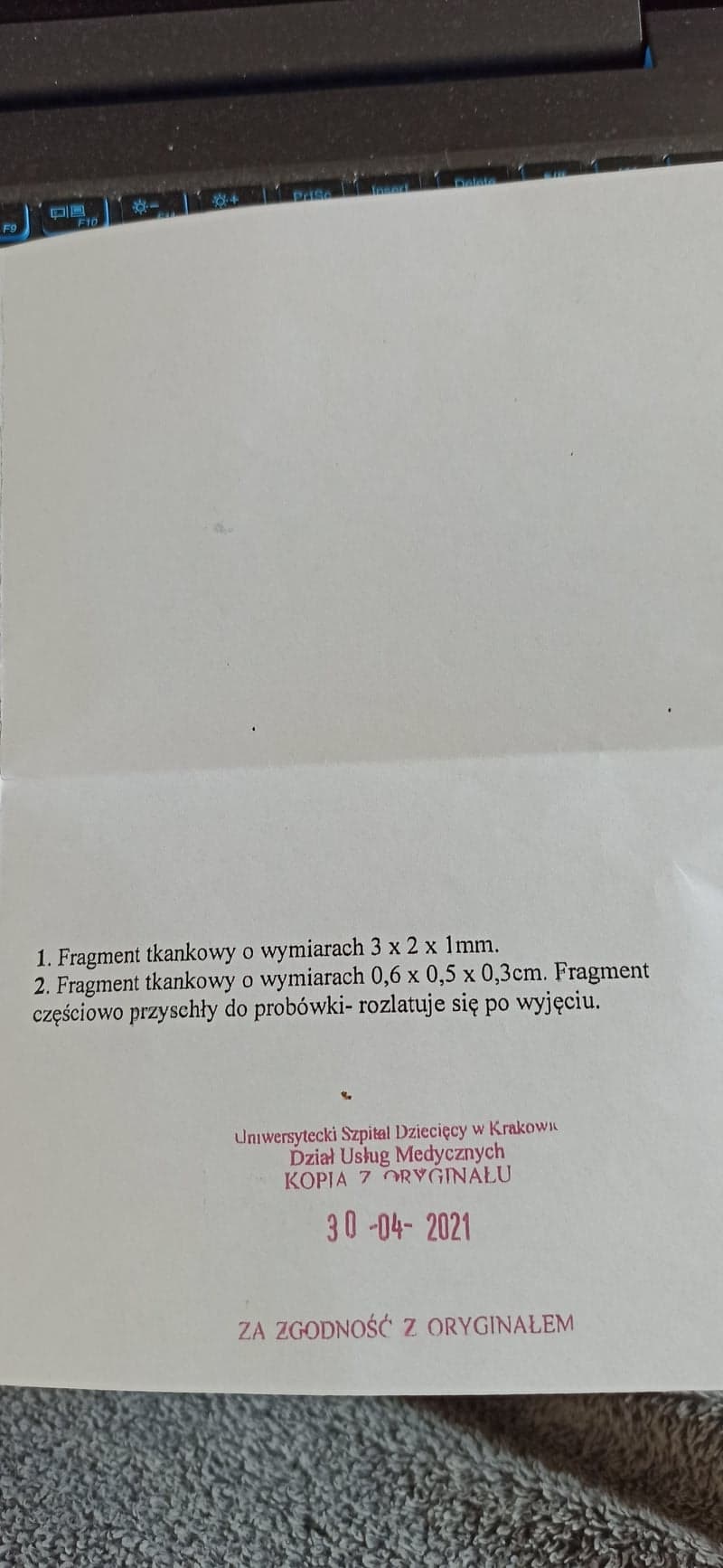 The organizer verified the description with proper documents.
118 645 zł
from 300 000 zł
Donate
Zrzutka.pl does not charge any commission
Description
POTRZEBNA POMOC!!!!!!!!
Od dwóch lat jestem wychowawczynią Martyny. To bardzo ciepła, miła, wrażliwa i kulturalna osoba z prawie 100% frekwencją i dobrymi wynikami w nauce. Kiedy zaczęło się nauczanie online, Martyna poczuła się źle: opuszczała zajęcia, pogorszyły sie też jej wyniki w nauce. Rodzice nie zbagatelizowali sytuacji. Myśląc, że ich córka popadła w depresję (co w dzisiejszych czasach nikogo już chyba nie dziwi...), zapewnili jej opiekę psychologa. Kiedy w połowie kwietnia wydawało się, że wszystko wraca do normy, bo Martyna na nic sie nie skarży, do tego podnosi sie jej frekwencja i oceny są coraz lepsze, okazuje się, że to tylko cisza przed burzą... Silne wymioty i mocno podwyższony puls sprawiają, że karetka zabiera Martynę do szpitala w Nowym Sączu. Tu szybkie badania krwi, tomograf i wyrok brzmiący : ZŁOŚLIWY GUZ MÓZGU
Szybki transport do Krakowa, bo w Nowym Sączu choć nowy i piękny oddział onkologii, to nie dla dzieci... Czekając z nadzieją, że może to jakaś pomyłka, albo zły sen rodzice otrzymują wyniki badania anatomopatologicznego: GLEJAK GWIAŹDZIAK ANAPLASTYCZNY III STOPNIA... Kojejny cios w serce dla rodziców, rodziny, przyjaciół... 16 kwietnia Martyna przeszła operację wycięcia guza - niestety nie udało się usunąć go w całości... Nerwy i stres nasilają się, bo po operacji Martyna jest lewostronnie sparaliżowana i - co dla każdej kobiety jest największym koszmarem - ma ogoloną głowę... Jednak dalej walczy i nie poddaje się! Koleżanki z klasy przekazują listy, wspólne zdjęcia, pluszaki i słodycze. Martyna zaczyna się uśmiechać!!! Udało sie! - pomyślałam. Wróciły motywacja do rehabilitacji i chęć do życia! Każda godzina wychowawcza, to setki pytań, jak Martyna sie czuje, czemu nie odpisuje na smsy, kiedy wraca itd. Obecnie Martyna jest po pierwszej serii chemii, którą źle znosi... Wypisana do domu po trzech dniach wróciła do szpitala z bardzo wysoką gorączką i bakterią...
Rodzice szukają pomocy za granicą, bo tam są innowacyjne i sprawdzone metody walki z glejakiem, są to jednak koszty przekraczające wszelkie oczekiwania
oraz możliwości rodziców... Mama pracuje na pół etatu, a tata po ciężkim wypadku samochodowym jest na chorobowym. Na domiar złego niedawno przeszedł ciężko koronawirusa, który uszkodził płuca i również wymaga rehabilitacji... Godzina rehabilitacji Martyny to kwota 100 zł, a musi być rehabilitowana codziennie! Dlatego zwracam się do każdego z was z prośbą o pomoc Martynie w powrocie do normalnego życia!!! Liczy sie każda złotówka, bo dla nas to tak niewiele, a dla Martyny to całe jej życie!!!
DZIĘKUJĘ!!!
"Jakże byłoby pięknie, gdyby każdy z nas mógł wieczorem powiedzieć: dzisiaj zrobiłem gest miłości wobec drugiego" (Papież Franciszek
The world's first Payment Card. Accept payments wherever you are.
The world's first Payment Card. Accept payments wherever you are.
Find out more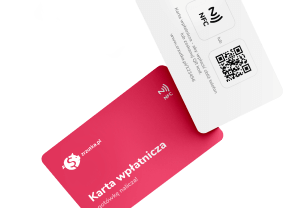 Contributors 798
Our users created
742 871 whip-rounds
and collected
527 600 789 zł
What are you collecting for today?