id: 2mddfn
Na zęby dla Rekina
Na zęby dla Rekina
Description
Na zęby dla Rekina, bo mu wypadają
Zbiórka na zęby dla Rekina!
Rekin zębów niestety potrzebuje,
aczkolwiek nie ukrywa, że bez zębów też da się żyć. Nie jest to zatem zbiórka ratująca życie, a jedynie marne uzębienie. Rekin z uzębieniem ma kłopoty od czasów bezdomności, ale akurat w ciągu ostatniego miesiąca rekinia próchnica gwałtownie się pogorszyła. Jedna szóstka praktycznie wypadła, piątka trzyma się na słowo honoru, w trójce dziura jest na pół zęba, a to tylko prawa dolna połowa szczęki. Do zrobienia "na wczoraj" jest osiem zębów i należy tylko liczyć na cudotwórstwo moich dentystów, iż dadzą radę BEZ leczenia kanałowego, bo ile ono kosztuje, pisać nie muszę.
U Rekina problemy biorą się stąd, że
ma w paszczęce przetokę nad martwą od dawna piątką. Niestety, usunięcia tego skunksa i siedliska bakterii podejmie się jedynie chirurg szczękowy, do któregoż to Rekin grzecznie czeka w kolejce od jakiegoś roku. Ma się doczekać pod koniec września, można trzymać kciuki. Ponieważ w paszczęce Rekina od przetoki i marnych zwłok zęba trwa nieprzerwane niczym piękne zakażenie, to zęby mają z Rekinem Ciężkie Życie. Więc i zęby Rekina wyglądają... Cóż, w tym wypadku niepięknie.
Do tej pory Rekin chciał to jakoś
ciułać ząbek po ząbku na NFZ, ale tym razem dentysta był już zdecydowany. Albo na prywatnie robimy ile się da teraz, albo żegnamy się z zębami, bo z terminami na NFZ uratować się ich po prostu nie da. Zbiórka powinna być na 1040 zeta, ale licząc na to, że każdy ząb nie będzie kosztować więcej, niż 130 zeta. Bez znieczuleń, ale znieczuleń mi nie trzeba, Rekin dobrze znosi ból szczęki. Niestety zbiórka zakłada też, że kanałowe nie będzie konieczne, ale też nie zakłada też zmian kosmetycznych, na przykład odbudowy złamanej dwójki górnej.
Jeżeli chcecie, mogę wam pokazać zdjęcia mojej paszczęki, a nawet przetoki, aczkolwiek to trochę gore. Z drugiej strony, jeżeli pokażę też zdjęcia "po", docenicie kunszt kolbudzkich dentystów (a są to lekarze i artyści, pszepaństwa, nie ukrywam. Cudotwórcy takoż). Jeżeli pożądacie zatem gore zdjęć, dajcie znać. Z pomocą małża Rekin się podejmie wyzwania.
Rekin macha płetwą każdemu, kto zechce wspomóc uzębienie rekina w nierównej walce!
(może też podziękować w terminie dalszym ciastkami i przetworami!)
The world's first Payment Card. Accept payments wherever you are.
The world's first Payment Card. Accept payments wherever you are.
Find out more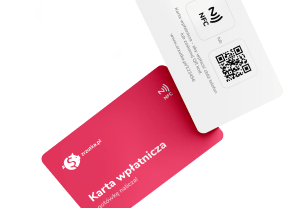 Our users created
894 658 whip-rounds
and collected
839 109 611 zł
What are you collecting for today?