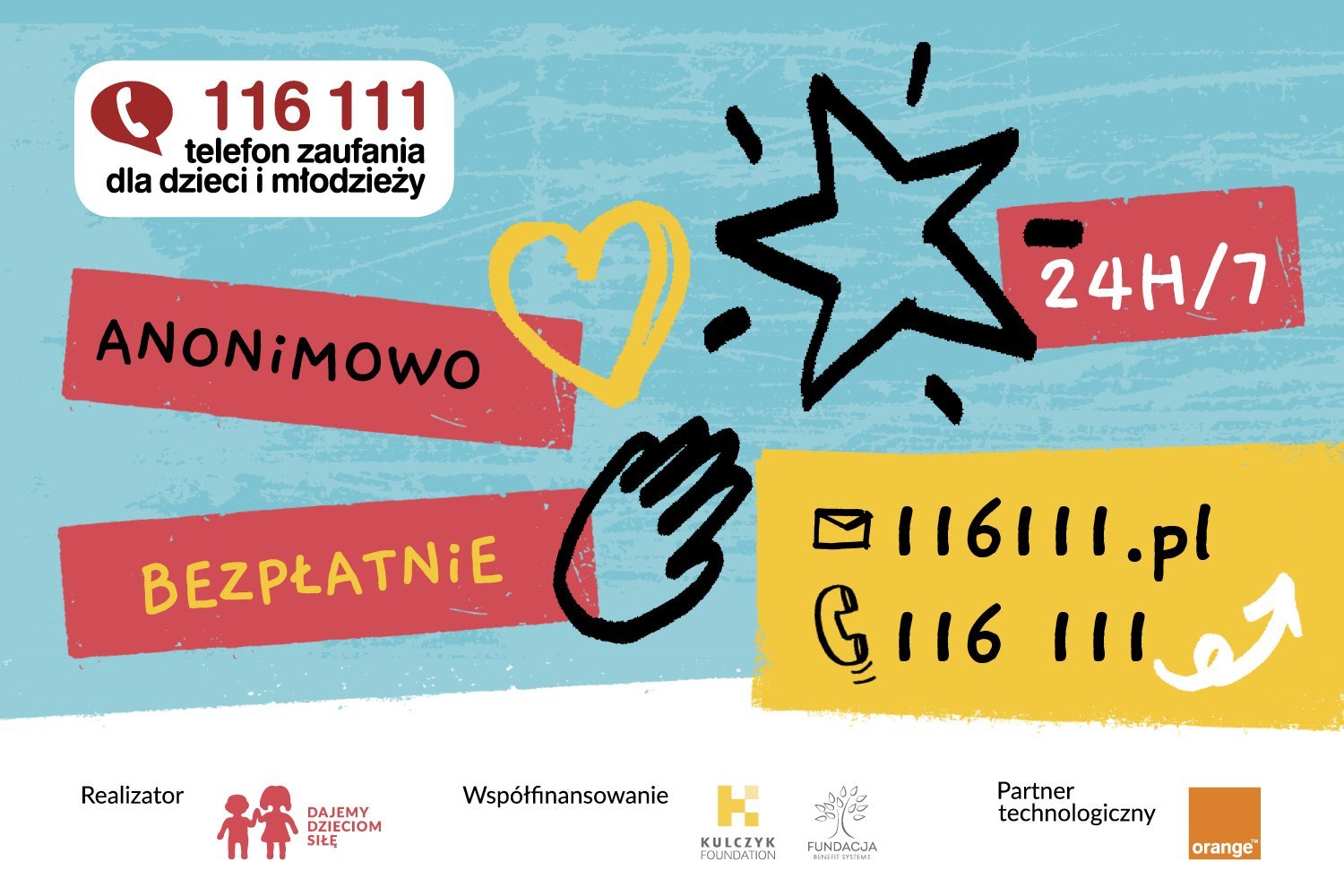 id: 36b5gm
Telefon Zaufania 116 111 - ratujmy dzieci, nie pozwólmy zamknąć infolinii
Telefon Zaufania 116 111 - ratujmy dzieci, nie pozwólmy zamknąć infolinii
Whip-round was turned off by organizer
Inactive payments - the required operation of the organizer of the whip-round. If you are a organizer -
log in
and take the required action.
Share
Our users created 978 793 whip-rounds and collected 998 754 038 zł
What are you collecting for today?
Description
Rocznie ponad 1200 dzieciaków próbuje odebrać sobie życie. To czworo dzieci dziennie.
Dziecięca psychiatria leży - w aż pięciu województwach nie było w 2020 choćby jednego dziennego oddziału psychiatrii dziecięcej.
W takich okolicznościach rząd PiS postanowił nie wspierać już finansowo Telefonu Zaufania prowadzonego przez Fundację Dajemy Dzieciom Siłę - na ten cel Fundacja nie dostanie już ani złotówki.
W zamian, pod koniec 2020, rząd uruchomił własny, działający przy Biurze Rzecznika Praw Dziecka "Dziecięcy Telefon Zaufania".
Jak będzie działał - nie wiemy. Wiemy jednak, że to Minister Edukacji w tym właśnie rządzie bagatelizuje zjawisko depresji wśród dzieci i młodzieży. Zaś Rzecznikiem Praw Dziecka jest człowiek, który zasłynął tezą, że "klaps to nie bicie", tylko metoda wychowawcza.
Zbierzmy pieniądze na dalsze funkcjonowanie Telefonu Zaufania.
Czas działania infolinii: 24/7
Zespół: 65 osób - (psycholodzy), w tym 18 na umowie o pracę, pozostali na zlecenie lub B2B, 14 stażystów (absolwenci lub studenci ostatniego roku psychologii i pokrewnych kierunków).
Budżet na 2022 : ok 3,5 mln zł samych kosztów merytorycznych (w trybie 24/7)
Jeśli zbierzemy 350 tys zł, infolinia zostanie jedynie ograniczona - przestanie działać w godzinach 3.00 - 7.00. Wiemy jednak, ze to duża strata - w tych godzinach zdarzają się interwencje ratujące życie.
Jeśli jednak zbierzemy 1 mln zł, te pieniądze umożliwią działanie infolinii 116 111 przez całą dobę, w wariancie 6 stanowisk w dzień i 3 w nocy. W takim wariancie, specjaliści mogą odbierać 25% połączeń i odpowiadać na wszystkie wiadomości online.
Zbierzmy te pieniądze, a PiS-owi krzyż na drogę.
Uratujmy dzieci, które być może będą żyć tylko dlatego, że na czas dodzwonią się i dostaną pomoc. Pomoc oferowaną przez profesjonalistów.
Może dzięki temu nie rzucą się pod pociąg.
Zróbmy to!
The world's first Payment Card. Accept payments wherever you are.
The world's first Payment Card. Accept payments wherever you are.
Find out more