Mistrzostwa Świata Aerial Hoop Pomóż nam podjąć to wyzwanie!
ID: 3dz4bs
Mistrzostwa Świata Aerial Hoop Pomóż nam podjąć to wyzwanie!
ID: 3dz4bs

6 956 zł
6 956 zł
from 8 000 zł
ended
ended
05.09.2019
36
36
contributors
Donate
Description
Witajcie! Przedstawiam Wam Julię, która ma 8 lat i na co dzień uczęszcza do Niepublicznej Szkoły Baletowej Ramada. Dodatkowo ćwiczy akrobatykę powietrzną na kole Aerial Hoop, pasję tą trenuje pod okiem Pani trener Katarzyny Golomb, to właśnie dzięki Pani Kasi, Julia może rozwijać skrzydła! I tak właśnie się stało, w czerwcu po raz pierwszy, Julia wzięła udział w Mistrzostwach Polski w akrobatyce powietrznej, organizowanych przez Polish Federation Air Power Athletic w Lublinie i zajmując 5 miejsce otrzymała awans na Mistrzostwa Świata!! Mistrzostwa "POSA AERIAL WORLD CHAMPIONSHIP" będą w Hiszpanii w dniach 6-7 września 2019 i bardzo chcielibyśmy tam reprezentować Polskę. Niestety każdy sport kosztuje, a taki wyjazd to duży koszt, na który składa się: - opłata wpisowa na zawody - dodatkowe treningi - dres spełniający wymogi federacji - przelot - wyżywienie oraz zakwaterowanie. Tylko dzięki Waszemu wsparciu możemy zrealizować ten wyjazd! Jeżeli nie uda nam się nazbierać pieniążków na wyjazd to szansa przepadnie, a jest to wielka szansa i zaszczyt wystąpić na arenie międzynarodowej i reprezentować flagę biało-czerwoną! Będzie nam niezmiernie miło, jeśli przyłączycie się do udziału w Mistrzostwach Świata! Wierzymy że wspólnymi siłami nam się uda. *Zbierana kwota obejmuje koszt wyjazdu wraz z opiekunem, gdyż Julia jest niepełnoletnia. Baaardzo prosimy o pomoc! Za każdą kwotę będziemy ogromnie wdzięczni. Z góry dziękujemy :* Julia i mama Grażyna PS: Zapraszamy do zapoznania się z naszą stroną na instagramie :)https://www.instagram.com/zuzia_julia_lesniewska/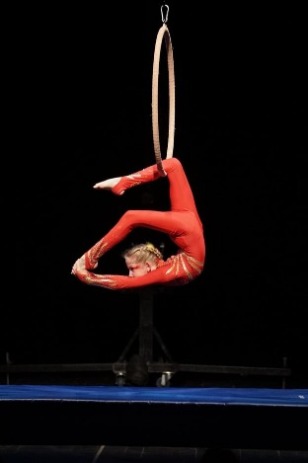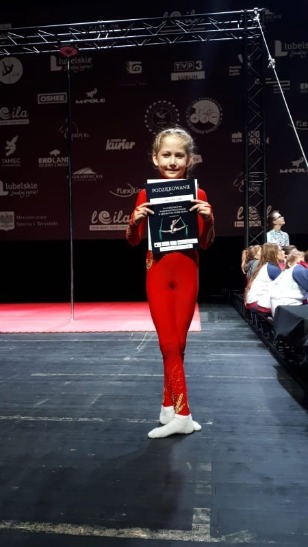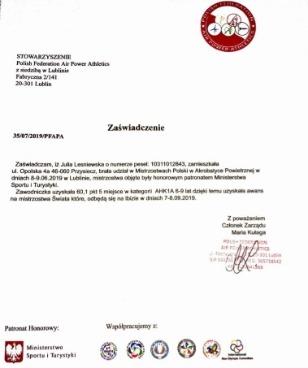 Zaświadczenie
potwierdzające kwalifikacje do udziału w
Mistrzostwach Świata
Our users created
539 695 whip-rounds
---
What are you collecting for today?