id: 7umshp
Na cele charytatywne zbiórek #TURBOPOMOC
Na cele charytatywne zbiórek #TURBOPOMOC
Description
Zaczęło się całkiem skromnie – w 2016 roku realizowałem przejazdy moim Audi S5 w celach charytatywnych, aby uzyskane w ten sposób środki przekazać najbardziej potrzebującym, czyli chorym i niepełnosprawnym dzieciom z naszego regionu. Wtedy też dotarło do mnie, jak wiele jest takich dzieciaków, które potrzebują finansowej pomocy, aby zyskać szansę na zdrowie i lepsze życie. Rozwiązaniem stała się akcja #TURBOPOMOC, która łączy dwie moje pasje: motoryzację i pomoc innym.
Od 2016 roku wiele się zmieniło, ponieważ akcja nabrała rozpędu, a każdy event przyciąga coraz więcej odbiorców, co nas niesamowicie cieszy, bo jesteśmy w stanie pomagać na jeszcze większą skalę. W #TURBOPOMOC angażuje się też wiele znanych YouTuberów (np. Poczciwy Krzychu, Duży w Maluchu, Budda, Buczo, Sylwia Peretti i wielu, wielu innych – zobacz ich wypowiedzi na naszym kanale #TURBOPOMOC - YouTube)
W samym tylko 2020 roku zebraliśmy 94.636 złotych, które rozdysponowaliśmy pomiędzy:
·        Stowarzyszenie Rodziców i Opiekunów Dzieci Niepełnosprawnych "Dać Szansę" w Wadowicach,
·        Specjalny Ośrodek Szkolno-Wychowawczy w Kaczynie,
·        Towarzystwo Przyjaciół Dzieci,
·        Koło Dzieci Niepełnosprawnych w Wadowicach
oraz poszczególnych podopiecznych naszej Fundacji (m.in. Lena i Miłosz), którzy potrzebują kosztownego leczenia, by zyskać szansę na normalne życie.
Niestety eventy, które są głównym źródłem pozyskiwania funduszy wymagają wielomiesięcznych przygotowań, a potrzeby podopiecznych są stałe. Przykładowo Lenka potrzebuje jeszcze jednej operacji, a potem długiej rehabilitacji, by móc chodzić o własnych siłach, a Miłoszek kosztownej terapii leczenia wzroku (obecnie widzi tylko jasną plamę światła). A to tylko kropla w morzu potrzeb, bo z każdym miesiącem przybywa nam podopiecznych, którym MUSIMY pomóc.
Wybitny lekarz i pedagog powiedział, że gdy śmieje się dziecko, to śmieje się cały świat. W takim razie, co się dzieje, gdy takie dziecko płacze… Naszym celem jest podarować uśmiech podopiecznym Fundacji, a możemy tego dokonać z Twoją pomocą. W końcu mottem Fundacji jest #RAZEM MOŻEMY WIĘCEJ, więc głęboko wierzę, że razem faktycznie odmienimy życie wielu dzieciaków.
Działamy na wielu polach, aby nigdy nie zostawiać podopiecznych bez opieki. Założyliśmy stronę internetową (https://www.turbopomoc.pl/) z podpiętym pod nią sklepem online, z którego dochód jest w całości przekazywany na cele Fundacji.
Dodatkowo organizujemy duże eventy motoryzacyjne, podczas których można m.in. licytować przejazdy samochodami czy korzystać z innych atrakcji udostępnionych przez sponsorów. Te eventy to główny trzon naszej Fundacji, ponieważ pozwalają nam docierać do coraz większej liczby odbiorców. Dlatego też każde kolejne wydarzenie jest większe od poprzedniego – zrzesza więcej ochotników, wolontariuszy, ale także uczestników i podopiecznych. Każde kolejne pozwala także zebrać więcej funduszy dla naszych podopiecznych, co daje nam ogromną satysfakcję, bo to przecież dla nich działamy.
Potencjał akcji #TURBOPOMOC jest ogromny, dlatego nie zwalniamy tempa, jednak równocześnie zdajemy sobie sprawę, że sami nie damy rady, więc potrzebujemy Twojej pomocy. Wiemy, że chcemy pomagać na wielu frontach, dlatego też we współpracy z Wydawnictwem Expertia i w porozumieniu z kolumbijską fundacją Regalando Sueños, stworzyliśmy projekt nowoczesnej i dalekosiężnej edukacji w Kolumbii. Dlaczego tam? Ponieważ potrzebujący są wszędzie i nie sposób przejść obojętnie obok czyjegoś cierpienia, a ten projekt pozwala nam nie tylko pomagać tu i teraz, ale również stworzyć pozytywny efekt domina: zapewnienie odpowiedniej edukacji w najuboższych regionach świata pozwoli zatrzymać spiralę biedy, przemocy i niezrozumienia, która jest zbyt mocno nakręcona w wielu miejscach na ziemi.
Więcej o tym projekcie możesz przeczytać tutaj: https://www.turbopomoc.pl/aktualnosci/w/nowy-projekt-fundacji-turbo-pomoc-wydawnictwa-expertia-oraz-experta-w-bentleyu/
To nadal nie koniec, bo nie wykluczamy także innych form pomocy (np. reagowanie na sytuacje kryzysowe, pomoc zwierzakom w schroniskach itd.).
Możesz nam w tym pomóc – pośrednio i bezpośrednio. Ambitne projekty, które realizujemy, wymagają pracy wielu wolontariuszy, a organizacja eventów współpracy z innymi fanami motoryzacji, więc możesz się do nas zgłosić i wspólnie działać w tym celu. Z kolei pośrednia pomoc – jednak nie do przecenienia, bo bez niej nie jesteśmy w stanie pomagać w najefektywniejszy sposób – to m.in. wsparcie naszej zbiórki.
Hasło "każda złotówka ma znaczenie" to nie pusty frazes, lecz zdanie, które ma ogromną moc, bo faktycznie każda wpłata ma duże znaczenie. W końcu #RAZEM MOŻEMY WIĘCEJ.
Prosimy również o udostępnienia linku do zbiórki, co pozwoli nam dotrzeć jeszcze większej liczby osób.
Z góry dzięki #TURBOPomocniku!
Benefits of a recurring support:
The organizer receives 100% of your funds - we do not charge any commission
You remain in full control - you can stop the support at any time without any obligations
The organizer can fully focus on his work
You get permanent access to posts and a special distinction
You don't have to remember about the next payments
It's easier than you think :)
The world's first Payment Card. Your mini-terminal.
The world's first Payment Card. Your mini-terminal.
Find out more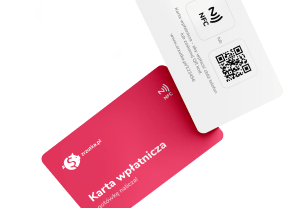 Nobody create moneybox for this whip-round yet or none of the moneyboxes have raised funds.
Support your passion. Regularly.