id: 7vrzkb
Pomoc wzajemna, nie przemoc systemowa
Pomoc wzajemna, nie przemoc systemowa
Donate
Zrzutka.pl does not charge any commission
Description
We're Supporting :
🖤 Fundacja Feminoteka
🖤 NBF NOWY BYT FEMINISTYCZNY
Poland is currently in the infamous top of the list of countries where access to safe and legal abortion is at best very difficult, and by large almost impossible.
At the moment, termination of the pregnancy can only be legally performed when one of the three conditions listed in the Act on 1993 family planning are in place: when a woman's life or health is at risk, when a pregnancy is the result of rape or incest, and where prenatal testing shows incurable foetal deformity.
This law was de facto a rotten "compromise" between the conservatives, the centrists and the Catholic Church. It criminalizes the right to abortion in case of individual's resignation from having children due to other reasons not listed in the abortion law.
The Act on 1993 family planning is thus strongly disjoined from the needs of our girls, women and people with wombs living in Poland today and detached from their real everyday experiences.
The situation is even less optimistic, given that the judgment of the Constitutional Tribunal will become official in a matter of weeks, a publication which with a high degree of certainty will result in further tightening of the abortion law.
This is a clear signal to us, that the politicians whom are in partnership with Orthodox Catholics interfere with our autonomous decisions further and further.
The fight to decriminalize abortion in Poland has been going on for 28 years and we intend it to continue it until the right to autonomous decisions concerning our bodies is no longer dictated by the oppressive interference of the increasingly greedy apparatus of political power and religion.
This initiative is a part of the fight. Every weekend in February 2021, in several Polish cities and abroad, we set to organise a series of livestreams with electronic music. Members of the FeMade collective will play along other DJs who want to participate in the fight against the strict anti-abortion law.
During each of the livestreams we will attach a special link with the information of how to donate money to the cause. All of the money collected during these streams will go directly to the organizations helping women.
We strongly encourage you to support our campaign and thank you in advance for all payments,
FeMade Initiative
The world's first Payment Card. Your mini-terminal.
The world's first Payment Card. Your mini-terminal.
Find out more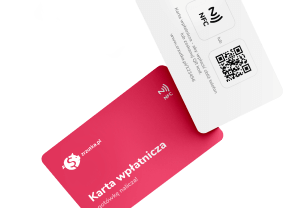 Our users created
853 397 whip-rounds
and collected
739 898 726 zł
What are you collecting for today?