Tworzymy Media Narodowe ID: 893f93
83 253 zł from 156 000 zł
83 253 zł
from 156 000 zł
ended
31.12.2019
1799
contributors
Donate
Description
Marsz Niepodległości to dopiero początek drogi!
W obliczu dominacji mediów głównego nurtu przesiąkniętych polityczną poprawnością i marksizmem kulturowym jesteśmy wszyscy zobowiązani do stworzenia własnych mediów.
Mediów niezależnych, rzetelnych, polskich, które będą głosem Polaków w kraju i za granicą.
Musimy wspólnie stworzyć alternatywę dla jedynie słusznego poglądu codziennie wtłaczanego nam przez liberalne media.
Jeżeli nie zrobimy kolejnego kroku ku rzeczywistej niepodległości – zerwaniu kajdan nałożonych na słowo i myśl to nadal będziemy niewolnikami.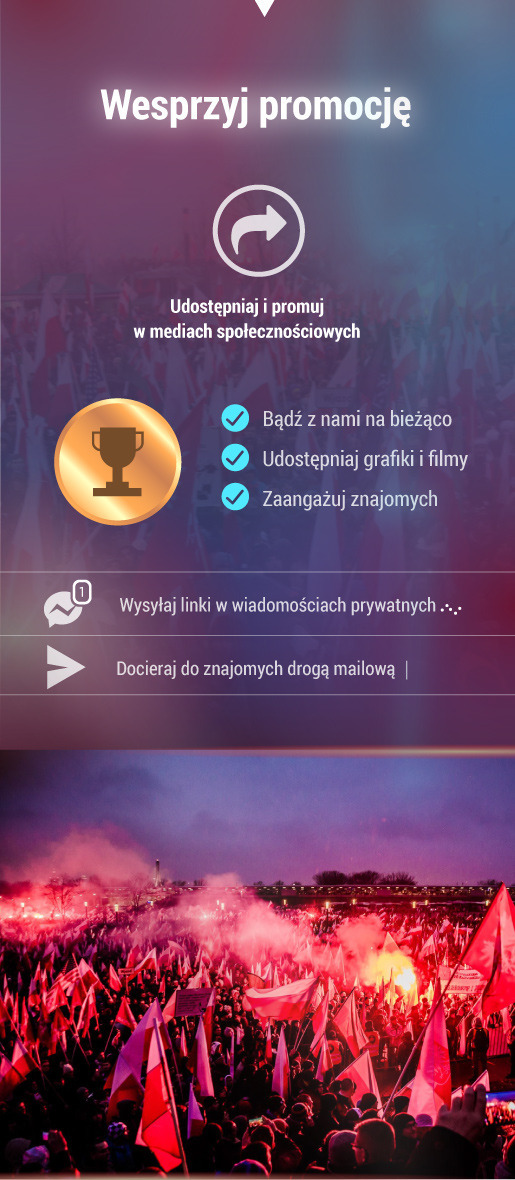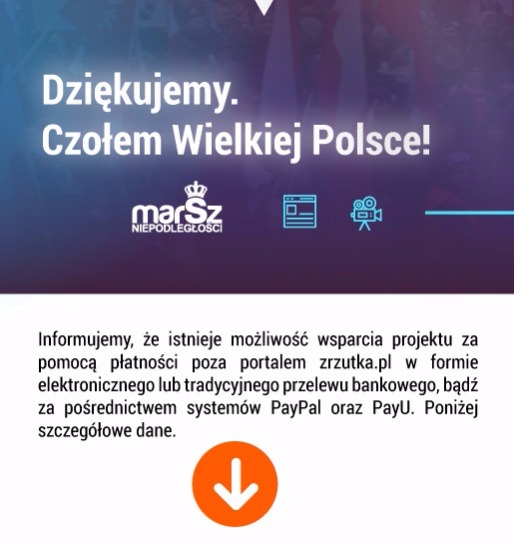 Stowarzyszenie "Marsz Niepodległości" ul. Majdańska 1 lok.11 04-088 Warszawa nr rach. 34 1020 1013 0000 0602 0352 8726
W tytule koniecznie proszę wpisać: Darowizna na cele statutowe
Kod SWIFT (dla wpłat z zagranicy): BPKOPLP
IBAN: PL34 1020 1013 0000 0602 0352 8726

Obserwuj nasze media społecznościowe.
Updates28
Facebook usunął nasz profil społecznościowy za treści niepoprawne politycznie. Zachęcamy, aby ustawiać stronę www.medianarodowe.com jako stronę startową w Waszych przeglądarkach!

Już jest! Startujemy z portalem. To dzięki Wam. To Wasz portal - nasz, wspólny. O naszych, polskich sprawach. Dziękujemy! https://medianarodowe.com/

Pierwszy reportaż Mediów Narodowych rozszedł się jak ciepłe bułki. Zasięg tylko z jeszcze maleńkiego (16 tys) konta FB Media Narodowe przekroczył 1,2 mln osób. jest to zaskoczenie również dla nas. To dobry znak. Kochani, dziękujemy za wsparcie! Tu link do reportażu: https://www.youtube.com/watch?v=L-qOcD0vTwY
Our users created
421 142 whip-rounds
---
What are you collecting for today?