id: afd99s
Murem za Magdą - działaczką związkową bezprawnie zwolnioną przez Amazon // Solidarity with Magda - union activist fired illegaly by Amazon Poland
Murem za Magdą - działaczką związkową bezprawnie zwolnioną przez Amazon // Solidarity with Magda - union activist fired illegaly by Amazon Poland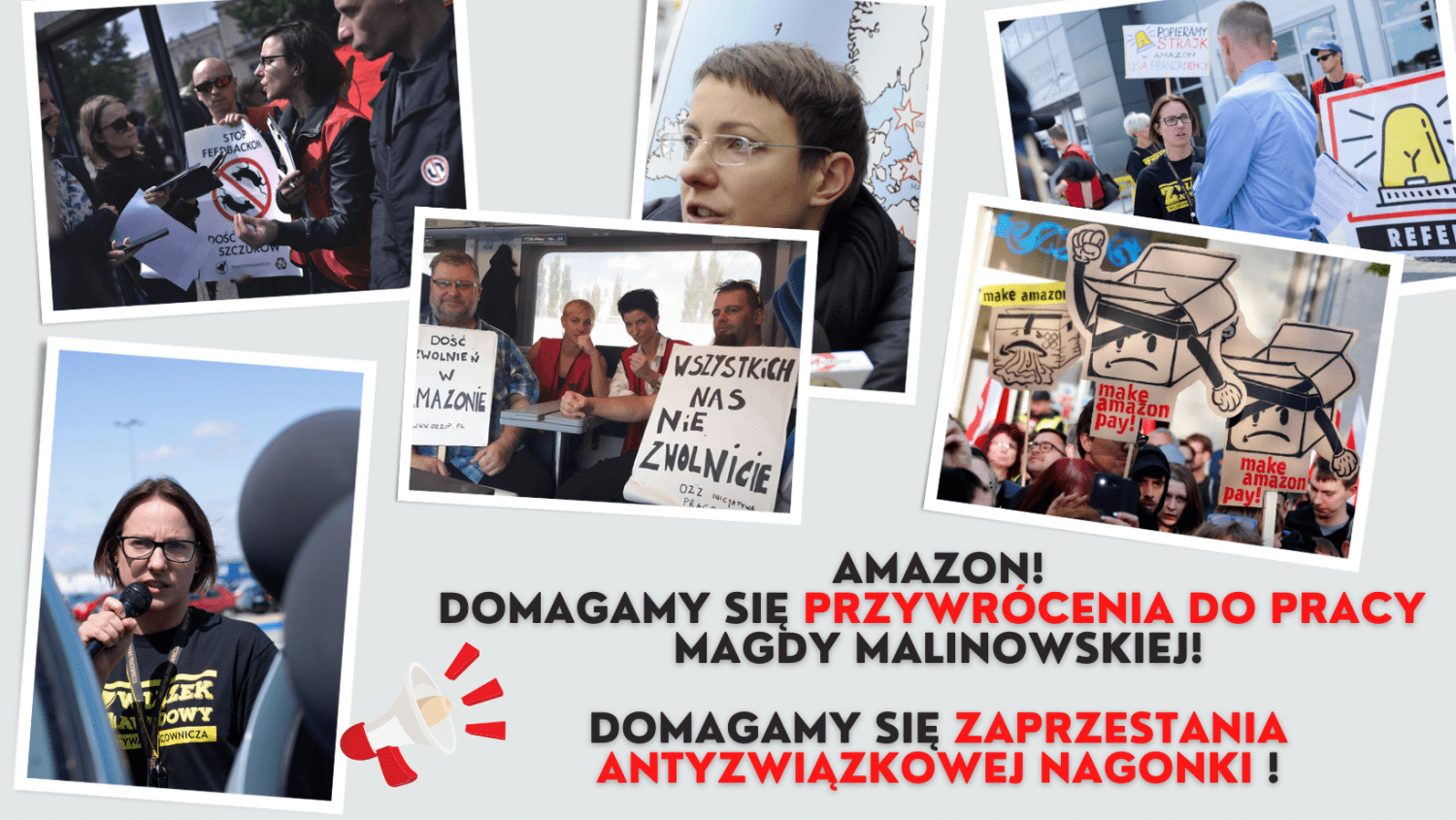 Donate
Zrzutka.pl does not charge any commission
Description
/ENGLISH BELOW//
Chcemy wesprzeć Magdę Malinowską, działaczkę związkową, która pracowała w firmie Amazon 6 lat i została właśnie w sposób skandaliczny i niezgodny z prawem zwolniona z pracy. Straciła ona w związku z tym jedyne źródło dochodu. Ze względu na dyscyplinarny charakter zwolnienia, nie przysługuje jej też żadna odprawa ani zasiłek z Urzędu Pracy, nawet jeśli zarejestruje się jako osoba bezrobotna.
Zrzutka ma na celu:
1) Pokrycie wszystkich kosztów związanych z pomocą prawną;
2) Pokrycie podstawowych kosztów życia w czasie, gdy Magda będzie walczyła z Amazonem o przywrócenie do pracy i prowadziła dalszą działalność związkową.
*Wszystkie dodatkowe pieniądze ze zbiórki zostaną przekazane na działalność związu OZZ Inicjatywa Pracownicza.
Bądźmy dzisiaj z Magdą, niech poczuje naszą solidarność - bo atak na nią to także atak na cały ruch pracowniczy. Następnym razem może przyjść kolej na kogoś z nas. A Amazon jeszcze za to zapłaci! #muremzamagda #makeamazonpay
9 listopada 2021 r. Amazon wręczył zwolnienie dyscyplinarne Magdzie Malinowskiej, pracującej od 6 lat w magazynie w Sadach pod Poznaniem. Magda jest chronioną członkinią Prezydium Komisji Międzyzakładowej Inicjatywy Pracowniczej w Amazon, a także chronionym Społecznym Inspektorem Pracy. Jest wieloletnią działaczką Inicjatywy Pracowniczej, w przeszłości członkinią Komisji Krajowej, a także autorką filmów dokumentujących ruch pracowniczy oraz współzałożycielką Amazon Workers International.
Amazon jako formalną przyczynę zwolnienia podaje rzekome "filmowanie lub fotografowanie procesu przenoszenia zwłok". Chodzi prawdopodobnie o mężczyznę, który 6 września 2021 r. umarł na terenie zakładu, a prokuratura bada, czy nie przyczyniły się do tego zaniedbania ze strony spółki. Zarzut wobec związkowczyni jest zupełnie bezpodstawny. Magda Malinowska jako społeczny inspektor, by zapewnić podjęcie właściwych kroków po śmierci kolegi z pracy, zwróciła się do Amazon z prośbą o włączenie jej do zespołu powypadkowego. Spotkała się z odmową. Nie miała żadnego interesu w filmowaniu czy fotografowaniu zwłok, ale chciała monitorować kroki podjęte przez pracodawcę i wszelkie ewentualne nieprawidłowości. Zgodnie z art. 14 ust. 1 u.s.i.p. zakład pracy jest zobowiązany zapewnić SIP odpowiednie warunki realizacji ich zadań.
Zwolnienie jest tym bardziej skandaliczne, iż dokonano go mimo sprzeciwu organizacji związkowej, która w piśmie z 8 listopada nie wyraziła zgody na rozwiązanie umowy o pracę. W opinii związku Amazon w rażący sposób naruszył przepisy zarówno ustawy o związkach zawodowych (art. 32 ust. 1), jak i ustawy o społecznej inspekcji pracy (art. 13 ust. 1). Postępowanie pracodawcy zmuszeni jesteśmy interpretować jako rażącą niekompetencję służb kadrowych albo jako świadomy zabieg mający na celu utrudnianie działalności związkowej (w tym społecznej inspekcji pracy). Sprawa skończy się w sądzie, gdzie domagać będziemy się niezwłocznego przywrócenia Magdy Malinowskiej do pracy, jak i finansowego zadośćuczynienia.
Czytaj więcej o sprawie na stronie OZZ Inicjatywa Pracownicza: Zamiast zwolnić tempo pracy, Amazon zwalnia chronioną działaczkę Inicjatywy Pracowniczej. Zapłaci za to! (ozzip.pl)
Jeśli preferujesz wpłaty bezpośrednie: Wspieraj IP (ozzip.pl)
OZZ Inicjatywa Pracownicza 88 2130 0004 2001 0577 6570 0001
//ENGLISH//
We want to support Magda Malinowska, a union activist who has worked for Amazon for 6 years and has just been scandalously and illegally dismissed from her job. As a result, she lost her only source of income. Due to the disciplinary nature of the dismissal, she is also not entitled to any severance pay or benefits from the Employment Agency, even if she registers as unemployed.
The purpose of the fundraising is to:
1) Cover of all legal costs;
2) Cover Magda's basic living costs, while she fights Amazon to get back to work and conduct further trade union activities.
* All additional money from the fundraising will be donated to the activities of the OZZ Workers Initiative.
Let us be with Magda today, let her feel our solidarity - because an attack on her is also an attack on the entire labor movement. It may be our turn next time. And Amazon will pay for it! #muremzamagda #makeamazonpay
More: Amazon fires a protected Inicjatywa Pracownicza shop steward. Make Amazon pay for it! (ozzip.pl)
For direct transfers:
OZZ  Inicjatywa Pracownicza, IBAN PL88 2130 0004 2001 0577 6570 0001, Code BIC/SWIFT: INGBPLPW
============
O sprawie w mediach:
Kilka wywiadów z Magdą:
The world's first Payment Card. Your mini-terminal.
The world's first Payment Card. Your mini-terminal.
Find out more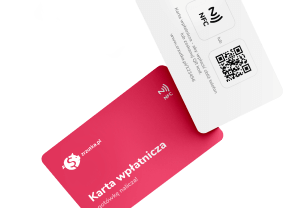 Our users created
800 088 whip-rounds
and collected
620 166 873 zł
What are you collecting for today?