id: agydta
Pomoc dla rodziny Szperlingów
Pomoc dla rodziny Szperlingów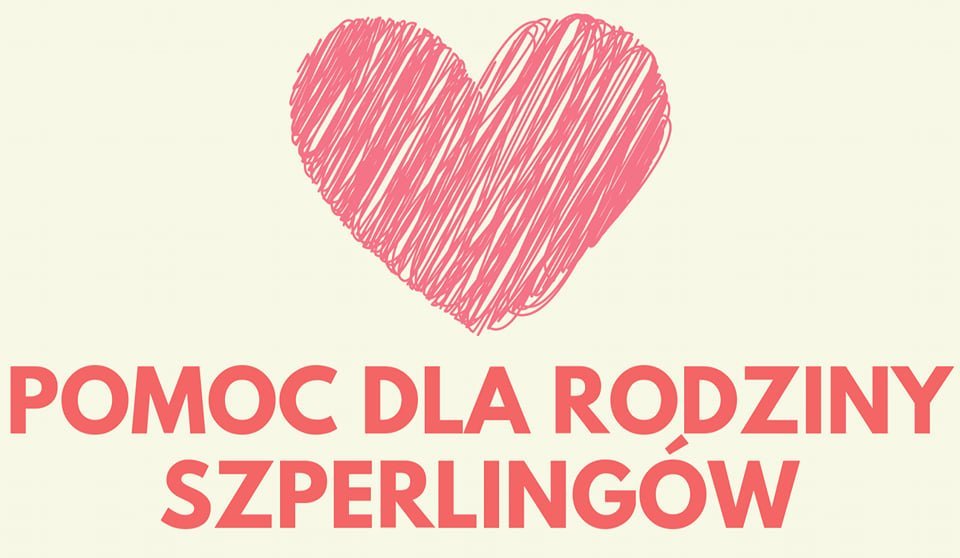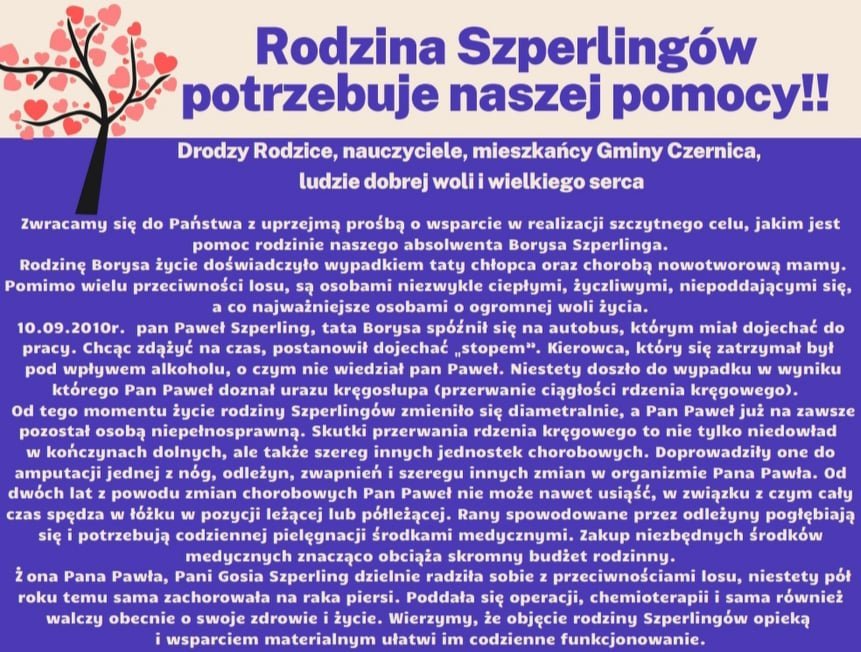 The organizer verified the description with proper documents.
Donate
Zrzutka.pl does not charge any commission
Description
Zwracamy się do Państwa z uprzejmą prośbą o wsparcie finansowe dla rodziny Szperlingów z Nadolic Wielkich.
Szperlingowie to Mama Małgosia, Tata Paweł oraz chłopcy - Borys i Janek.
Życie doświadczyło ich wypadkiem taty oraz chorobą nowotworową mamy. Pomimo wielu przeciwności losu, są osobami niezwykle ciepłymi, życzliwymi, niepoddającymi się, a co najważniejsze osobami o ogromnej woli życia.
10.09.2010r. Pan Paweł Szperling, spóźnił się na autobus, którym miał dojechać do pracy. Chcąc zdążyć na czas, postanowił dojechać "stopem". Kierowca, który się zatrzymał był pod wpływem alkoholu, o czym nie wiedział pan Paweł. Niestety doszło do wypadku, w wyniku którego Pan Paweł doznał urazu kręgosłupa (przerwanie ciągłości rdzenia kręgowego). Od tego momentu życie rodziny Szperlingów zmieniło się diametralnie, a Pan Paweł już na zawsze pozostał osobą niepełnosprawną. Skutki przerwania rdzenia kręgowego to nie tylko niedowład w kończynach dolnych, ale także szereg innych jednostek chorobowych. Doprowadziły one do amputacji jednej z nóg, odleżyn, zwapnień i szeregu innych zmian w organizmie Pana Pawła. Od dwóch lat z powodu zmian chorobowych Pan Paweł nie może nawet usiąść, w związku z czym cały czas spędza w łóżku w pozycji leżącej lub półleżącej. Rany spowodowane przez odleżyny pogłębiają się i potrzebują codziennej pielęgnacji środkami medycznymi. Zakup niezbędnych środków medycznych znacząco obciąża skromny budżet rodzinny.
Żona Pana Pawła, Pani Gosia Szperling dzielnie radziła sobie z przeciwnościami losu, mimo własnych problemów zawsze pomaga potrzebującym. Niestety pół roku temu sama zachorowała na raka piersi. Poddała się operacji, chemioterapii i teraz również walczy o swoje zdrowie i życie.
Wierzymy, że objęcie rodziny Szperlingów opieką i wsparciem materialnym ułatwi im codzienne funkcjonowanie.
Jeżeli ktoś z Państwa chciałby wesprzeć tę rodzinę, prosimy o drobne wpłaty na artykuły niezbędne do codziennej pielęgnacji Pana Pawła oraz inne potrzeby rodziny.
The world's first Payment Card. Your mini-terminal.
The world's first Payment Card. Your mini-terminal.
Find out more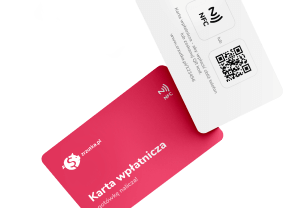 Our users created
800 521 whip-rounds
and collected
620 864 105 zł
What are you collecting for today?