id: x5max6
Ja cię raku prędzej ugryzę !!!
Ja cię raku prędzej ugryzę !!!
The organizer verified the description with proper documents.
of 50 000 zł (≈ 10 616 €)
Donate
Zrzutka.pl does not charge any commission
Description
Witaj,
Trudno prosić kogoś, kogo się nie widzi i nie zna o wsparcie, kiedy już samo przyznanie się do tego, że go potrzebujemy wywołuje w nas mieszane uczucia. Z drugiej strony, jeśli nie opowiemy swojej historii i nie poinformujemy o potrzebie pomocy nikt nam jej nie udzieli. Bardzo chcę pomóc Emilce i Oskarowi w trudnym dla nich czasie i liczę w tym również na Ciebie!
Dzięki natychmiastowej reakcji w kwietniu 2022 roku udało się szybko postawić diagnozę dla czternastoletniego Oskara, syna mojej przyjaciółki Emilki. Diagnoza wykazała, że Oskar choruje na nowotwór złośliwy kości i chrząstki stawowej kości długiej kończyny dolnej. Obecnie wdrożone zostały intensywne kroki aby rozpocząć leczenie onkologiczne w Instytucie Matki i Dziecka w Warszawie, w pierwszej kolejności Oskar przyjmie chemioterapię przedoperacyjną w dalszej kolejności zaplanowany jest zabieg operacyjny, który ma na celu usunięcie chorej kości i uzupełnienie jej implantem i dalsza seria chemioterapii, a żeby mógł wrócić do swoich zajęć, obowiązków i pasji skuteczna kosztowna rehabilitacja po zabiegu operacyjnym dopiero przed nim.
Wszyscy jesteśmy pełni nadziei i wiemy, że będzie dobrze, bo inaczej nie ma być ! Moja prośba o pomoc finansową podyktowana jest tym, że dobrze wiesz ile kosztuje dziś paliwo potrzebne na dojazdy na leczenie w Warszawie, zakwaterowanie, codzienne wydatki domowe przy zdrowym funkcjonowaniu nie mówiąc o tych przy chorobie, a później kosztowna rehabilitacja. Oskar we wrześniu bardzo chce rozpocząć naukę w średniej szkole, chce uczyć się, chce znów grać w piłkę, biegać, jeździć na rowerze, tańczyć, być beztroskim uśmiechniętym nastolatkiem...
Wierzę, że zechcesz mu pomóc w tym!!! Dobro zawsze zatacza krąg i wraca do darczyńcy.
Dziękuję w imieniu swoim i imieniu fantastycznego młodego człowieka, któremu Twoje serce pomaga!
The world's first card for receiving payments. The Payment Card.
The world's first card for receiving payments. The Payment Card.
Find out more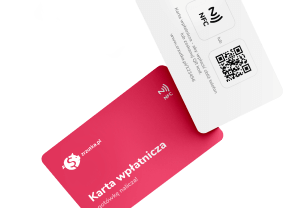 Our users created
862 835 whip-rounds
and collected
758 677 375 zł
What are you collecting for today?