Nasz dom na PÓŁNOCY - projekt PARKING
ID: dw2p92
Nasz dom na PÓŁNOCY - projekt PARKING
ID: dw2p92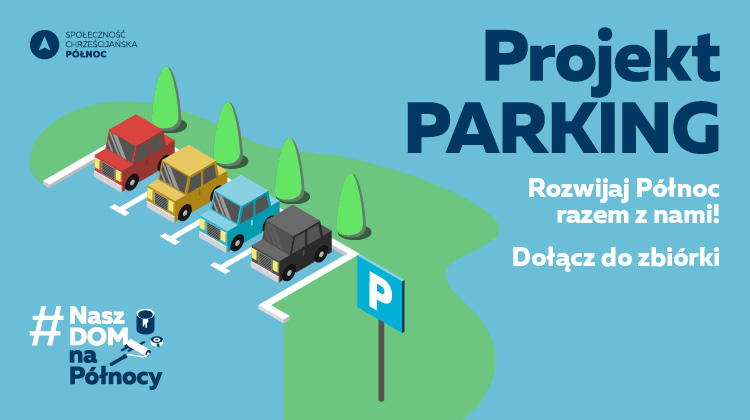 8 110 zł
8 110 zł
from 287 000 zł
ended
ended
18.08.2020
65
65
contributors
Donate
Description
Społeczność Chrześcijańska PÓŁNOC to nasz wspólny DOM.
A o dom warto dbać, by służył nam jak najlepiej.
Od lat wspólnie marzymy, by PÓŁNOC była miejscem otwartym na każdego i jesteśmy wdzięczni Bogu i ludziom widząc, jak te marzenia stają się rzeczywistością.
Dziś marzymy o wyremontowanym PARKINGU, który będzie mówił: "Witaj na Północy! To dobre, i bezpieczne miejsce!" Wierzymy, że tworząc na Północy przyjazne, otwarte i piękne miejsce, realizujemy marzenie, jakie  Pan Bóg położył nam na sercach dając nam ten dom.
Rozwijaj PÓŁNOC razem z nami! Dołącz do zbiórki!
ZAKRES PRAC:
- wykonanie odwodnienia - by zapewnić sprawne odprowadzanie wody w deszczowe i śnieżne dni, zlikwidować utrudniające przejście kałuże, które w zimowym okresie zamieniają się w niebezpieczne ślizgawki.
- podniesienie i wyrównanie terenu - by usunąć zagrażające pieszym i samochodom dziury i nierówności terenu, zapewniając bezpieczeństwo i wygodę w dotarciu do budynku.
- położenie kostki - by wjazd do budynku kościoła był bezpieczny i estetyczny.
- wyznaczenie miejsc parkingowych od frontu budynku dla rodzin z małymi dziećmi, osób z niepełnosprawnością - by każdy czuł się u nas przyjęty i mile widziany.
Zebrana kwota pozwoli nam zrealizować I ETAP remontu parkingu - czyli remont wjazdu oraz terenu przed wejściem do budynku kościoła.
Koszt projektu: 287 000 zł 
KIM JESTEŚMY?
Społeczność Chrześcijańska PÓŁNOC to Kościół, w którym jest miejsce dla każdego!
Należymy do rodziny Kościołów Chrystusowych. To znaczy, że opieramy się wyłącznie na Piśmie Świętym, którym kierujemy się w sprawach wiary i codziennego życia.
GDZIE JESTEŚMY?
Nasz budynek znajduje się na warszawskiej Białołęce przy ul. Elektronowej 10, niedaleko dawnych zakładów Żerań-FSO i w sąsiedztwie Centrum Handlowego Auchan, choć wiele osób przyjeżdża na niedzielne nabożeństwa czy spotkania, których w tygodniu jest całe mnóstwo, z wszystkich dzielnic Warszawy, a nawet z sąsiednich miasteczek.
KIEDY SIĘ SPOTYKAMY?
Każda niedziela, godz. 10:00, 12:00 i 17:00
Nabożeństwo o 17.00 to plusminus - czyli przestrzeń tworzona przez młodych dorosłych, w której każdy jest mile widziany!
JAK WYGLĄDA NABOŻEŃSTWO?
Przez około 1,5 godziny śpiewamy, modlimy się ze sobą i o siebie, słuchamy Bożego Słowa, a potem spędzamy czas w naszej kawiarence.
TROSZCZYMY SIĘ O DZIECI
Podczas wszystkich nabożeństw zapewniamy opiekę dla dzieci, które w tym samym czasie poznają Boga i nawiązują relacje z rówieśnikami. 
INTERNATIONAL//МЕЖДУНАРОДНЫЙ
We translate our services at 10.00 into English.
Служения в 12:00 переводятся на русский или украинский язык.
JESTEŚMY ONLINE!
Jeśli nie możesz być z nami na Elektronowej, każde nabożeństwo transmitujemy online na naszych profilach na Facebooku i na YouTube.
Our users created
555 553 whip-rounds
---
What are you collecting for today?