id: epaz9j
Blind Furia - wake up the electric beast and help defeat the Demons of Darkness by the losing eyesight engineer.
Blind Furia - wake up the electric beast and help defeat the Demons of Darkness by the losing eyesight engineer.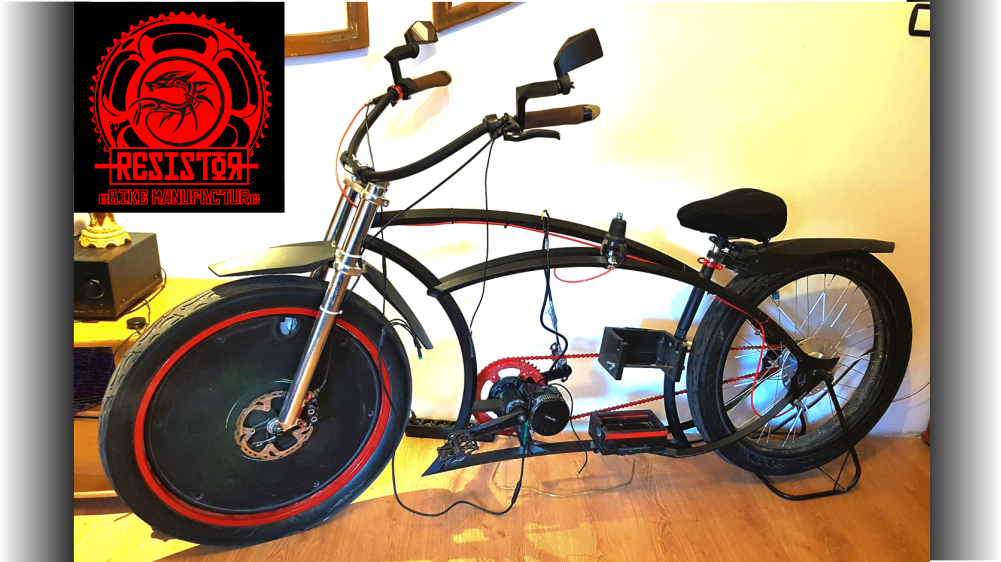 Donate
Zrzutka.pl does not charge any commission
Read more

a tutaj reportaż z TVP3 Szczecin:
https://szczecin.tvp.pl/46247174/170120

Read more

link do reportażu w Radiu Koszalin:
http://prk24.pl/46243522/slepa-furia-wkrotce-wyjedzie-na-ulice-koszalina-i-regionu?fbclid=IwAR1O6VrkMX49ScyZdM5dIupK6u_0QyhmWZlJ3cFIwrGvnNBMgZypkpaT7Ns

Read more

16.01 (czw) po godz. 20:00 będzie można posłuchać reportażu Polskiego Radia Koszalin na temat zrzutki, Furii i mojej choroby. Zapraszam do słuchania online na prk24.pl

Read more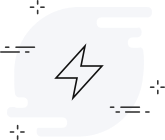 There are no updates yet.
Description
Crowdfunding campaign to finish a custom-built electric bike by an engineer who loses his sight, an enthusiast of new technologies, ecology and bikes.
Hello Stranger
I cannot hide that it is very difficult for me to start this Money Collecting – despite my illness I try to be as independent as possible without the help of others if it isn't really necessary. Now, however, I really MUST ask you for supporting my Project and helping me fulfill my dream.
What Blind Furia is?
I am neither the first who built a custom bike, nor the only one who electrified it. Yet, I am the first who has done it in a completely new and innovative way. The bikes of such type that I know have an electric motor of aprrox.3 - 5 kW in the rear wheel (while riding such a bike, the power of approx. 250 W is generated). They reach a maximum distance of about 100 km on a single battery charge with a capacity of 20-25 Ah. I analysed the problem of electricity consumption and I have come up with a few unusual solutions to improve performance:
I installed a special mid-drive motor in the pedal support - it is lighter and has less power (750 W) which results in lower energy consumption
chainrings are one the biggest on the market - with 52 teeth
in the rear wheel there is 8-row planetary gear - all elements are cased which protects them from dirt or damage. Thanks to this, it is practically trouble-free.
As a result, we get several times bigger gear ratio, which allows us to increase the range, even to approx. 250 km, as well as to achieve a maximum speed of approx. 50 km / h. At least in theory ;) 
Furia is supposed to be an alternative to cars and other  internal combustion two-wheelers, not a bicycle as such. Its range gives us the opportunity not only to commute, e.g. to work, but also to go on a long journey.
Nowadays climate is changing faster and faster, and fossil fuels are a major factor in the deterioration of the situation on Earth. I believe that there must be more progress in electromobility and I would like to contribute to ongoing changes. As eco-activists friends say, "Be the change you want to see"!
What do I collect for? 
At the beginning of March 2018, I was so excited about the vision of the bike being finished that I dared to ride Furia from the workshop for the first time. Unfortunately, the work was not finished yet, and my rush and poor eyesight led to wiring damage. After several repair attempts, the engine can be considered "dead". Hence, this is the first and main purpose of this crowdfunding - a new engine costs around 1,000 euros.
To finish the prototype of Fury I still have to design and print in 3D: a front reflector, fenders, the base for a sound system. A shifter (gear stick), blinkers, a new varnish, a carrier... are also needed. I hope that the amount of about PLN 2,500 should be enough for the above.
I hope this project will lead to further development. Despite my love to the frame of the bike (Kahaki Baron), I already have an idea for my own - such one that takes into account all the needs related to the specifics of this vehicle (cost approx. PLN 2,000).
It is very important for me to promote electromobility and changes in the energy in the Renewable Energy Sources sector. Therefore, one of the additional goal is a micro photovoltaic panel providing greater independence on the journey.
I would like this project and my hobby to eventually turn into a startup. In order to find investors or get a grant to set up my own business, I need to have my own funds. I do not want Furia to be just a one-time whim of a "crazy scientist", but to become a real market product - each additional penny will go for this purpose.
And now something about who I am:
As I have already mentioned, I have a disease - I suffer from a genetic eye disease: the retinitis pigmentosa (RP) (more about it here: https://www.nei.nih.gov/learn-about-eye-health/eye-conditions-and-diseases/retinitis-pigmentosa ). It is characterized by narrowing the visual field, night blindness, photophobia and decrease of contrast sensitivity and finally the loss of eyesight. It is an incurable disease that progresses relentlessly.
Despite all this, I have tried to live as actively as possible - I completed studies at the Faculty of Mechanical Engineering at Koszalin University of Technology. I have worked in many different branches and a bike has always been my favourite means of transport.
As you can probably guess, the combination of my disease and riding a bike is risky. However, most of the life I was able to avoid trouble. Finally my luck ended and in April 2014 I had a very serious accident leading to the spinal injury in section C5-C7 and four-limb paralysis. After many months of physiotherapy I managed to learn walking again. Despite the permanent damage to the spinal cord, I even got on the bike again.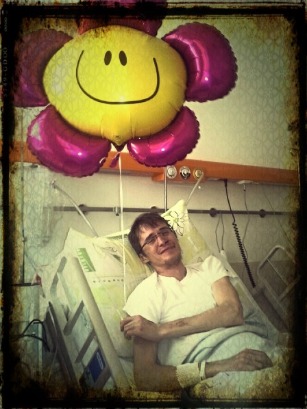 This is when my adventure with electric bikes started. To make my riding easier, I changed my bike into an e-bike. I was simply hooked and inspired when I found out how incredibly it can change the possibilities of communication: distance, acceleration, driving dynamics, speed - everything that is connected with cycling through a city or in any area is completely transformed!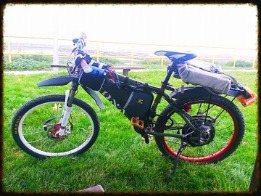 Unfortunately, I didn't enjoy my recovery for too long and in the winter of 2016 I broke my bones again - this time "only" my left leg. Hospital, a surgery with placing special screws and then another physiotherapy for several months. Walking became more difficult, not to mention riding a bike. Then a hand-made trike  appeared (electric, of course :). It was soon stolen from me, but after some time the idea of building something else, something mine appeared...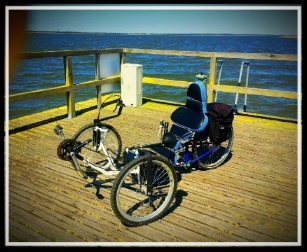 As so Blind Fury was born, as well as the idea for my startup
Now I have been participating in the third stage of clinical trials for the treatment of my disease, conducted by Pomeranian Medical University and Ophthalmology Clinic in Szczecin, for a year. Unfortunately there has been no improvement in my case… 
Time flies, Furia is waiting to be finished, but my state of health makes be more and more aware that I won't be riding this bike myself. Although, I would love to finish the project. Being a disabled person, living on a pension, on a poverty line, I am not able to do it myself. Therefore, I collect money for Furia, not for my treatment or medicines. As my psychology says: "a drowning man catches a bike". I know that I am an incurable dreamer and I should have given up long ago, but I simply cannot. Inspite of the fact that the disease has a strong impact on my psychic on my state of mind and Demons of Darkness are pulling me down into the abyss, I still believe there are some people who can help me leave this world as a bit better place than the one I found... 
As you can see, there are several goals for this crowdfunding, and I will be very grateful for each payment and further promotion and sharing among your friends and any places that will come to your mind ;) 
Thanks to you it is possible that I can finish the Project and fulfill a few interesting ideas: 
Due to losing eyesight, I'd like to design a two-person bicycle to be able to enjoy cycling with a "pilot". In my mind I have a design combining a "horizontal" bike (trike) with a standard rear for the rider of such a tandem.
a joystick-bike - https://www.youtube.com/watch?v=a5wj-MBpLFM  - something for fans of a fast riding 
cargobike and  heavy cargo
I also encourage you to contact me ([email protected]) - I will gladly answer any questions, 
Best regards and thanks again for all the help,
MSc. Eng. Marcin Jan Pasiecznik
The only weekend of Furia in the open air [March 2018]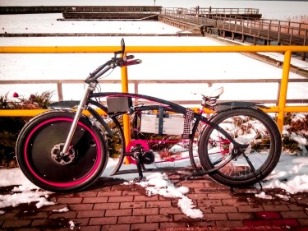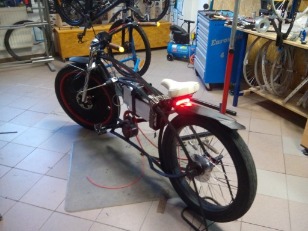 Fury in the workshop
WARNING! It will be loud
Media about Furia:
http://naprad.eu/nad-polske-nadciaga-czarna-furia-erower-budowie/
So far the project has been supported by:
* Adam Fandysz "Adamef - bike service" - from lots of parts delivered he build Furia in one whole piece and didn't take a single penny for it 
https://www.facebook.com/koszalinserwisrowerowy/ 
* Tomasz Pajor "Kapitał - 3D printing" - designed and printed in 3D a few essential elements https://www.facebook.com/druk3d.koszalin/ 
* Janusz Majewski "Project Center - steel and aluminum constructions and halls" - financial help in the early stage of construction  and many years of friendly support ([email protected])  
* Jacek Wiśniewski "Traper - sports and tourist shop" - my former, long-time employer who, despite months of my absence from work, had patience and allowed me to continue working https://traperek.pl/
The world's first card for receiving payments. The Payment Card.
The world's first card for receiving payments. The Payment Card.
Find out more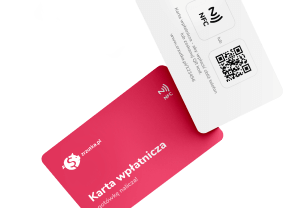 Rewards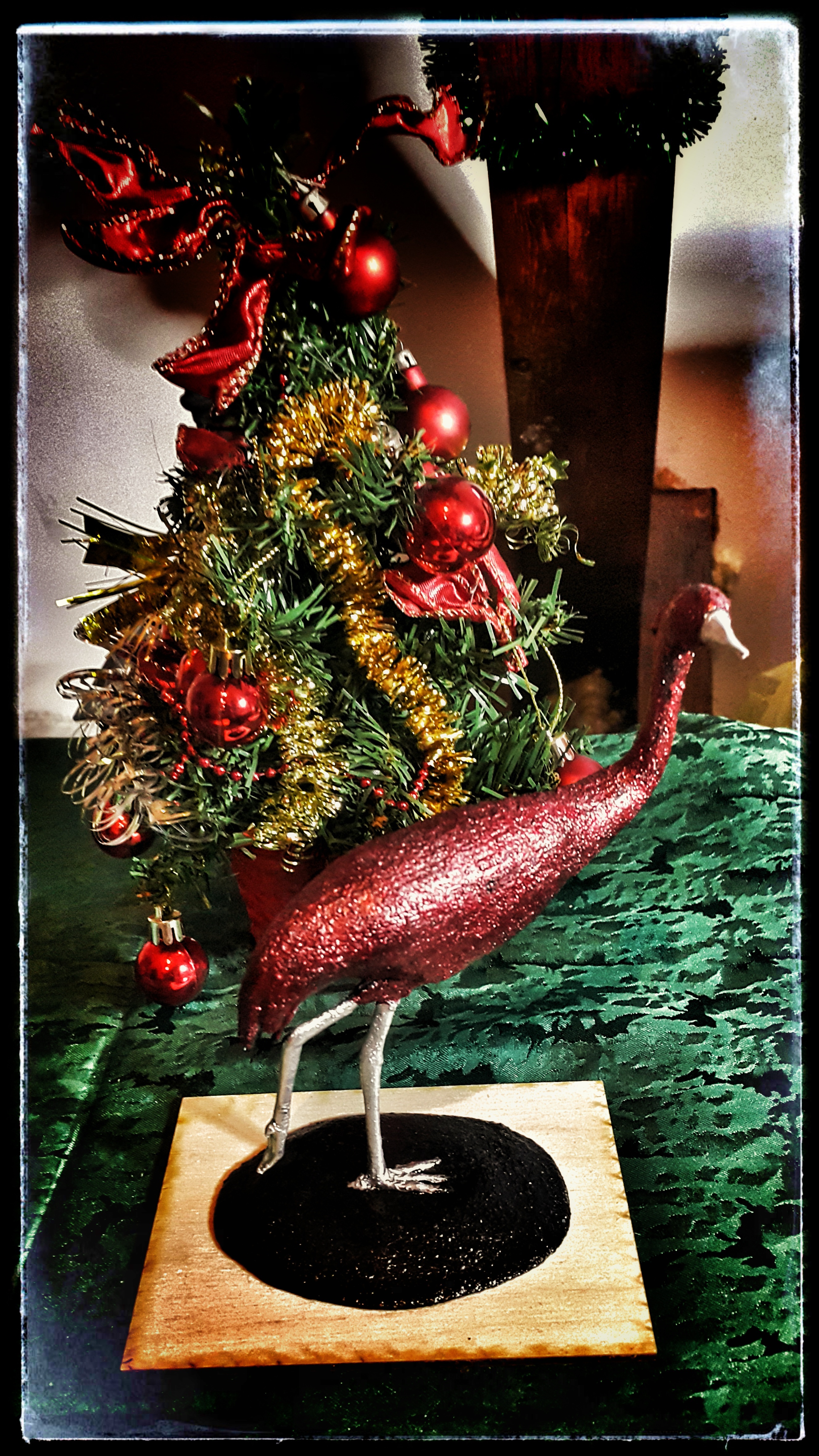 Donate 150 zł and more
Żuraw na Szczęście - wydruk 3D
Unikalny wydruk 3D (ok 12h) i moja własnoręczna postprodukcja składająca się z termicznego wygładzenia, strukturyzacji, malowania i lakierowania.Kolor podstawowy to metaliczna czerwień i chrom na czarnej podstawie dla podkreślenia nowych kolorów Furii ;)Chcesz inny kolor - napisz w komentarzu a spersonalizuję go dla Ciebie!W kulturze chińskiej 1000 żurawi z origami daje się młodej parze na Szczęście na nowej drodze życia - może dzięki Tobie uda mi się także uzyskać taką ilość ;)
expand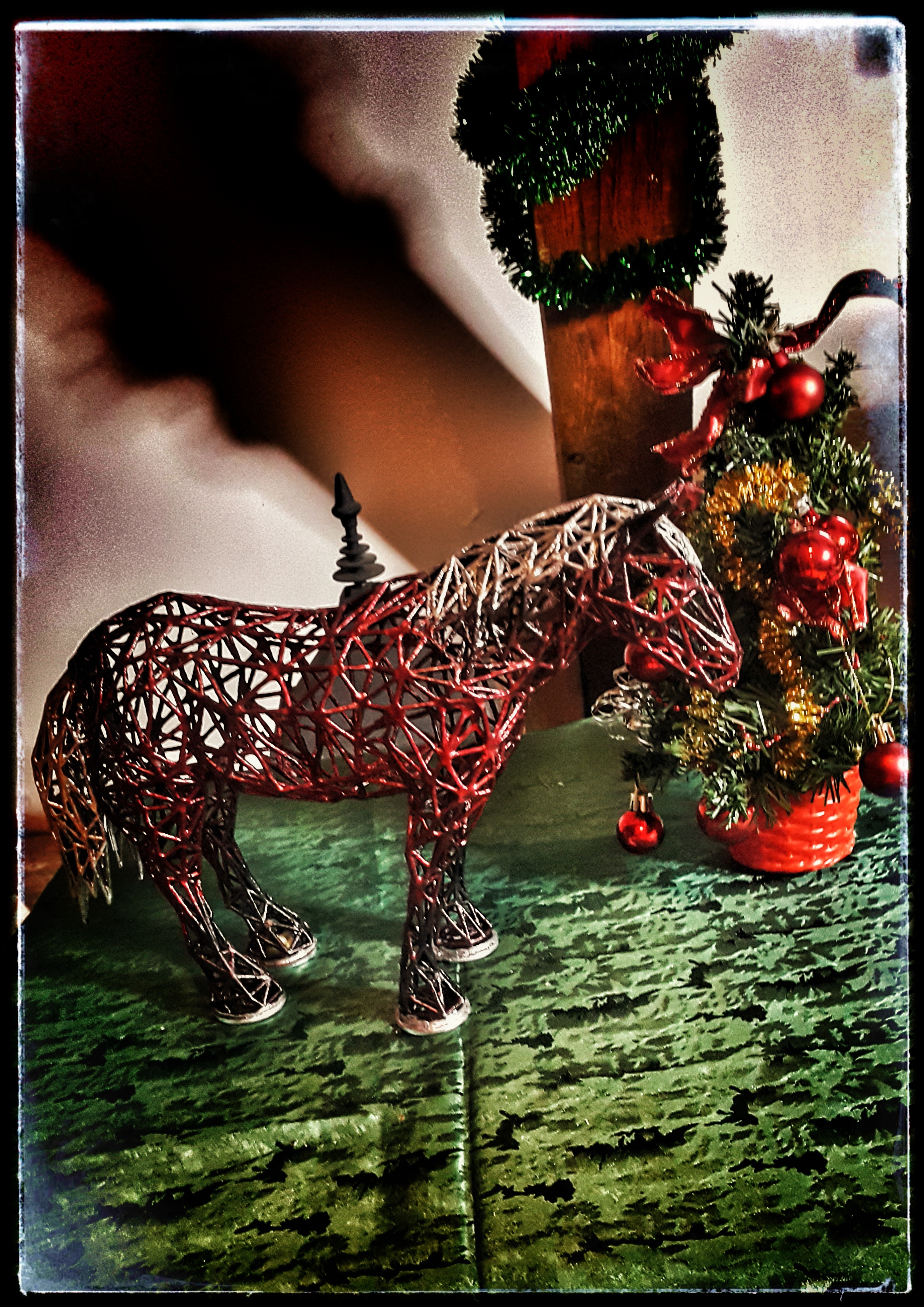 Donate 300 zł and more
Ażurowy Koń - wydruk 3D
Piękny, nieszablonowy, przykuwający oczy - tak wygląda ok 24h druku oraz wieloetapowa postprodukcja składająca się z termicznego wygładzenia i pozbycia się np. fuzli, malowania i lakierowania.Podstawowe kolory to metaliczna czerwień, czerń i chrom. Chcesz wersję spersonalizowaną - napisz w komentarzu swoje kolory :)
expand
Our users created
800 069 whip-rounds
and collected
620 153 186 zł
What are you collecting for today?