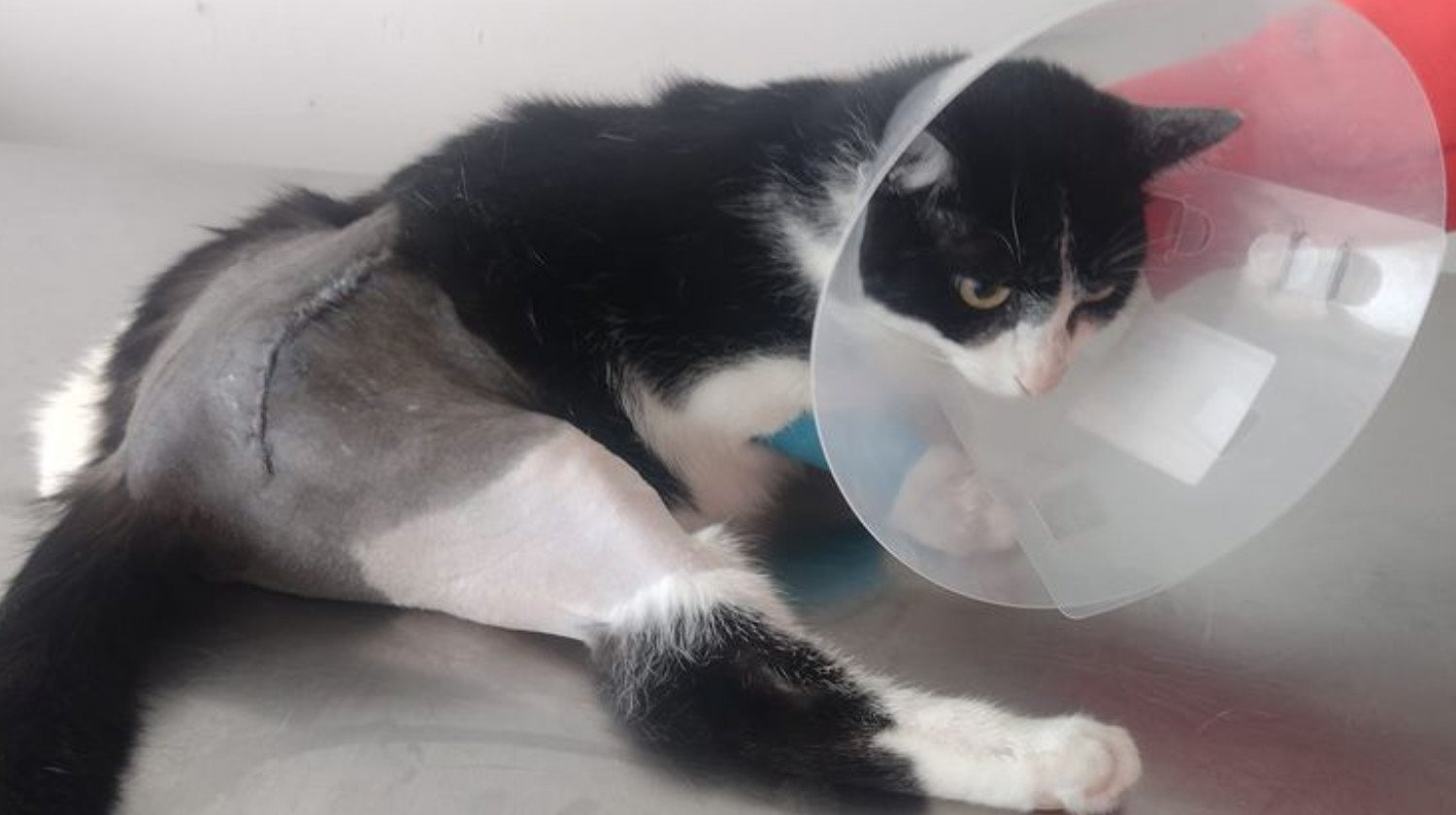 id: fcpd8j
Konsultacja neurologiczna Lusi NA CITO!!!!
Konsultacja neurologiczna Lusi NA CITO!!!!
Our users created 1 035 670 fundraisers and raised 1 103 426 162 zł
What will you fundraise for today?
Description
Lusia jest bezdomną kotką odnalezioną na działkach po wypadku. Nie wiemy czy potrącił ją samochód, czy ktoś świadomie wyrządził jej krzywdę. Lusia nie mogła chodzić. Widząc cierpiącego kota decyzja mogła być tylko jedna... Lulu do kliniki weterynaryjnej. Obraz RTG przedstawił złamaną miednicę. Uraz był przechodzony, 3 tygodniowy W prawej łapie następował niedowład i zanik mięśni. Zapadła decyzja o operacji... Niestety, po zabiegu kotka nie ma czucia w zwieraczach. W takim przypadku kluczowa jest diagnoza neurologiczna i szybkie działanie, a minął już miesiąc. Błagamy o pieniądze na pokrycie kosztów związanych z transportem i badaniem koteczki w klinice neurologicznej we Wrocławiu. LICZY SIĘ KAŻDA ZŁOTÓWKA I KAŻDY DZIEŃ!!!!!!!!!
AKTUALIZACJA 23.11.2023
KOCHANI DARCZYŃCY, PRZYJACIELE LUSI!!!
Dziękujemy Wam za piękną odpowiedź na nasze wołanie, za każdy gest pomocy, za to, że razem z nami wierzycie, że Lusia ma jeszcze szansę na lepsze życie.
Niestety, stan kotki uległ pogorszeniu. Z powodu trudności z oddawaniem moczu, spowodowanych uszkodzeniami zwieraczy, nastąpił silny stan zapalny pęcherza i krwiomocz :( Nie możemy już dłużej czekać z wizytą u neurologa. Razem z tymczasową opiekunką Lusi podjęłyśmy decyzję o skonsultowaniu kotki w polecanej przez lekarzy weterynarii i doświadczonych opiekunów klinice. Termin mamy w poniedziałek. O wszystkim oczywiście niezwłocznie napiszemy. Prosimy, trzymajcie kciuki. Musi się udać!!!!
28.11
KOCHANI!!!
Dzięki Waszym ogromnym sercom i wsparciu, Lusia od wczoraj przebywa w klinice neurologicznej. Początkowo rokowania były bardzo ostrożne, ze względu na czas, który upłynął od zabiegu i ogólny stan kotki. Jednak dzisiaj mogę z radością przekazać Wam umiarkowanie, ale jednak optymistyczne wieści. Dzisiaj wykonano tomografię, która wykazała faktyczną przyczynę objawów neurologicznych, jest nią tkwiący w kanale kręgowym implant, który wymaga natychmiastowego usunięcia! Nie mamy gwarancji, że przywrócimy prawidłowe funkcjonowanie, ale na pewno ulży to Lusi w ogromnym cierpieniu i bólu, jaki czuła do tej pory.
Koszty do tej pory (szpitalik, badania krwi, cewnikowanie, posiew moczu, USG, tomografia) to 2011 zł. Jutro zabieg usunięcia implantu, szacowany koszt - 1200-1500 zł, nie wiemy, czy zabierzemy ją już jutro, czy pozostanie jeszcze w lecznicy. Podejmiemy decyzję po operacji w konsultacji z lekarzami, mając na względzie dobro Lusi. Do tego na pewno masa leków, kontrolne wizyty. Będziemy też walczyć ze zwiotczeniem pęcherza... W związku z tym, zwiększyłam cel zrzutki i wierzę, że razem dokończymy tego dzieła.
Proszę, tak wiele nam się udało już zrobić! Jest nadzieja, że Lusia będzie dużo, dużo lepiej żyć.
01.12
Kochani Przyjaciele Lusi!
29 listopada nasza bohaterka przeszła zabieg, wczoraj przywieźliśmy ją do Kielc. Przyczyna bólu i powikłań została usunięta (implant tkwiący w kanale kręgowym) ale trudno powiedzieć, na ile cofną się następstwa. Lusia, póki co wymaga mechanicznego opróżniania pęcherza, który nie funkcjonuje jak powinien, kał oddaje bezwiednie, ogonek ciągle jest bezwładny. Na szczęście zostały osuszone i podleczone odleżyny. W tym momencie musi mieć ograniczony ruch, przyjmować masę leków i czekamy... W swoim tymczasowym domku, dostaje też ogromną porcję miłości, co na pewno przyspieszy proces rekonwalescencji.
Zamieszczam fakturę z lecznicy - za wszystko zapłaciliśmy 4380 zł. Resztę zebranych pieniędzy przeznaczymy na wykupienie leków, kontrolną wizytę (za dwa tygodnie), na pewno Lusia powróci na rehabilitację, jak tylko zezwoli na to neurolog. Wszystkie wydatki będę oczywiście dokumentować.
To wszystko udało się dzięki Wam. Uwierzyliście, że Lusi da się pomóc i nie pozostaliście obojętni. Dziękujemy z całego serca i prosimy, zostańcie z nami i Lusią, to niestety jeszcze nie koniec...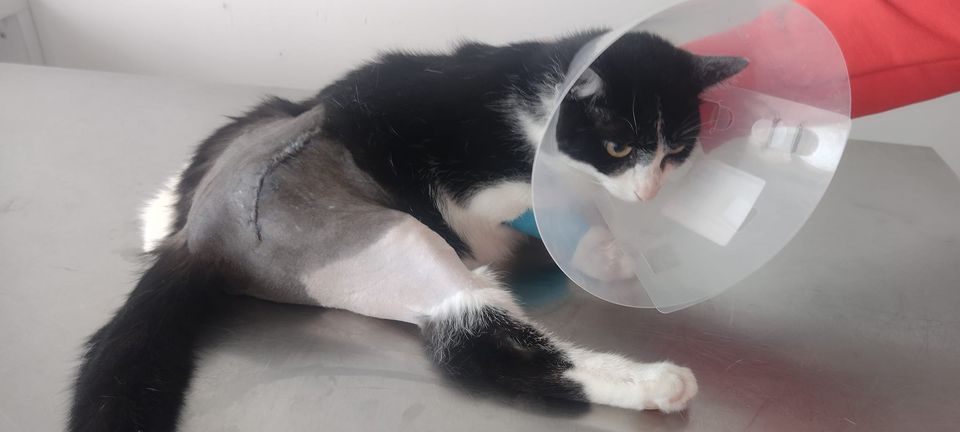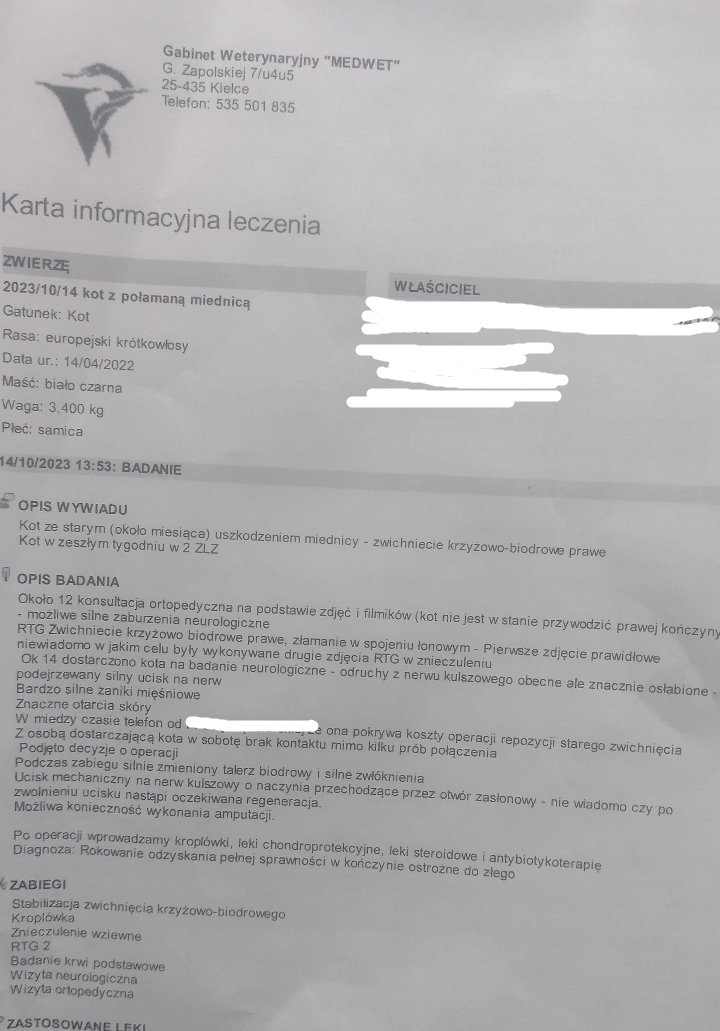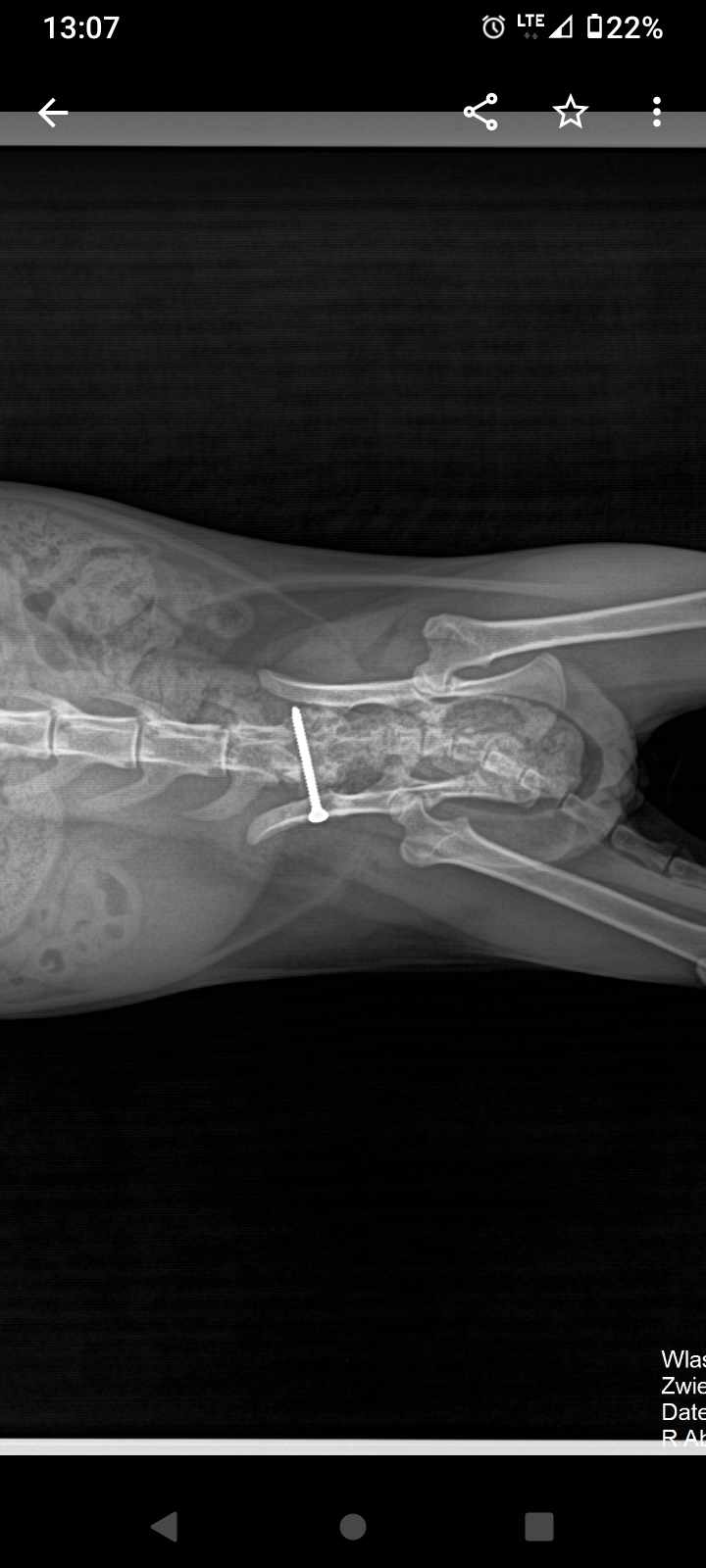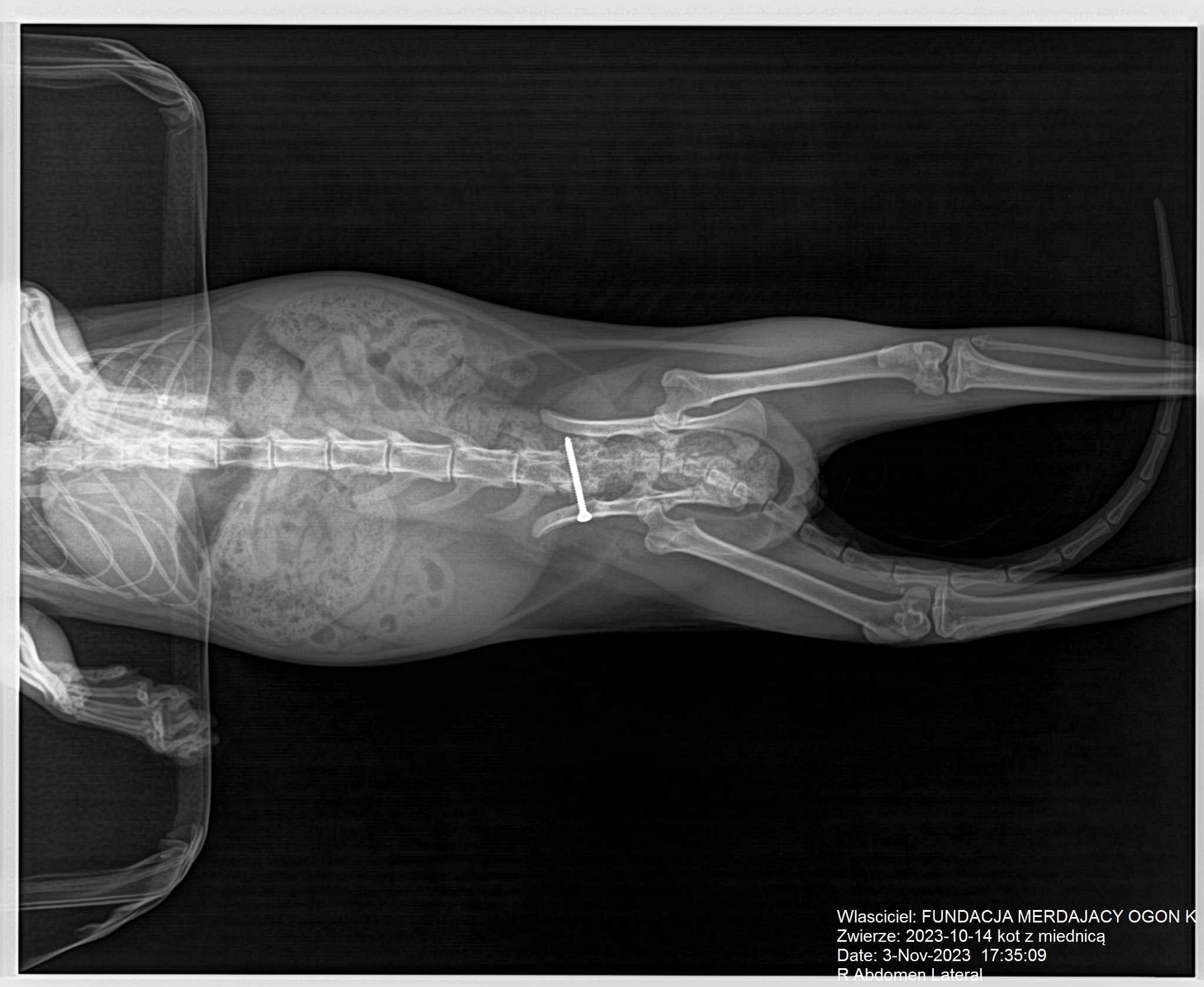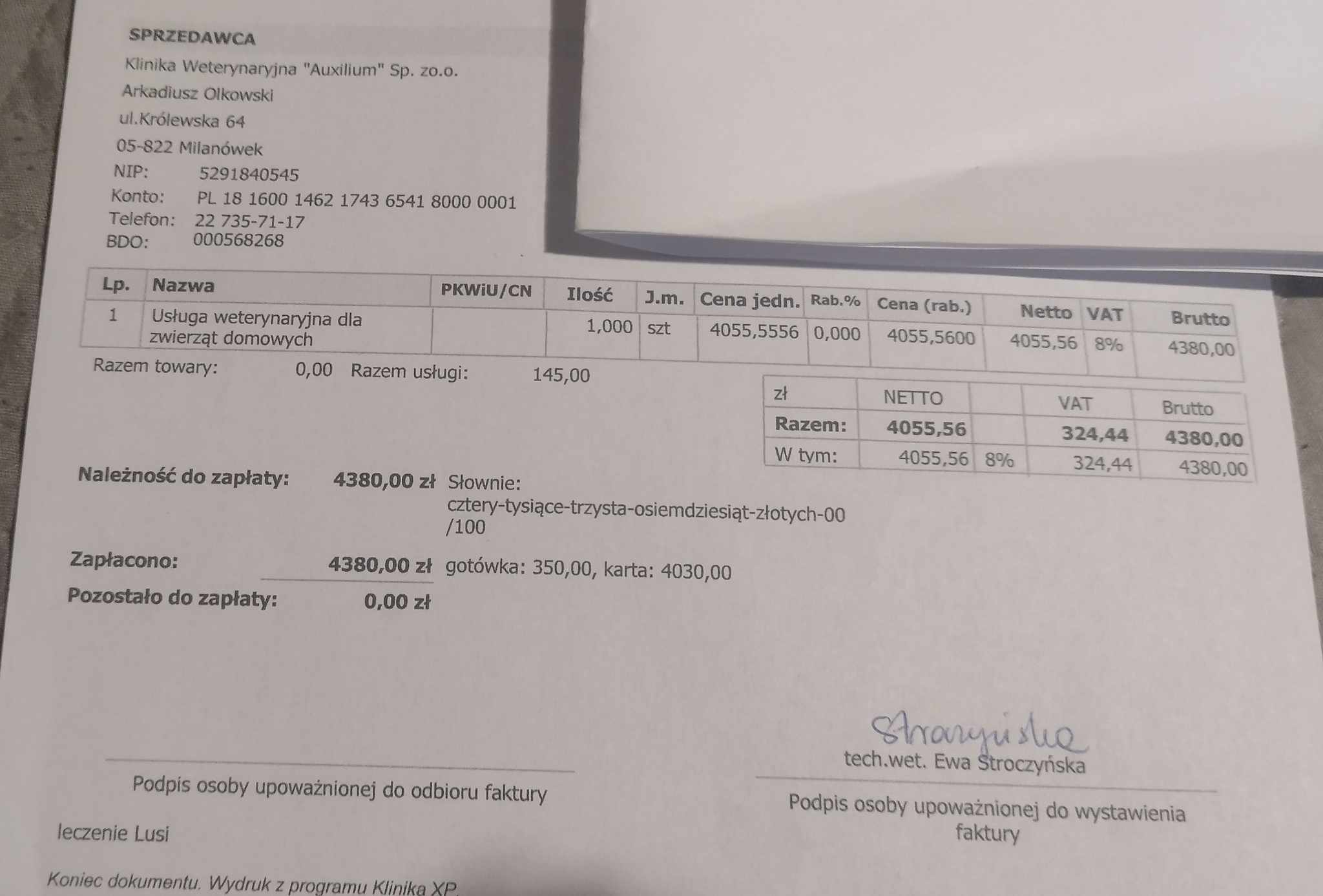 The world's first Payment Card. Your mini-terminal.
The world's first Payment Card. Your mini-terminal.
Find out more