id: gkcm3y
2nd Forum for Food Sovereignty
2nd Forum for Food Sovereignty
Donate
Zrzutka.pl does not charge any commission
Description
Do you know that industrial agriculture accounts for over half of global greenhouse gas emissions? * Do you know that most food in Poland comes mainly from such a source ** and its quality is lower than in other EU countries? *** Do you know that organic farming, which is favorable for the environment, is less than 3% of the food market in Poland? ****
Przedstaw w skrócie cel zrzutki.
Want to change it? Support NYELENI Polska in organizing the 2nd FORUM FOR FOOD SOVEREIGNTY!
NYELENI Polska is a social movement created by people who promote healthy, local food produced with care for the natural environment and with respect for employees' rights. Our main goal is to promote and develop food sovereignty and agroecology.We are farmers and farmers, employees of non-governmental organizations and representatives of cooperatives and municipal gardens. We've already achieved a lot together!
One of our biggest successes was the 1st Forum for Food Sovereignty Forum in 2018. We met there among people for whom sustainable food production, care for the planet and social justice are important. This event gave us energy to fight together for food sovereignty.Help us organize them for the second time!
The 2nd Forum for Food Sovereignty will be held at the Służewski Culture Center in Warsaw, 30.1-2.2.2020.
What will we doing during the Forum?
build a support network for alternative food distribution networks: direct sales, food cooperatives, socially supported agriculture
analyze agricultural policy in our country and in the world• work on solutions that increase the availability of life-giving food,
exchange agricultural knowledge and discuss how to deal with the effects of a changing climate
educate people not yet connected to our movement about what food sovereignty and agroecology are, and how they can help stop climate change.
For people who are just beginning to be interested in food sovereignty and agroecology, we have prepared a series of meetings during which they will be able to deepen their knowledge, be inspired by our experiences and join our movement.
NYELENI Polska is an informal social movement. We do not have a fixed budget, we acquire funds for specific activities, and our work is mostly voluntary. That is why your support is so important to us!Contribute to the 2nd Forum for Food Sovereignty and help us pay for:
Costs of using the space.
Travel and accommodation of speakers from all over the country.
A warm meal for our volunteers and refreshments for participants during coffee breaks.
Insurance that will cover unforeseen events during the FORUM.
A cultural event in which we celebrate intensive meetings and debates for several days.
Costs related to the evaluation meeting, during which the organizers and organizers of the 2nd FOOD SOVEREIGNTY FORUM will sum up all ideas, and will also work on a strategy for their implementation.
If you want to take part in the 2nd Forum for Food Sovereignty, you can register here…. Are you wondering what our everyday work looks like?
We are a group of activists with extensive experience in:
• cooperatives,• city gardens,• community supported farms,• non-governmental organizations,• informal coalitions.
We are building a Polish network of people and organizations working for food sovereignty, we run journalistic and educational activities.
Our biggest successes include:• the action Why I Don't Buy at the Supermarket,• Intergenerational Meeting of Farmers who want to create a new food system based on the concept of food sovereignty,• organization of Agro-Perma-Lab training for building competences of social leaders and innovators in the field of Agroecology and Permaculture.
If you want to learn more about who we are, what are our missions and goals:• visit our website• join us at the Forum
We believe that thanks to our commitment, we will do even more.* You can get a reward for your donation - most can only be picked up during the Forum, but we also have an option for people who will not be able to come to us. Check the REWARDS tab and learn more.We count on your support - thanks to you we will organize the 2nd Forum for Food Sovereignty!* Https: www.grain.org/article/entries/5102-food-sovereignty-5-steps-to-cool-the-planet-and-feed-its-people** Organic food in Poland accounts for 1-3 percent the entire food market in the country in Denmark - about 20 percent IMAS Report "Organic food in Poland 2017", which can be obtained on the IMAS website http://imas.pl/blog/raport-zywnosc-ekologiczna-w-polsce-2017-juz-do-pobrania*** Prices of food and non-alcoholic beverages in Poland constitute 69% of the EU average. They are cheaper only in Romania. Eurostat, data from 2018 https://ec.europa.eu/eurostat/statistics-explained/index.php/Comparative_price_levels_for_food,_beverages_and_tobacco#Price_levels_for_food.2C_beverages_and_tobacco table 1. A comparison of the quality of products in Poland and their counterparts abroad is described in the report from 2018 available at https://www.uokik.gov.pl/aktualnosci.php?news_id=14842
The world's first card for receiving payments. The Payment Card.
The world's first card for receiving payments. The Payment Card.
Find out more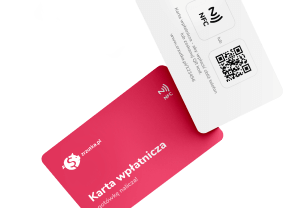 Our users created
852 642 whip-rounds
and collected
738 468 146 zł
What are you collecting for today?