id: gsg7fc
Lekarstwa na europejską i demokratyczną Polskę
Lekarstwa na europejską i demokratyczną Polskę

Donate
Zrzutka.pl does not charge a commission
Description
Wsparcie redakcji kodowskiego pisma "Obywatel", flagi Unii Europejskiej, KOD, sprzęt nagłaśniający, znaczki i maszyny do znaczków, namioty, kamizelki KOD,
15.04.2018 kończę moją działalność w KOD. Ta ostatnia zrzutka prowadzona jest z 2 powodów. Wsparcia redakcji Obywatela i wsparcia KOD.
1. Wspracie z tytułem "Obywatel" będzie przekazane jako darowizna celowa na pismo "Obywatel", 14.04. przeprowadzamy na Mazowszu szeroką akcję informacyjną, podczas której będziemy rozdawać specjalnie w tym celu przygotowanego "Obywatela" - tym numerze m.in. szeroko o KONSTYTUCJI, Obywatelskiej Kontroli Wyborów, powiadomieniu KOD o podejrzeniu popełnienia przestępstwa przez P.Morawieckiego, wywiad ze S.Zakroczymskim i inne. (cel to 2500zł, planowany nakład 5000)
2. Przez 2,5 roku działalności z prywatnych środków zakupiłem dość sporą liczbę materiałów i sprzetów, które były, są i będą pomocne w organizowaniu akcji manifestacyjnych, bądź szeroko rozumianemu propagowaniu wartości europejskich, kodowskich czy demokratycznych.
Za symboliczną kwotę można wesprzeć KOD w wejściu w posiadanie tych sprzętów. Jeśli ktoś z Państwa chciałby wesprzeć "konkretny" region KOD lub samemu zaopatrzyć się w któryś z zamieszczonych poniżej sprzętów, proszę o kontakt prywatnie.
ok. 90 flag KOD (nowe, 110x70 - 13zł/szt), maszyna do przypinek (nowa, średnica głowicy 58mm, 900zł), maszyna do przypinek / do drobnej naprawy (używana, uszczelka i element łożyska do wymiany, średnica głowicy 58mm, 500zł), ok. 2000 komponentów do produkcji znaczków 58mm (40rg/szt.), 400 balonów (białe, czerowne, niebieskie) + 100 mocowań (50zł), 100 małych flag UE z kijkiem (rozmiar 24x32, 2,5zł/szt), 100 specjalnych kodowskich kamizelek na demonstracje / punkty informacyjne (nowe, różne rozmiary, 14zł/szt),
w linku informacyjne zdjęcia, w razie potrzeby prześlę lepsze i napiszę więcej szczegółów.
https://drive.google.com/drive/folders/1GJcakeFEbmN1Yxh0SDrxVpdtiVzqL6Fr?usp=sharing
The world's first Payment Card. Accept payments wherever you are.
The world's first Payment Card. Accept payments wherever you are.
Find out more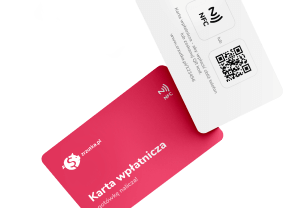 Our users created
705 132 whip-rounds
and collected
474 955 813 zł
What are you collecting for today?