id: jzhbfy
Zbieramy na rozliczenie za Quada który spadł ze skarpy na wakacjach
Zbieramy na rozliczenie za Quada który spadł ze skarpy na wakacjach

Inactive payments - the required operation of the organizer of the whip-round. If you are a organizer -
log in
and take the required action.
Share
Description
By wróciły dobre wspomnienia z wakacji. Zbieramy na quada ktory spadl ze skarpy na wakacjach.
Witajcie
Piszę do was tutaj z prośbą o zrzutkę na sprawę która chyba jeszcze się na zrzutce nie pojawiła.
Myślę ze nikt z was nie chciałby się znaleźć w takiej sytuacji na wakacjach.
Historia prawdziwa choć wydawać by się mogło ze niemożliwa.
A jednak.
Wybraliśmy się wraz z dziewczyną na wymarzone wakacje na wyspę Zakhyntos na które zbieraliśmy bardzo długo. Udało się w końcu w tym roku. Ale nie o tym.
Postanowiliśmy się wybrać na wycieczkę quadem by zwiedzić wyspę. Wypożyczyliśmy quada i zaczęliśmy zwiedzanie gdzie po jakimś czasie dojechaliśmy do Korakonissi Island. Zaparkowaliśmy quada obok pozostałych quadów zostawiając go na hamulcu ręcznym. Podczas zwiedzania poszliśmy na górę mieszczącą się obok by porobić pamiątkowe zdjęcia.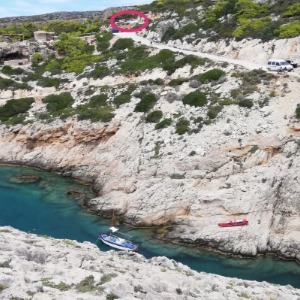 Ostanie zdjęcie na którym widoczny jest jeszcze quad.
zaznaczone kółkiem
Co przedstawia?
I TU ZACZYNA SIĘ CAŁA HISTORIA
Będąc na górze naprzeciw zaparkowanego quada skąd zostało wykonane zdjęcie nagle dziewczyna do mnie krzyczy.
"Patrz jakiś quad leci w dół"
Krzyknałem tylko do niej, że to nasz quad i biegłem na miejsce zdarzenia.
Quad spadał w dół koziołkując po czym zatrzymał się na wystającym kamieniu.
O to co zastaliśmy gdy dobiegliśmy na miejsce.
Zdjęcie wykonane przez świadka zdarzenia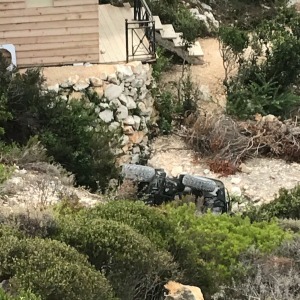 Proszę sobie wyobrazić, że ostatnią rzeczą której się spodziewałem to zobaczyć na wakacjach jak quad spada w przepaść w dół. ( takie rzeczy jak widać nie dzieją się tylko w filmach )
Przy zdarzeniu zebrała się grupa ludzi zwiedzających akurat to miejsce. Wśród nich była grupa około 10 polaków, którzy bez zastanowienia postanowili nam pomóc. Za co z całego serca przy tej okazji chciałbym podziękować.
Po godzinie akcji udało się wyciągnąć quada na górę po czym spróbowaliśmy go odpalić. Przy eskorcie dwójki polaków, którzy bezinteresownie postanowili nam pomóc zaproponowali, że odeskortują nas do miejsca w którym wypożyczaliśmy quada.
Wiem po czasie, że wyciąganie quada który koziołkował i powrót nim było mało odpowiedzialne, ale najważniejsze ze nikomu się nic nie stało.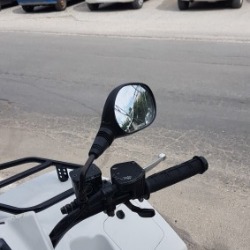 Uszkodzone lusterko drugiego brak.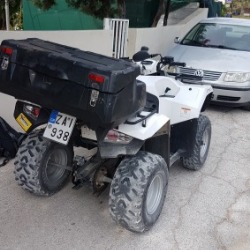 Powyginany zderzak tylny oraz skrzywiona tylna oś lewa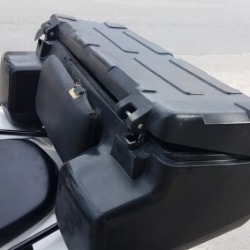 Uszkodzone oparcie oraz wyłamane zawiasy w kufrze
Właściciel wypożyczalni kiedy nas zobaczył a bardziej quada nie należał do szczęsliwych.
Po dwóch godzinach tłumaczeń i wyjaśnień mimo tego, że quad był dodatkowo ubezpieczony postanowił wykorzystać naszą trudną sytuację i zarządał od nas uwaga:
3000 euro
Ta informacja zszokowała mnie jeszcze bardziej niż widok quada który spadał w dół.
Oczywiste było, że nie posiadaliśmy takiej kwoty.
Była godzina 18:00 a my do 21:00 mieliśmy czas na zorganizowanie tak dużych pieniędzy. Ktoś powie, że skoro mieliśmy pieniądze na wakacje to stać nas. Tak jak wspomniałem powyżej było to nasze duże marzenie i żeby zobaczyć tą wyspę od dawna zbieraliśmy pieniądze na ten wyjazd.
Po przyjściu do hotelu powiedzieliśmy znajomym poznanym na wyjeździe o zaistniałej sytuacji i już w 4 osoby udaliśmy się ponownie do wypożyczalni by porozmawiać z właścicielem.
Godzinne negocjacje poskutkowały zejściem do kwoty:
1700 euro
Właściciel odrazu zagroził, że jeżeli nie wpłacimy pieniędzy on zawiadamia policję i blokuje nasz wyjazd do Polski. ( wyjazd mieliśmy na drugi dzień )
Mieliśmy godzinę na zorganizowanie pieniędzy. Skończyło się na wzięciu kredytu ( płatność kartą kredytową ) oraz pożyczką pieniędzy od poznanych znajomych w hotelu.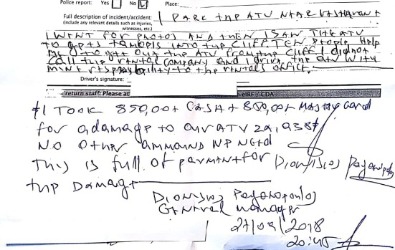 Spisane nasze zeznania oraz potwierdzenia załatwienia płatności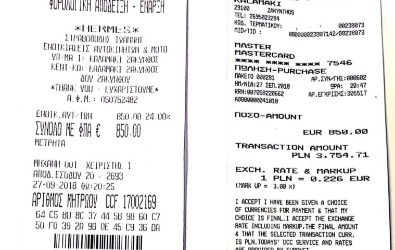 Potwierdzenie płatności kartą oraz paragon
( płatność wykonana połowa kartą a połowa gotówką )
Niełatwo jest prosić o pomoc w takiej sytuacji. Pomysł podrzucił znajomy podczas powrotu na lotnisku. Szczerze nie wiem jak doszło do tego wypadku. Może puściły hamulce, może ktoś uderzył w quada może ktoś pomylił quady i przypadkowo odbezpieczył hamulce. TEGO NIE WIEM. Wiem, że to się stało i czasu się nie cofnie. Nie proszę o współczucie, ale o to by przywrócić dobre wspomnienia z wyjazdu, który miał być spełnieniem marzenia, a stał się koszmarem.
Z góry dziękuję za każdą pomoc, za każde udostępnienie i za każdą wpłatę, nawet tę najmniejszą.
The world's first Payment Card. Your mini-terminal.
The world's first Payment Card. Your mini-terminal.
Find out more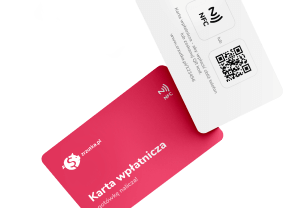 Our users created
877 653 whip-rounds
and collected
805 814 424 zł
What are you collecting for today?