id: ma6kp2
MRI głowy, USG stawu barkowego
MRI głowy, USG stawu barkowego
Description
Ja i pisanie... No krótko, 650 to koszt prywatnego MRI głowy z kontrastem, 130 z kolei to koszt prywatnego USG stawu barkowego. Cennik z Enel-Medu, telefonicznie każdy może to potwierdzić. Usługi planowane w Gdańsku.
Edytor zżarł mi cały tekst. Jakjaniecierpięedytorów.
Raz jeszcze zatem. Zbieram na prywatne MRI głowy z kontrastem w związku z pilnym skierowanie na takie badanie. NFZ rozumie "pilne" po swojemu, co oznacza konkretnie grudzień tego roku. Dziękuję, NFZ-ecie! A powinnom mieć jego wyniki w zębach do 15 czerwca tego roku, kiedy mam umówioną następną wizytę u reumatologa.
Dlaczego reumatolog zleca MRI głowy? Choruję na zapalenie wielomięśniowe - teraz to już potwierdzone, wcześniej próbowano przypasować moją chorobę do twardziny układowej, ale z czasem ujawniły się kolejne uszkodzenia mięśni, typowe już dla zapalenia wielomięśniowego. Choroba jest znowu w fazie aktywnej, więc chciałom rozpocząć leczenie. Leczenie rzecz jasna jest zachowawcze, bo sama choroba nie jest uleczalna. Ale rozpoczęcie terapii może spowolnić postępowanie choroby, czyli - mogę być dłużej sprawne ruchowo. Na przykład dłużej chodzić, podnosić rzeczy, unosić głowę, przełykać pokarm, takie rzeczy. Nie w pełni sprawne może, ale samodzielne.
Podczas badań, które miałom wykonywane 27 marca okazało się jednak, że mam wyraźne osłabienie mięśni prawej strony ciała. To zdecydowanie nie jest typowe dla zapalenia wielomięśniowego. To jest bardzo podejrzane. Na tyle, że lekarka podjęła decyzję o nie wdrażaniu leczenia, dopóki nie dowiemy się, co się dzieje z moim mózgiem. Stąd właśnie skierowanie na MRI w trybie pilnym. Dodatkowo doszło do tego USG stawu barkowego prawego, bo pomimo braku uszkodzeń mechanicznych - w każdym razie takich, o których mi byłoby wiadomo - jest znaczne ograniczenie jego ruchomości. USG prywatnie to koszt 130 złotych, ale będę próbować się umówić gdzie indziej na NFZ (w moim szpitalu termin na zaproponowano na październik). Jeżeli to się uda, to zmniejszę kwotę zrzutki do 650 zeta na samo MRI.
Pytania kierujcie do mnie na Facebook'u.
The world's first Payment Card. Accept payments wherever you are.
The world's first Payment Card. Accept payments wherever you are.
Find out more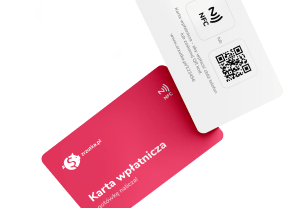 Our users created
894 645 whip-rounds
and collected
839 059 831 zł
What are you collecting for today?