id: nrfz95
Proszę, pomóż Kimi stanąć na łapki — zbiórka na operację miednicy i tylnich łapek
Proszę, pomóż Kimi stanąć na łapki — zbiórka na operację miednicy i tylnich łapek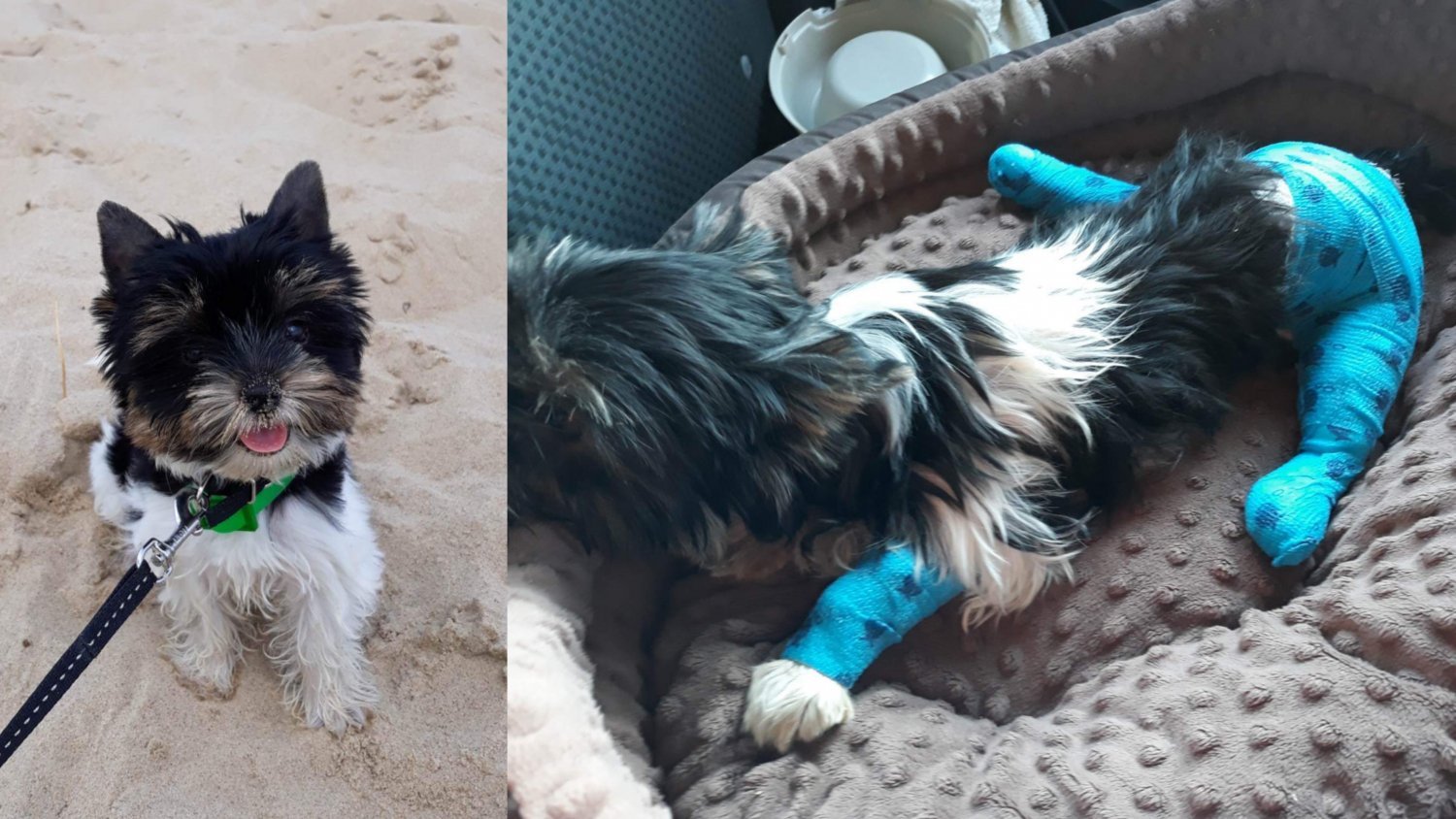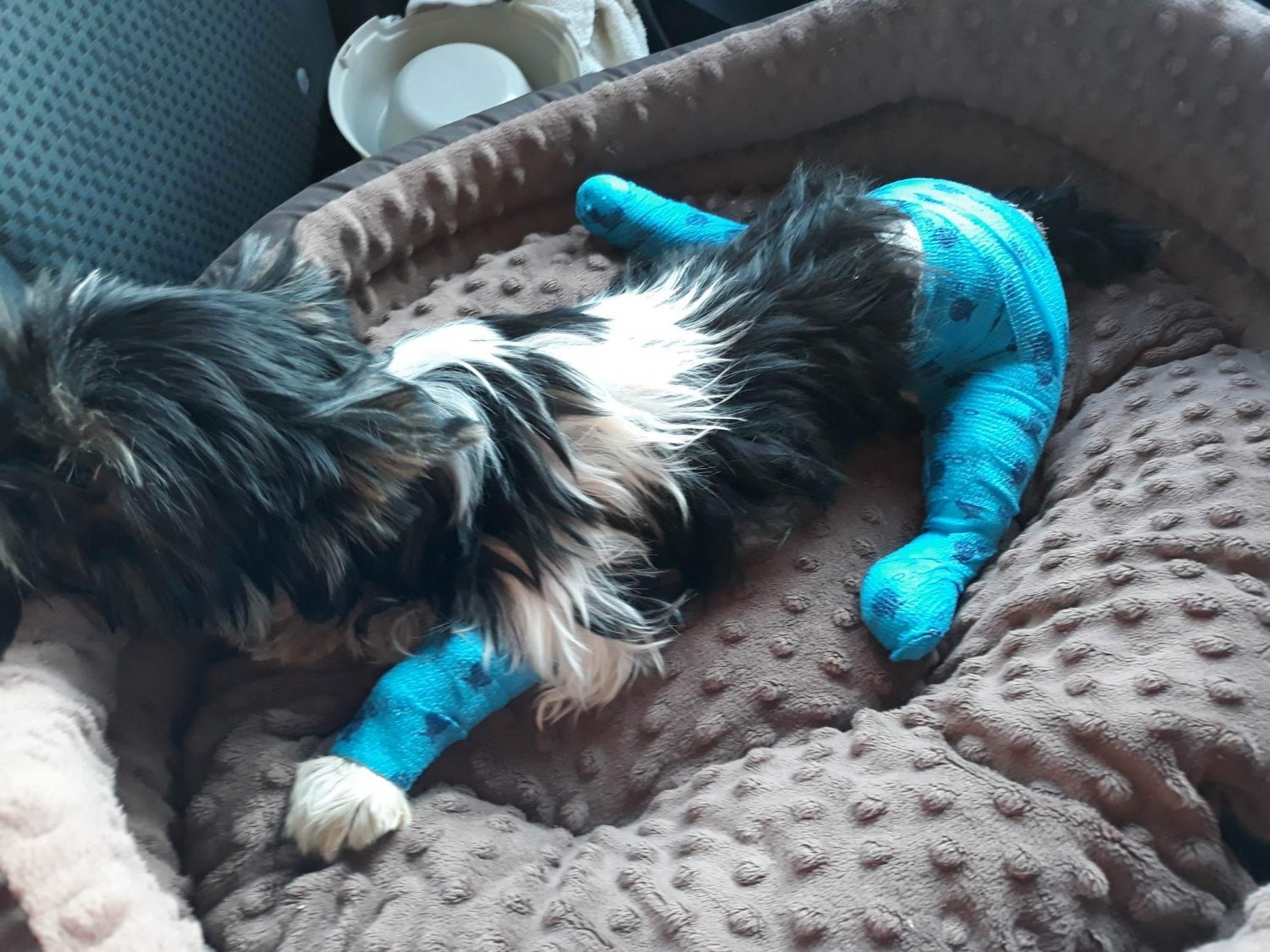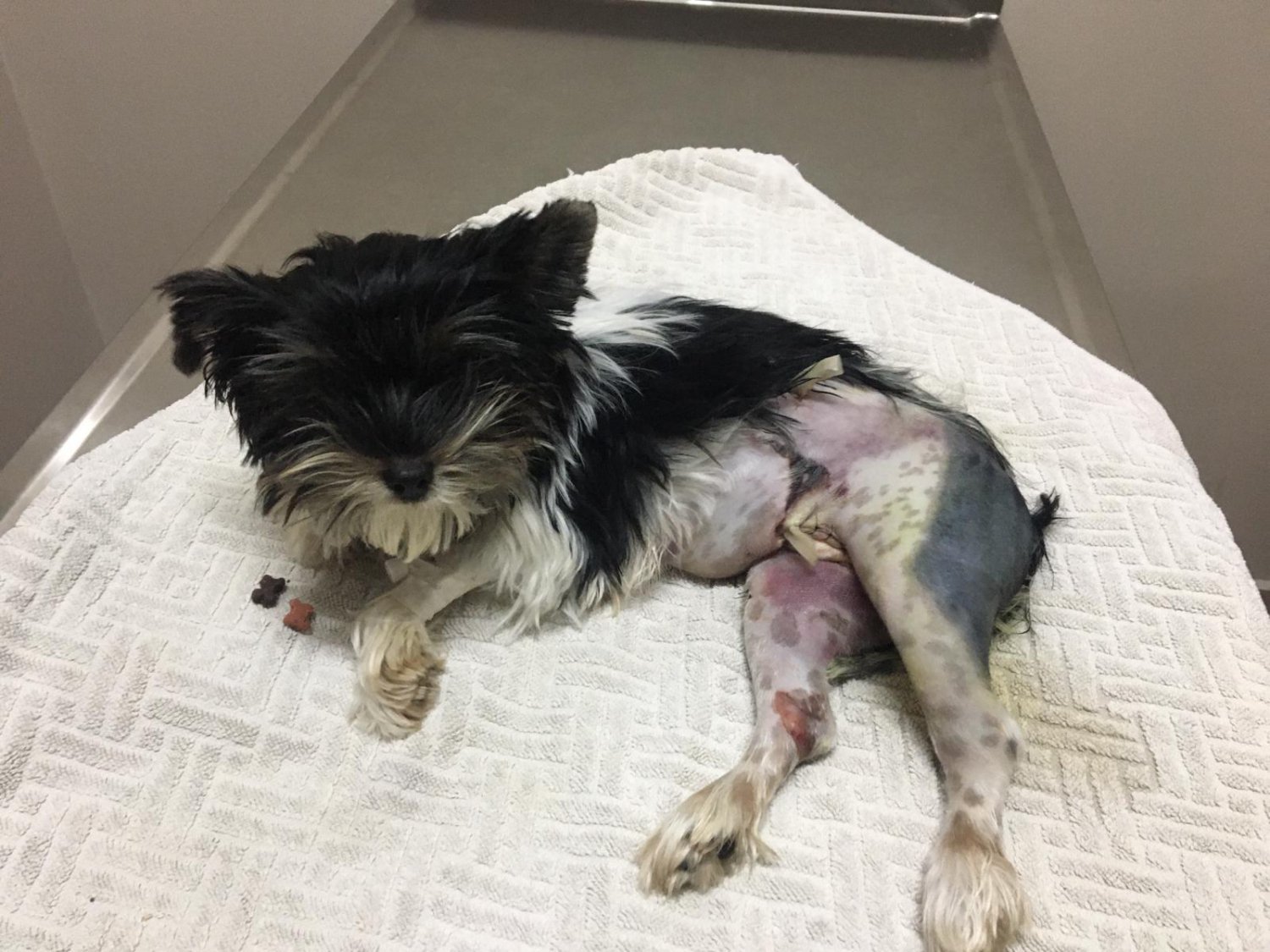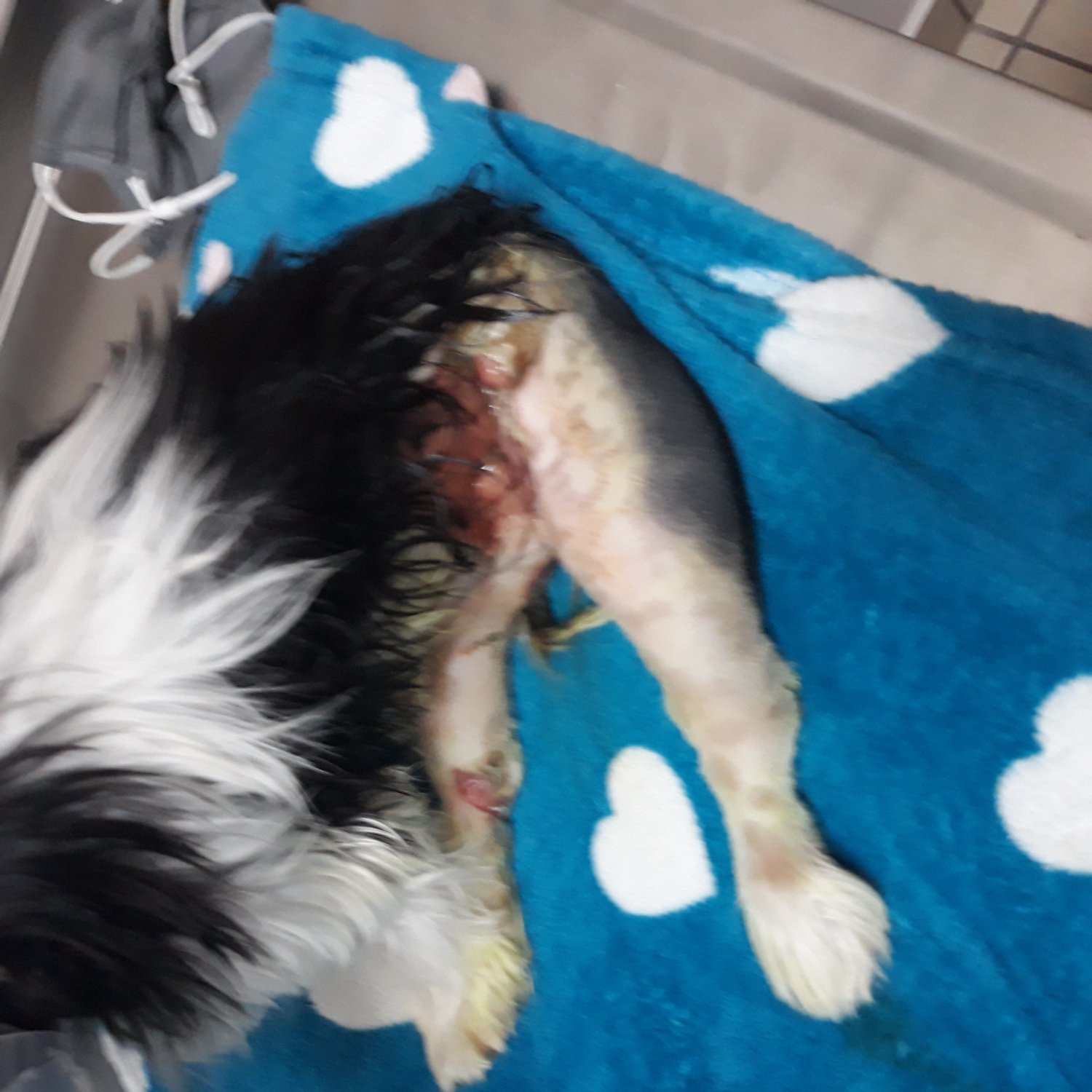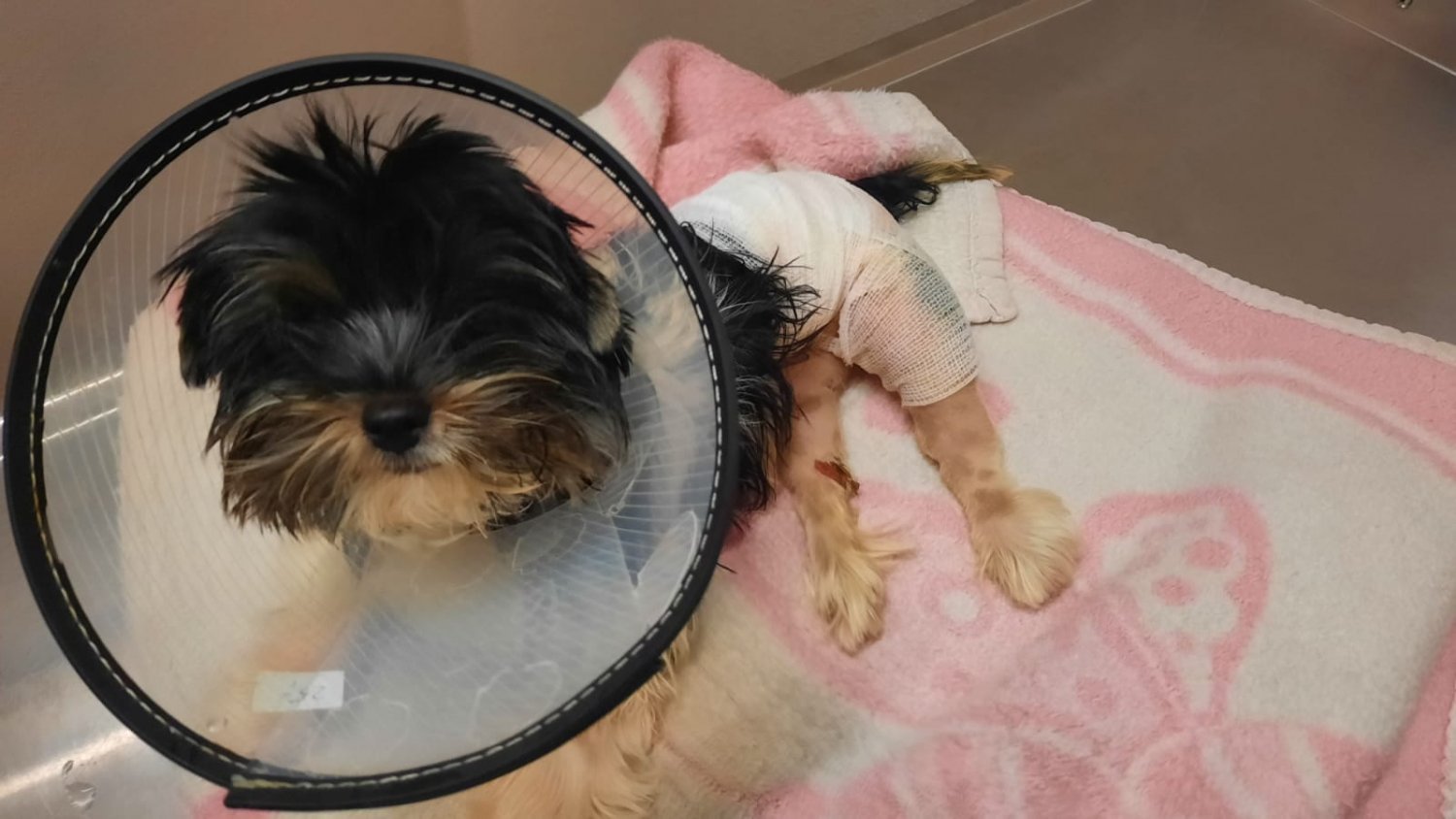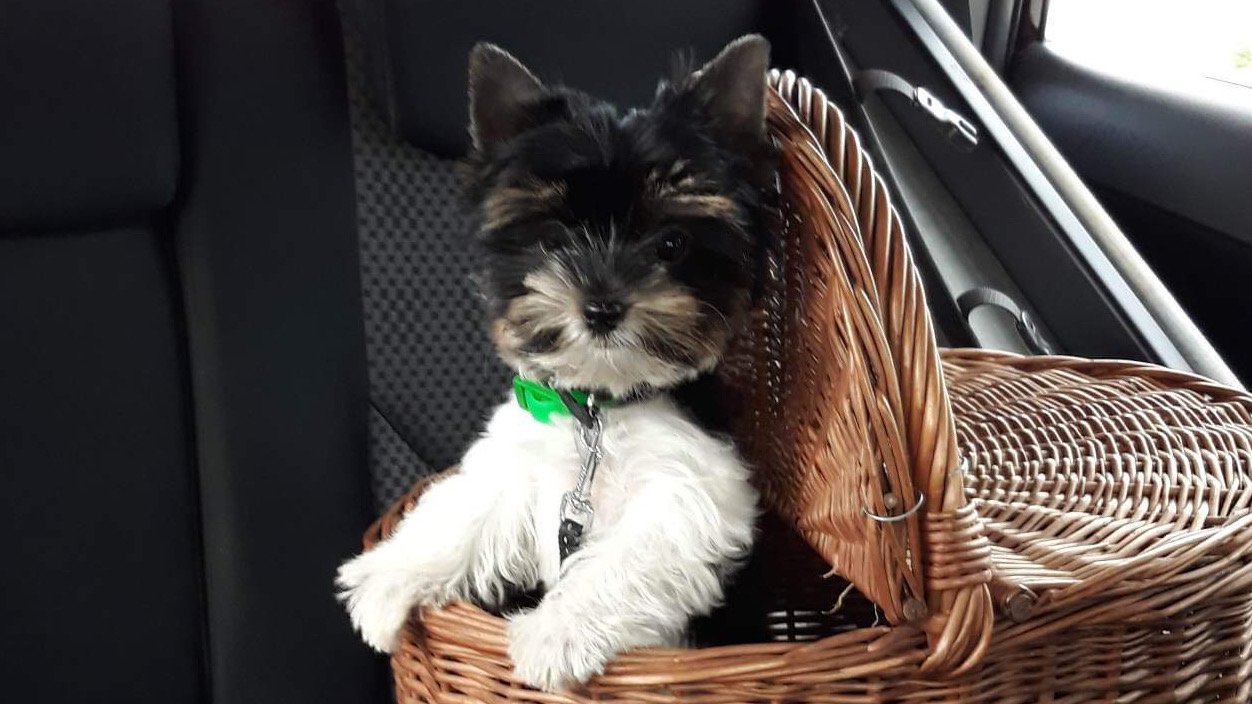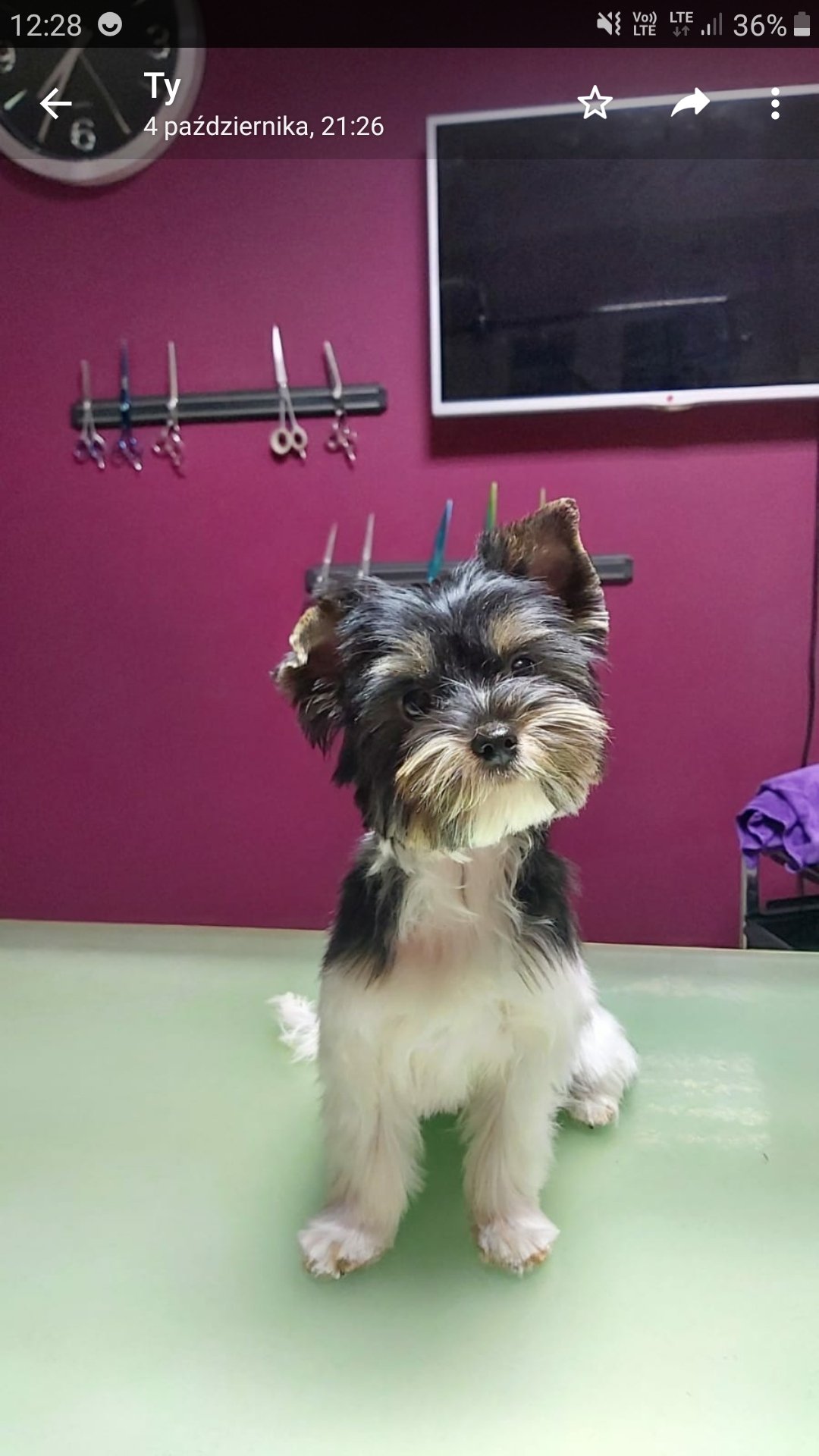 The organizer verified the description with proper documents.
Donate
Zrzutka.pl does not charge any commission
Nasza Kimi czuje się już lepiej. Czekamy kiedy będzie mogła rozpocząć rechabilitację i kiedy będzie mogła przejść kolejną operację, w czasie której ma mieć złożoną miednicę i przyśrubowaną do kości krzyżowej. Bardzo dziękujemy za okazaną pomoc, jesteśmy wdzięczni wszystkim za wasze wspaniałe serca. To cudowne, że jast tak wielu wrażliwych ludzi, którzy nie pozostają obojętni na cierpienie zwierząt. Przedstawiam na zdjęciach poniesione koszty leczenia i link do filmiku z postępami Kimi.

https://youtube.com/shorts/qQRbM-OxqQI?feature =share

Read more

Nasza Sunia po zmianie opatrunku w szpitalu. Czucia w łapkach nie ma ale jest dzielna.

Read more

Kimi dzisiaj czuje się dużo lepiej 🙂 i pozdrawia ze szpitala 

Read more

Kimi przeszła już operację obu nóżek, niestety skóra na brzuszku i nodze która oderwała się podczas wypadku nie przyjęła się, obumarła. Lekarze wycięli płat martwiczy i pielęgnują odkrytą tkankę. Jesteśmy dobrej myśli, iż się wszystko ładnie zagoi. Konieczna też byla transfuzja krwi. Następny etap to operacja zgruchotanej miednicy, bez tego zabiegu Kimi nie stanie na nogi.




Dziękuję bardzo wszystkim darczyńcom




Macie dobro w duszy i wielkie serca

Read more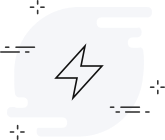 There are no updates yet.
Description
Kimi jest maleńką, 8 miesięczną miniaturką rasy Yorkshire Terrier Biewer, bardzo pocieszną, wesołą i rozkoszną; nadzwyczaj żywiołową i energiczną dziewczynką, którą bardzo kochamy i zawsze marzyliśmy o takim psiaku. 
Podczas wieczornego spaceru, nasza sunia zerwała się ze smyczy i wpadła pod samochód. Trafiła do kliniki, gdzie badania wykazały obustronne złamanie kończyn miedniczych, zmiażdżenie miednicy z przemieszczeniami oraz rozległe rany w pachwinach; ma pozrywane mięśnie i oderwane płaty skóry. Po kilku godzinnej stabilizacji, Kimi przewieziono do szpitala specjalistycznego, gdzie stwierdzono, że konieczne są trzy kosztowne operacje, leczenie oraz rehabilitacja. Jedynie te zabiegi są w stanie uratować jej życie, które wciąż jest zagrożone. Będziemy o nie walczyć na wszelkie możliwe sposoby.
W klinice przedstawiono nam koszt tego leczenia na 12 000 zł, na który się zgodziliśmy nie posiadając takiej kwoty, by ratować nasze maleństwo. Dlatego pomocy szukamy tutaj, licząc na wielkie serca, które wykażą się empatią oraz miłością i będą w stanie wesprzeć nas z trudnością w odnalezieniu pieniędzy na uratowanie naszego ukochanego pupila. Kimi jest jeszcze młodziutka, jej zdrowie jest dla nas najważniejsze. Nie dopuszczamy do siebie myśli o jej stracie.
Błagam, pomóżcie tak, jak tylko możecie malutkiej Kimi z powrotem stanąć na łapki i pozwolić jej żyć dalej, z całych sił!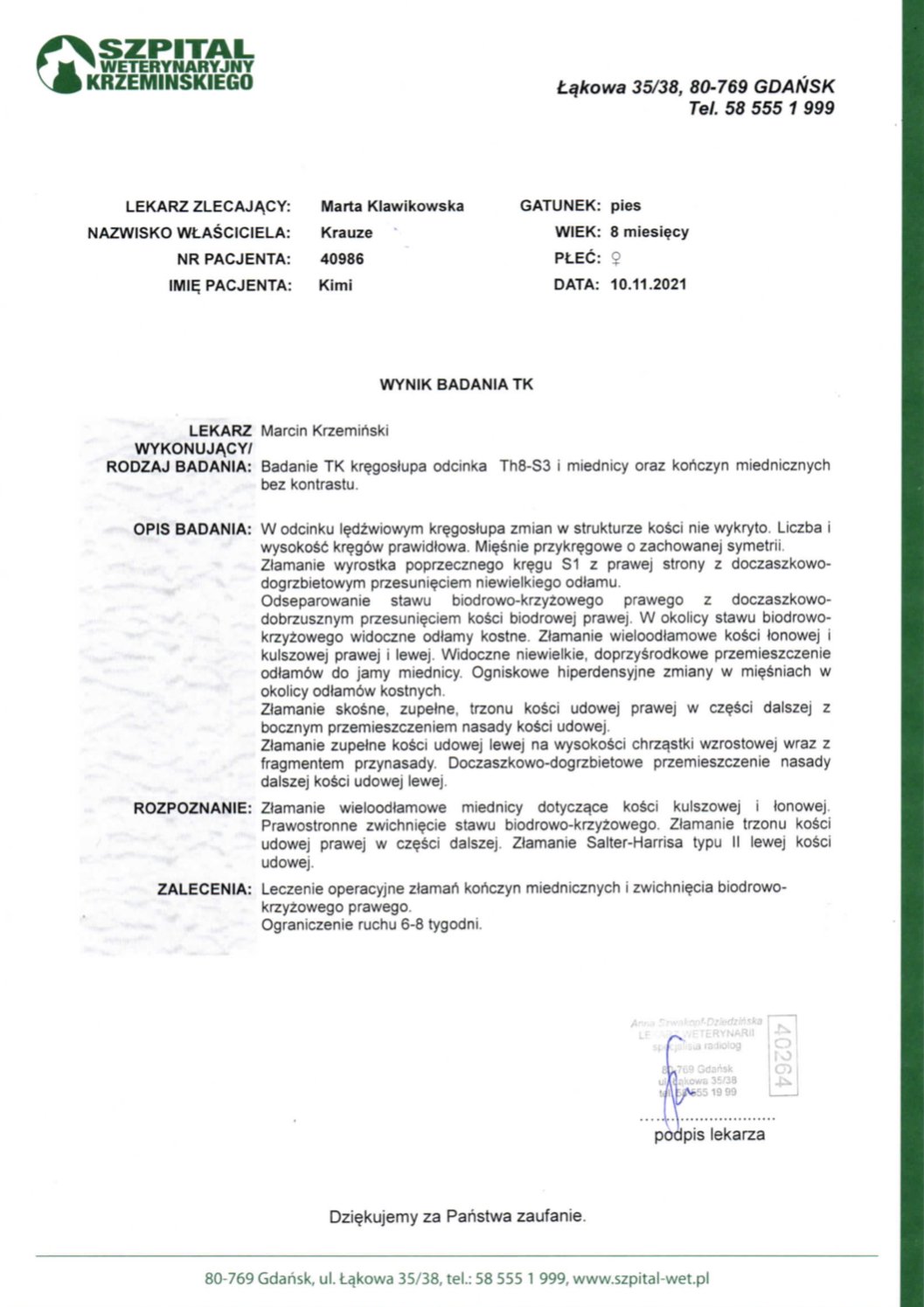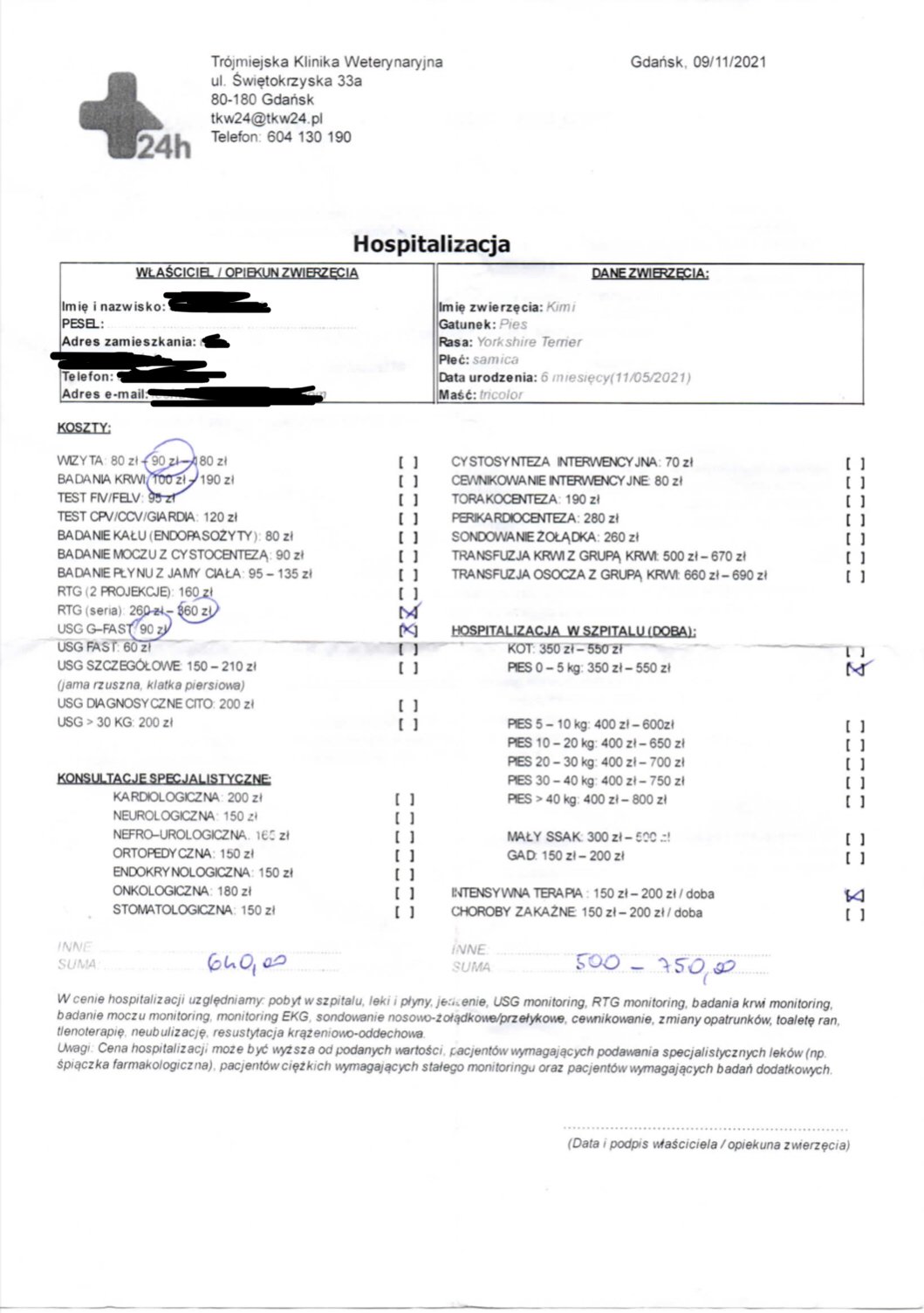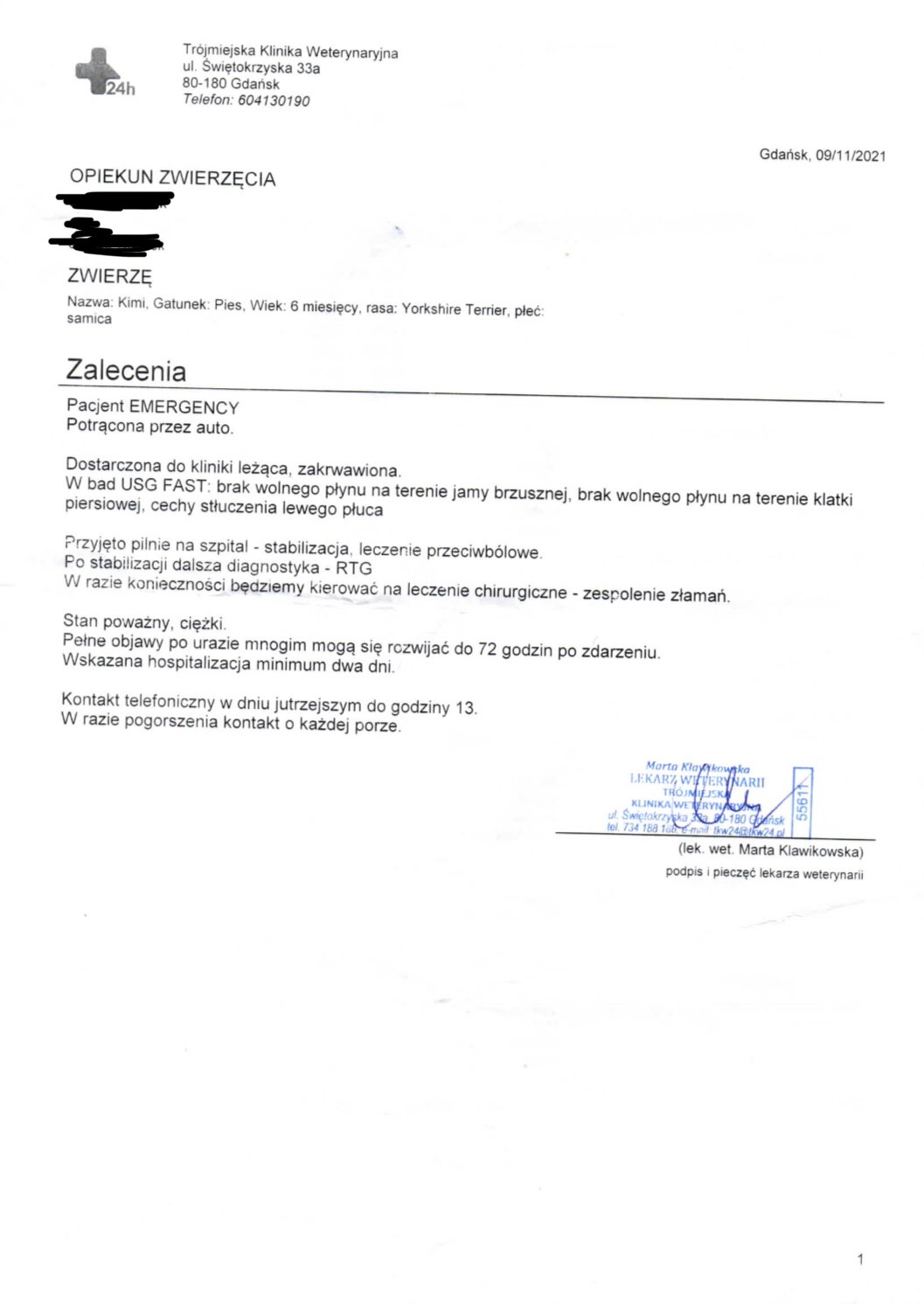 The world's first Payment Card. Accept payments wherever you are.
The world's first Payment Card. Accept payments wherever you are.
Find out more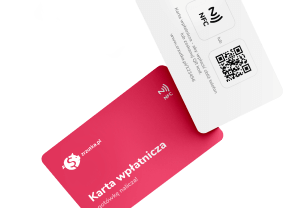 Our users created
795 062 whip-rounds
and collected
610 610 623 zł
What are you collecting for today?