id: pmcvcx
Akcja SOS - Uczelnie Schroniskom w obliczu pandemii.
Akcja SOS - Uczelnie Schroniskom w obliczu pandemii.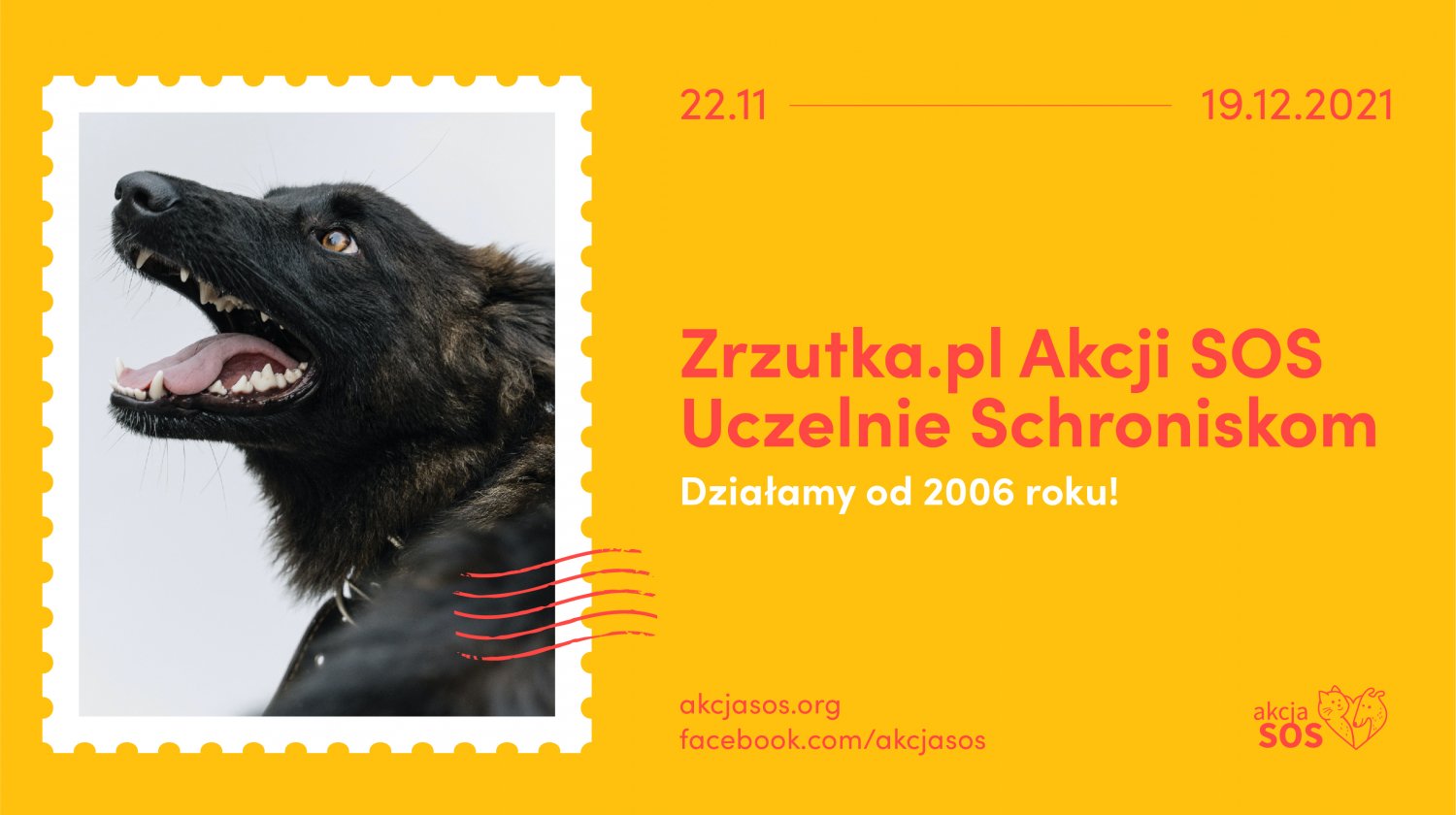 Whip-round was turned off by organizer
Inactive payments - the required operation of the organizer of the whip-round. If you are a organizer -
log in
and take the required action.
Description
W czasie gdy przytuliska dla bezdomnych zwierząt pozostają same sobie, wolontariusze Akcji SOS – Uczelnie Schroniskom wychodzą naprzeciw potrzebom z rękami gotowymi do pracy i wbrew wszelkim trudnościom są gotowi nieść pomoc najsłabszym.
Przez ostatnie lata Akcja SOS, będąca międzyuczelnianym stowarzyszeniem tworzonym przez studentów, doktorantów i pracowników naukowych, prowadziła zbiórki żywności i koców dla zwierząt, a także środków finansowych, za które wolontariusze zakupili artykuły niezbędne w schroniskach, w tym urządzenia do rehabilitacji zwierząt, materiały i lampy do zabiegów chirurgicznych, specjalistyczne karmy, środki przeciwpchelne i wiele innych. Wolontariusze wraz z harcerzami Hufca ZHP Kraków-Podgórze szyli okrycia dla psów, przebywających w schroniskowych boksach, propagowali akcje adopcyjne zwierząt, edukowali uwrażliwiając na problem bezdomności i złego traktowania psów i kotów.
Z przyczyn pandemicznych, tegoroczna Akcja SOS również nie mogła odbyć się w takiej formie, jak dotychczas. Ograniczenia w przemieszczaniu się osób w budynkach uczelni, a także brak możliwości przyjmowania używanych artykułów w schroniskach, skłoniły wolontariuszy do przeniesienia zbiórki do Internetu. W dniach od 22 listopada do 19 grudnia na portalu zrzutka.pl zostanie przeprowadzona zbiórka środków finansowych, za które wolontariusze zakupią to, co w tym trudnym czasie, jest najbardziej potrzebne w schroniskach. Zbiórce będą towarzyszyć wydarzenia takie, jak licytacje przedmiotów i szkolenia, a cały uzyskany dochód zostanie przeznaczony dla zwierzaków. Organizacja Akcji SOS nie byłaby możliwa, gdyby nie wspólna praca studentów i pracowników Uniwersytetu Jagiellońskiego, Akademii Górniczo-Hutniczej, Politechniki Krakowskiej, Uniwersytetu Rolniczego i Pedagogicznego, Krakowskiej Akademii im. Andrzeja Frycza Modrzewskiego, Akademii Sztuk Pięknych oraz Polskiej Akademii Nauk, którzy corocznie pokazują, że czynienie dobra nie zna barier i przeciwności.
Za zebrane środki z Akcji SOS - Uczelnie Schroniskom 2020 udzieliliśmy następującej pomocy:
Zakup suchej i mokrej karmy dla psów i kotów dla Przytuliska Kolonia-Łętkowice (4 966,60 zł)
Zakup myjki do usuwania nieczystości w psich boksach oraz opłacenie usług weterynaryjnych i energii elektrycznej w Przytulisku Harbutowice (4 674,63 zł)
Dofinansowanie zakupu inkubatora do ratowania zwierząt w stanie zagrożenia życia dla Schroniska Psie Pole (5 000 zł)
Dofinansowanie modernizacji sali operacyjnej dla Schroniska dla Bezdomnych Zwierząt w Krakowie (23 260, 32 zł).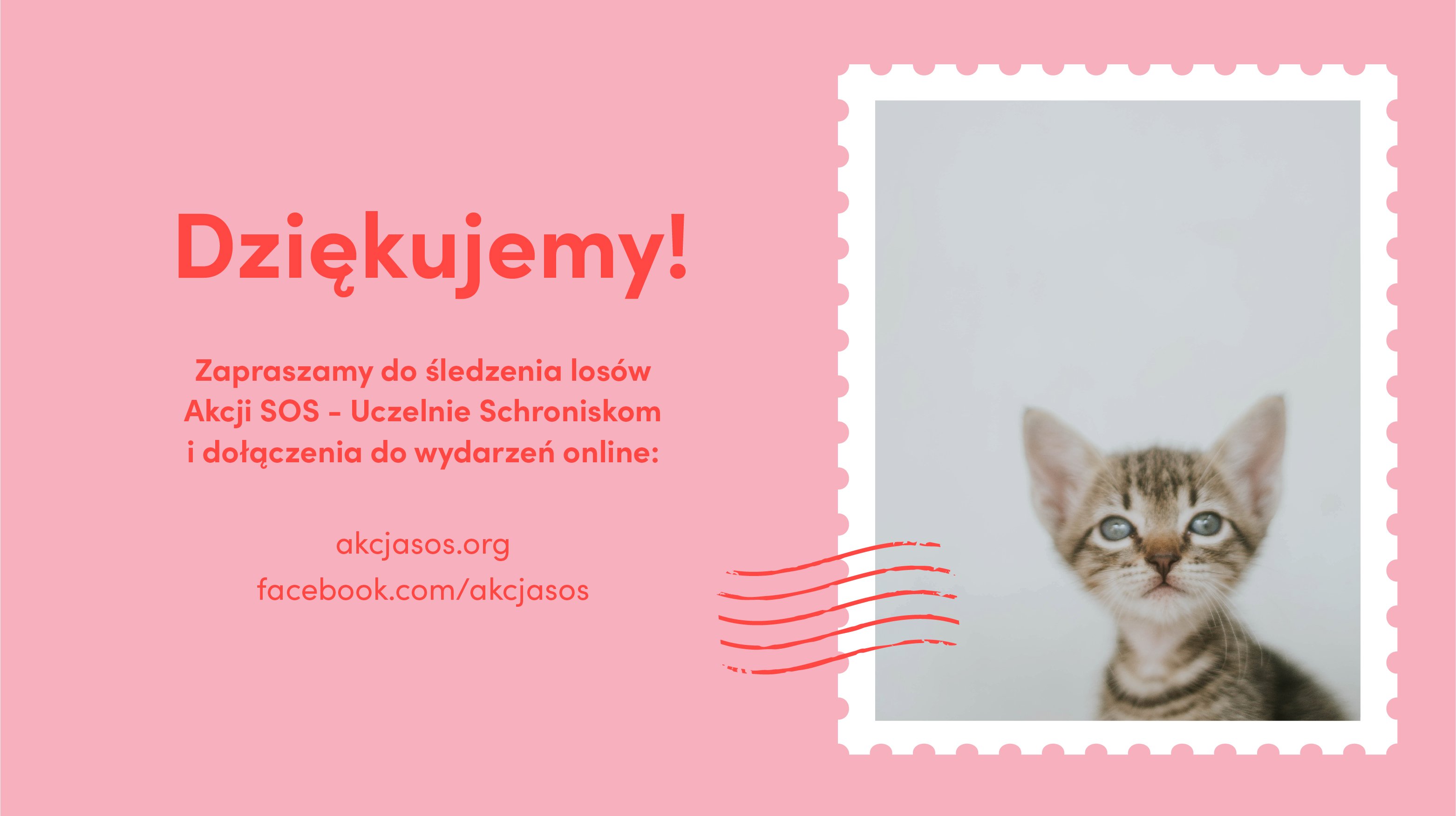 The world's first Payment Card. Accept payments wherever you are.
The world's first Payment Card. Accept payments wherever you are.
Find out more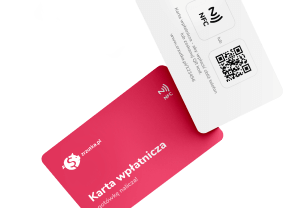 Our users created
794 997 whip-rounds
and collected
610 555 695 zł
What are you collecting for today?