id: uzhgjw
Bus dla LIGI SUPERBOHATERÓW
Bus dla LIGI SUPERBOHATERÓW

Materiał z tvn: https://fakty.tvn24.pl/fakty-w-poludnie,98/liga-superbohaterow-zbiera-na-busa,884160.html

Read more

9% Jest dobrze Kochani! Dziękujemy, walczymy dalej :)

Read more

Księgowanie przelewu weryfikacyjnego trwa do dwóch dni roboczych i realizuje się zwykle w godzinach 11:00 - 19:00 (co godzinę). Dopiero w poniedziałek profil będzie zweryfikowany. Ale nic się nie bójcie :)

Read more

Zbieramy na busa ekologicznym silnikiem, żeby obniżyć koszta dojazdu w najodleglejsze miejsca w Polsce. Ze Szczecina mamy wszędzie daleko. Celujemy w Renault Trafic lub Opel Vivaro.

Read more
Description
LIGA SUPERBOHATERÓW To fundacja, która zrzesza osoby, które chcą poprawić humor chorym dzieciom. Szczególnie tym, które znaczną część swojego życie spędzają na szpitalny oddziałach. Mają jedną zasadę: kiedy odwiedzają dzieci nigdy nie pytają o samopoczucie. Jak mówią - to zadanie dla lekarzy. Oni mają jeden cel – chcą, żeby dzieci zapomniały o chorobie. Tomek, Ola oraz ich przyjaciele przebierają się w kostiumy Batmana, Supermana, Spidermana. Wchodzą do szpitalnych sali "zabierają dzieci w bajkowy świat". Pojawiają się również w domach dziecka oraz w hospicjach. Niejednokrotnie odbierają telefon z prośbą, że choremu dziecku pozostaje niewiele czasu, a jego marzeniem jest spotkanie z ulubionym superbohaterem. Wsiadają w auto i realizują te marzenia, spędzając z dziećmi czas wypełniony zabawą i rozmowami. Są ze Szczecina, jednak nie stanowi dla nich problemu, żeby pokonać setki kilometrów i przyjechać do Warszawy, by spotkać się z dziećmi w Centrum Zdrowia Dziecka.
Krótki materiał o naszych działanich:
https://fakty.tvn24.pl/fakty-w-poludnie,98/liga-superbohaterow-zbiera-na-busa,884160.html
Zbieramy na bezpiecznego busa, używanego ale do max 30 tys kilometrów. Nowe auta mają nowoczesne systemy bezpieczeństwa dlatego zależy nam żeby było to auto powystawowe z salonu, najlepiej na gwarancji.
Busa pomalują dzieci ze szpitala!
"Dzieci z Onkologii i Hematologii przy Unii Lubelskiej odmalowały Ligowóz!
Dużo osób pytało się czy to farby zmywalne czy na stałe. Jak mówiliśmy że na stałe to się mega dziwili jak tak można. Początkowo myśleliśmy że dzieci będą miały mega radochę. Patrząc na nie widzieliśmy mega powagę i skupienie. Bardzo się starały. Odchodząc od auta były mega dumne! Na pewno zasypiały z uśmiechem na buzi, że mogły pomalować auto Spidermana"
:D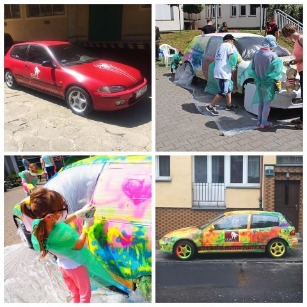 Contributors 1721
Our users created
627 468 whip-rounds
and collected
378 139 606 zł
What are you collecting for today?