id: w6pcz7
EQUALITY EDUCATION - WE CAN DO IT!
EQUALITY EDUCATION - WE CAN DO IT!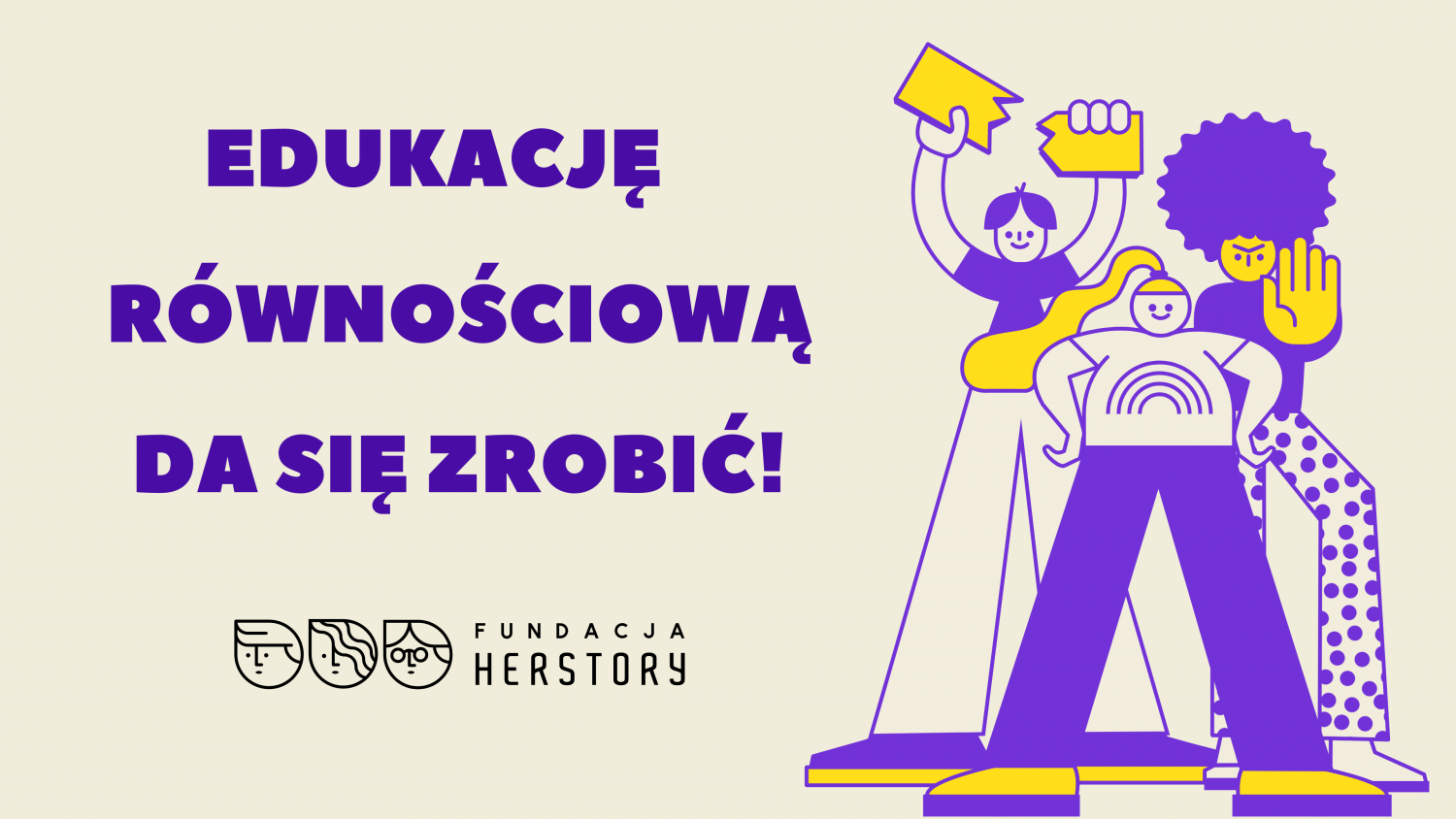 of 65 000 zł (≈ 13 742 €)
Inactive payments - the required operation of the organizer of the whip-round. If you are a organizer -
log in
and take the required action.
Share
Description
LET'S BRING EQUALITY TO POLISH SCHOOLS TOGETHER. LET'S SHOW IT'S POSSIBLE!
Polish children and youth experience violence and discrimination - they suffer from prejudice, stereotypes, and lack of knowledge. The data from reports about discrimination in Polish schools is horrifying. Are we doing something about it? Current authorities are worsening the situation instead of fixing it and making it impossible for schools to solve the problems. A large part of society is indifferent or scared. Often those who want to act don't know where to start, or where to turn. 
We want the stories of young people to be heard by allies from their environment - parents, teachers, and support institutions. We want them to feel that they are the power that can change this situation.
We will record and share their voices. Let's put a face to these reports' data so they can't be ignored!
We will create short and clear guides on how to organize equality education on your own. How to get the help that's available How to mobilize those around you, what materials to send them. We will reach out to parents, schools, organizations, and institutions.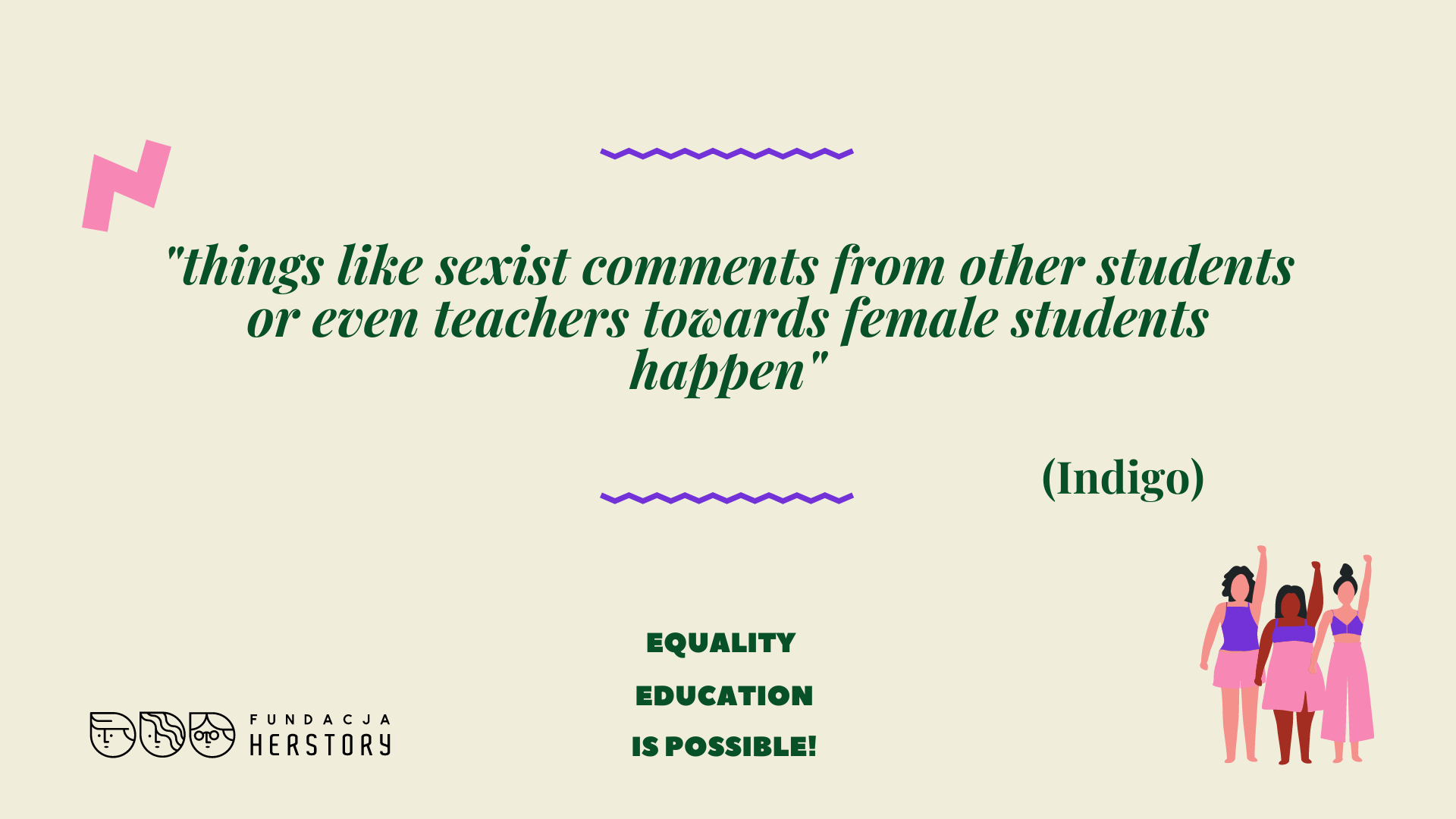 WHAT DO THE PUPILS OF POLISH SCHOOLS EXPERIENCE? 
! more than 60% of male and female students aged 13-15 experience ridicule and exclusion from activities
! one in four has been bullied
! more than one in three has experienced hitting and pushing
! the groups experiencing the most discrimination and violence are LGBTQ+ children and those of non-Polish origin
! cyberbullying is a relatively new phenomenon but one of the fastest-growing. Luckily, most of us did not experience it during our school years, but we know how painful it can be for adults - let alone for children or teenagers who spend most of their free time on the Internet*.
*all of the above data comes from the Human Rights Spokesman's latest report on peer violence in schools, Equal Treatment at School (2022). 
The report confirms what we know by working with children and youth and listening to their stories. All these stories share a common thread - stereotypes, prejudice, and discrimination.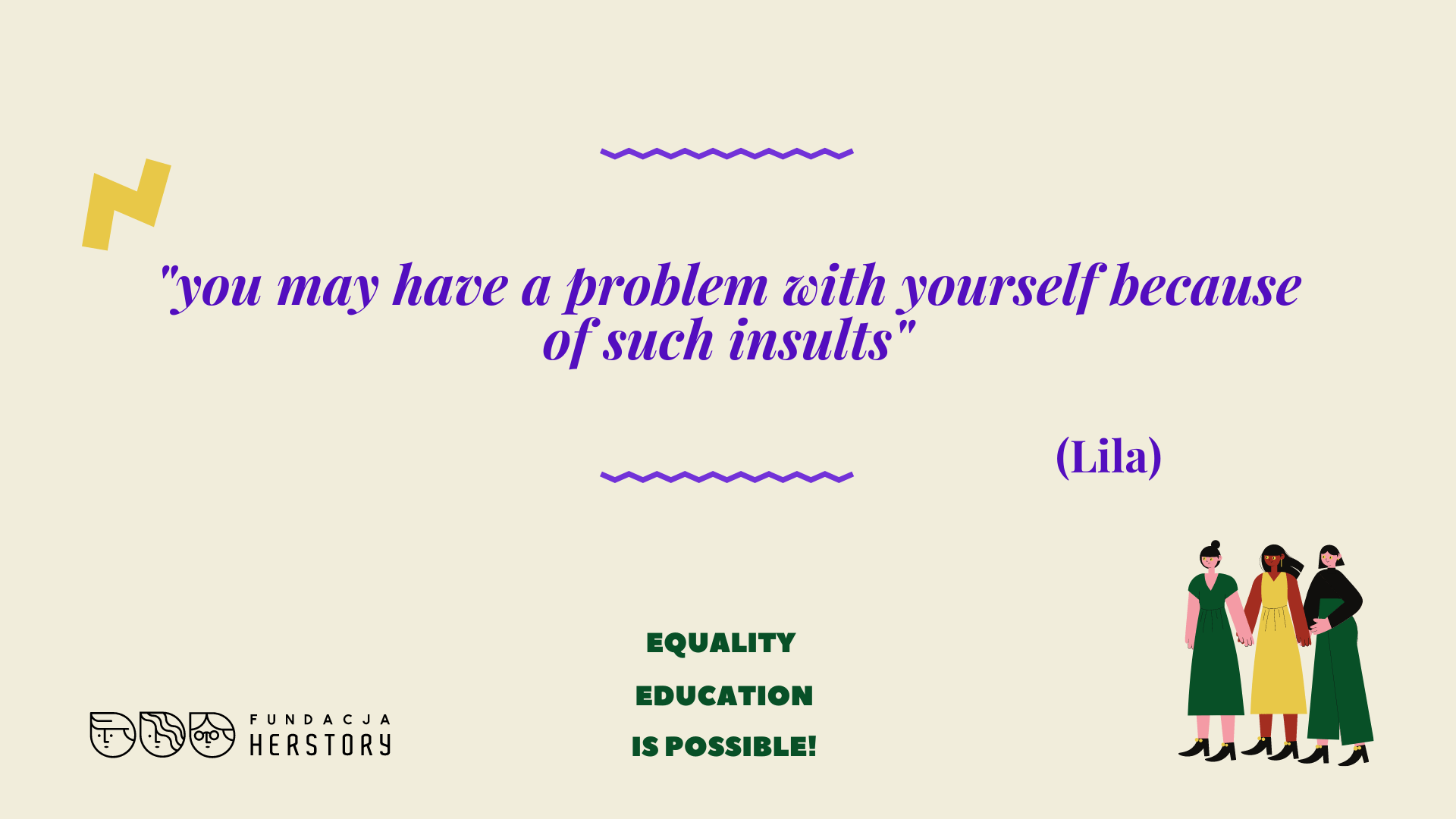 The report also says that over 80% of teachers have NEVER received anti-discrimination training! 
What is behind these numbers? Pandora's box, a dirty withers swept under the carpet for years. 
- normalizing violence - insults, groping, humiliation, explaining it away as "youthful expression" 
- downplaying the "innocent" taunts of boys, putting the blame on girls
- belittling and ridiculing girls, attributing weaknesses and dependence to them
- harassing boys who express emotions or don't conform to toxic masculinity patterns
- lack of acceptance of diversity
- prejudice against anything "different"
- punishment instead of conversation
- the prevention of violence only on paper
- lack of systemic support for teaching staff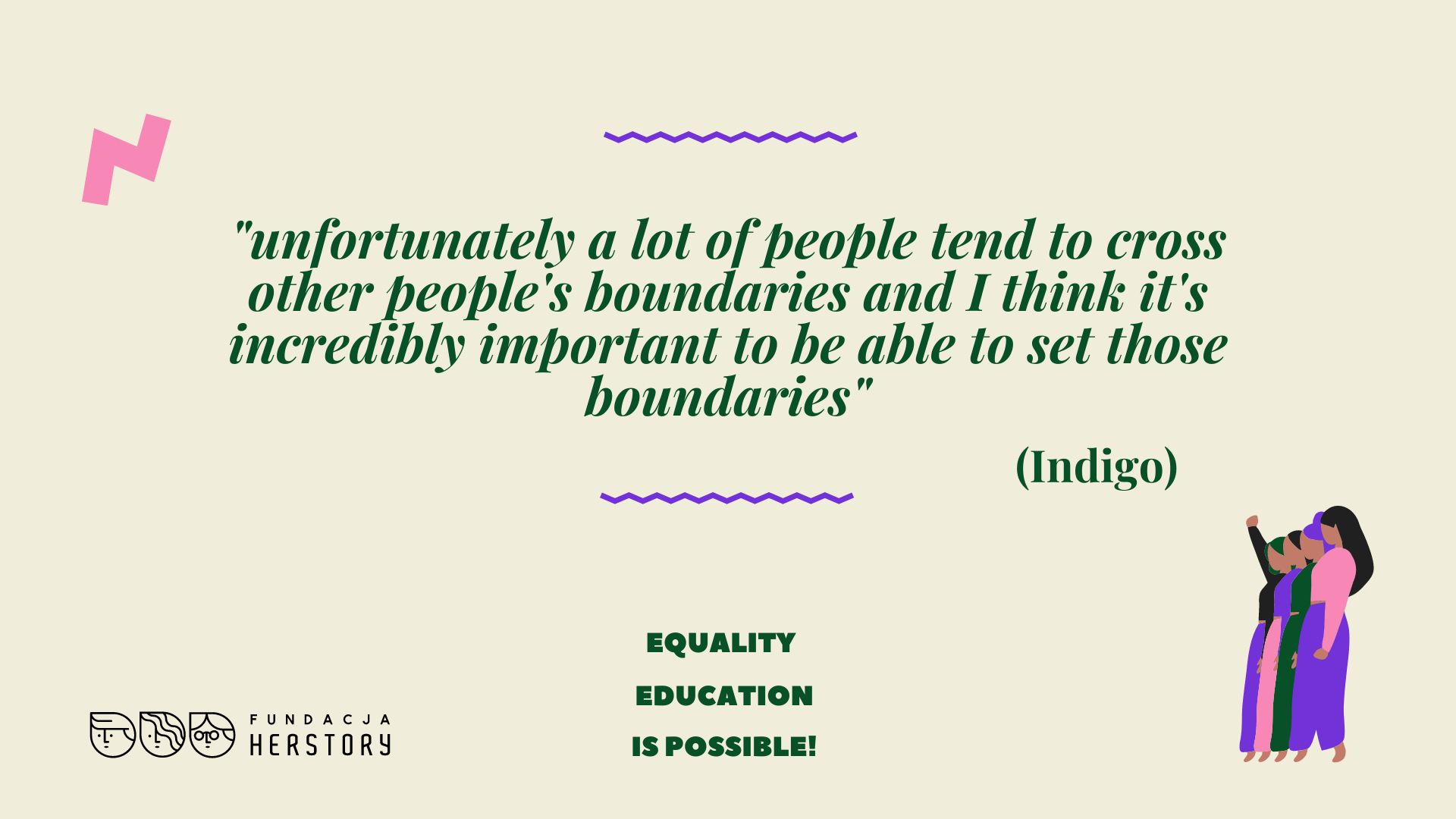 All of this is unspoken - it's even considered normal - just as domestic violence is considered almost a tradition.
How does it look like when young people talk about it? We made our own low-budget material, which inspired us to do this campaign. 
WHO ARE WE?
HerStory Foundation is a women-led human rights organization founded in 2014. We put gender equality at the center of what we do, focusing our work on developing and creating innovations in anti-violence and anti-discrimination education while promoting equality, diversity, and sustainable activism. We teach how to communicate without violence and to respond to violence and difficult situations. 
As the only organization in Poland, we have developed our original educational method of working with boys, so that they can also engage in the movement against gender-based violence. 
We have conducted hundreds of workshops in various programs and support actions. We cooperate with:
● schools and local governments
● non-governmental organizations
● aid institutions 
● therapeutic centers
● parents and parents' groups
Our mission is to build a safe and equal world. We know that education is the key! 
We don't agree with discrimination and violence in Polish schools. 
We see threats to the whole society in the direction that Polish education is heading. 
Because, you know, we listen to young people. And more and more, we see that ideas about education ignore their voices.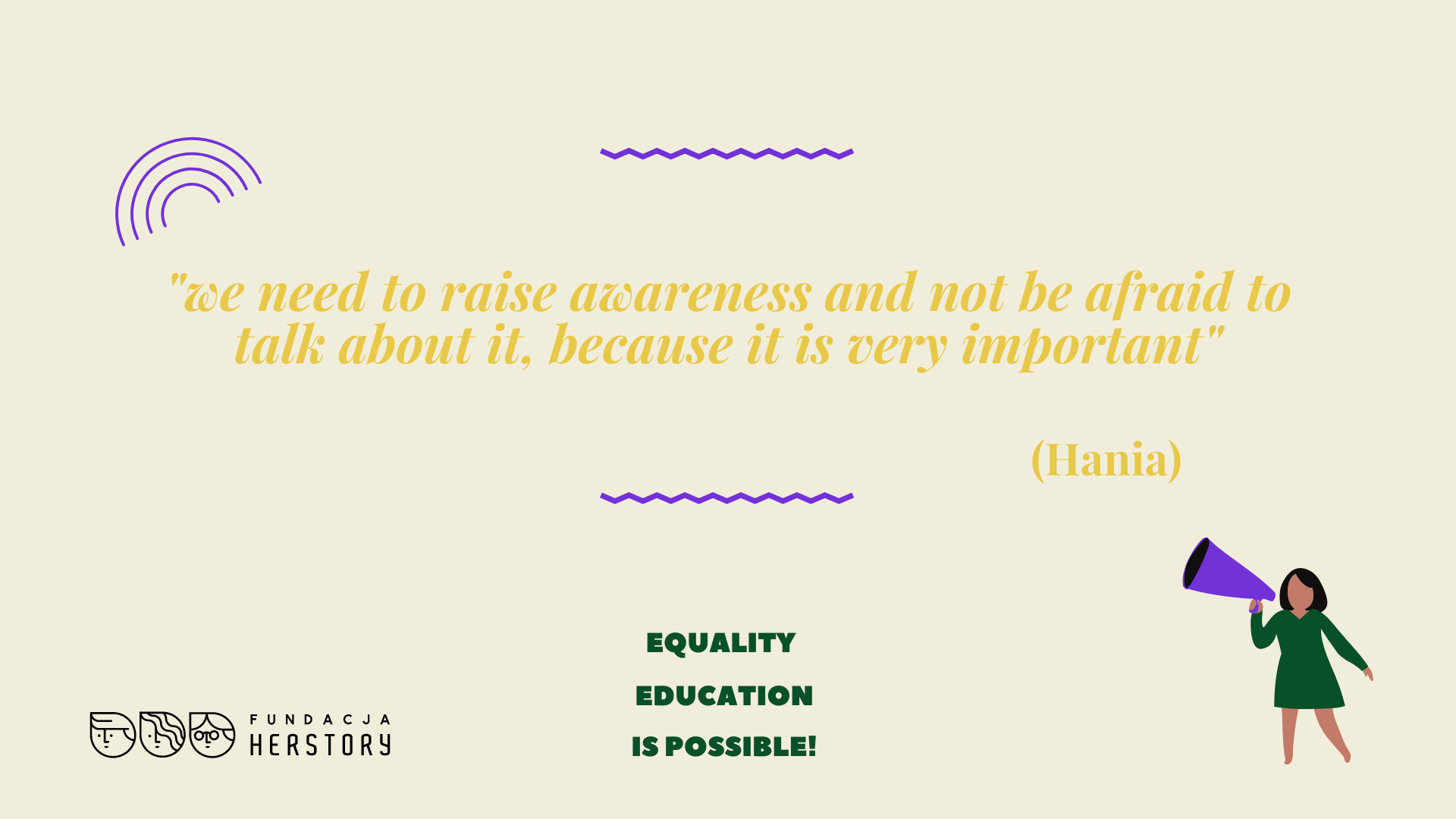 HOW CAN YOU GET INVOLVED?
! donate any amount 
! send your friends information about the campaign - they can probably contribute to
If we raise more money than expected, we will organize anti-discrimination workshops for young people in open recruitment - we will announce enrollment in the news! The project budget includes:
● Recording professional videos with young people 
● Preparing a simple guide on how to organize equality activities for children and young people, including:
- who to contact for classes - recommended organizations and trainers throughout Poland
- where to look for funding
- where to look for a workshop space
- how to convince school management/parents' council/educational staff/other parents 
● Prepare a packet of materials that will help with the above:
- a video to send in a group conversation or to show at a meeting with the school management or parents' council
- presentation to school management
- templates for permission to attend the workshop
- templates for a post on FB when organizing activities outside the school, in open recruitment
- frequently asked questions about anti-discrimination and anti-violence education
- templates for creating promotional materials
- examples of post content 
● Video promotion with influencers
● Coordination and production of the campaign
Schedule of activities: 
● June 2022: Preparation, identification of influencers, ally personas and distribution channels
● June-August 2022: a video recording with youth
● September-November 2022: editing and preparation of campaign, action guide and tools
● December 2022: campaign launch as part of the global 16 Days Against Gender-Based Violence Campaign
The world's first card for receiving payments. The Payment Card.
The world's first card for receiving payments. The Payment Card.
Find out more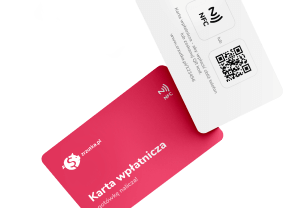 Our users created
881 036 whip-rounds
and collected
811 892 871 zł
What are you collecting for today?