id: w9z9ya
Pomóż nam stanąć na nogi !
Pomóż nam stanąć na nogi !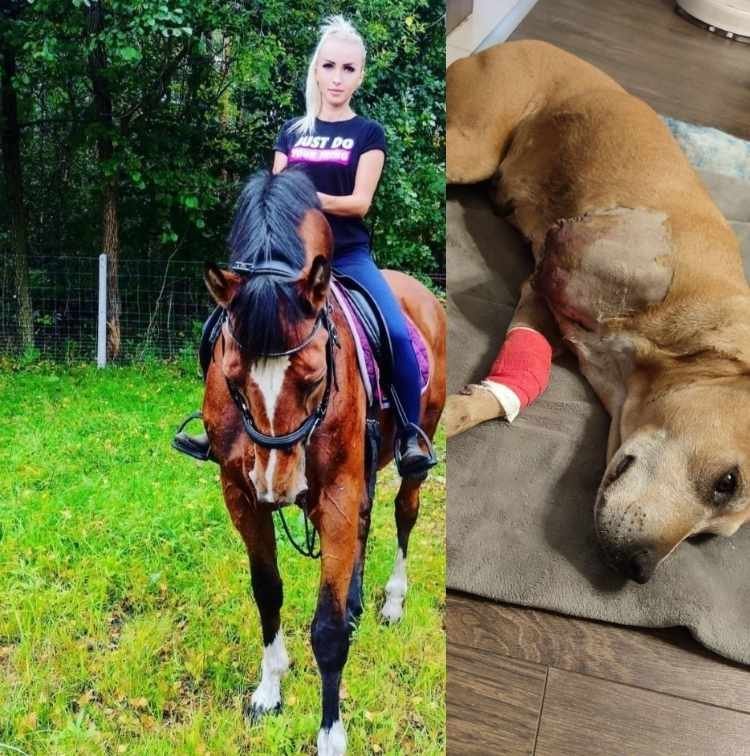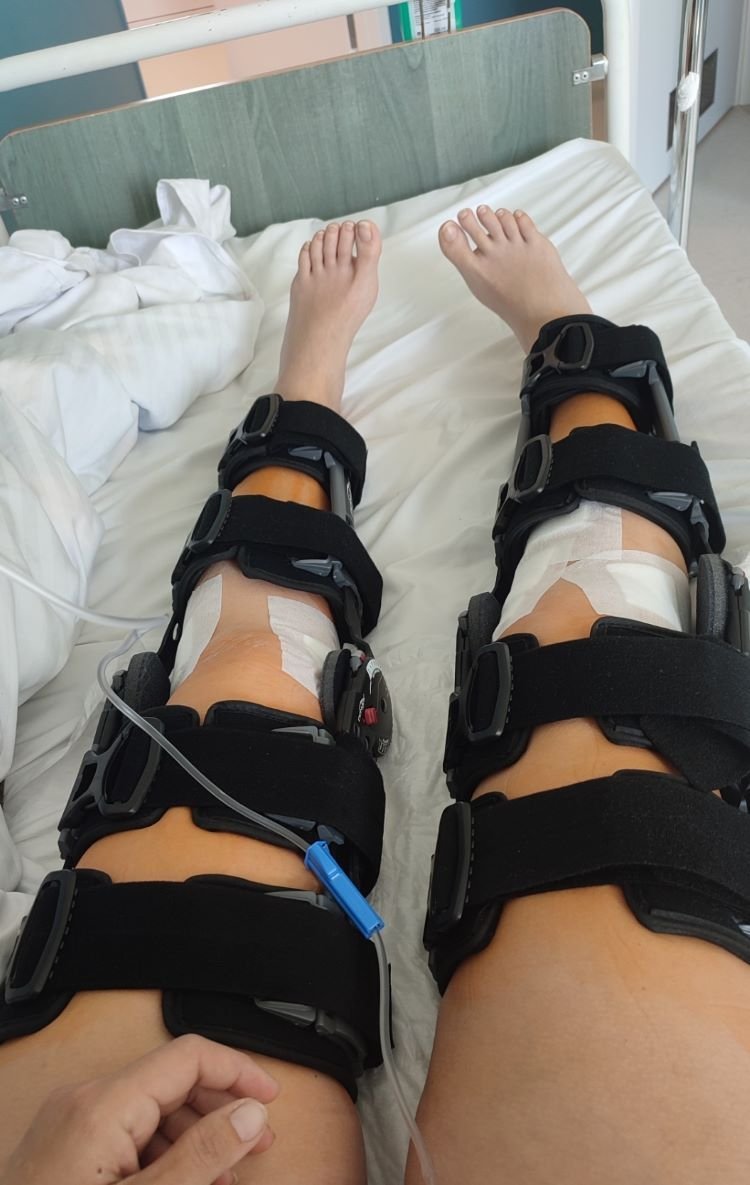 Donate
Zrzutka.pl does not charge any commission
Description
Mam na imię Wiola i mam 33 lata. Kto miał okazję mnie poznać, wie że jestem osobą serdeczną, szczerą i pracowitą. Pewnego dnia całe moje życie stanęło, jakby ktoś zatrzymał czas
.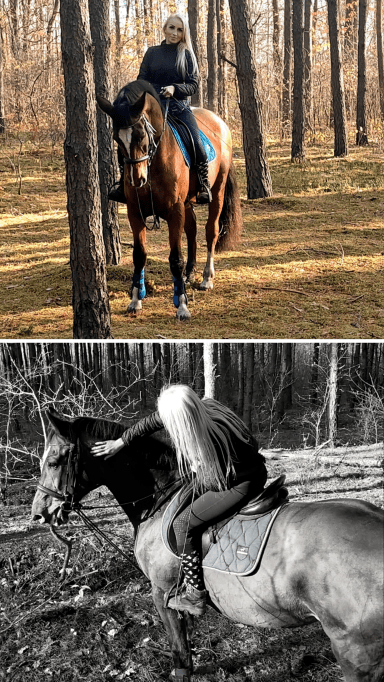 Całe moje życie kręci się wokół koni. Pierwszy kontakt z tymi zwierzętami miałam w wieku dziecięcym u dziadków. Następnie zaczęłam stawiać pierwsze kroki w świecie jeździeckim. W wieku 11 lat zaczęłam pomagać w fundacji "Hej Koniku", w której zostałam do 2021 roku z małymi przerwami. Oprócz wolontariatu w fundacji w czasie wolnym od zajęć przemierzałam różne stajnie, tam w ramach podziękowania za pomoc uczono, mnie jeździć. Prywatnie jestem mamą 12 letniego Dawida.
 Zawodowo: Prowadzę firmę Stajnia Nadma, jestem instruktorem  jazdy konnej.
 W Obecnej chwili w trakcie  przenosin do drugiej stajni którą wydzierżawiłam .
 Można by pomyśleć, życie idealne, ale niestety nieszczęścia lubią chodzić parami jak i w tym przypadku.
7 maj, piękny majowy poranek, idealny na wyjazd w teren jechałam na moim ulubieńcu- Kasjo. Razem z innymi jeźdźcami przemierzaliśmy Radzymińskie lasy. Sceneria niczym z baśni.  Wszystko było dobrze do momentu galopu na prostej drodze. Słychać było tylko trzask, jakby się złamała gałąź. Niestety była to noga Kasja .Widziałam, że jest źle. Chciałam się ratować i zeskoczyłam. Jednak i ja nie miałam za dużo szczęścia. Moje nogi nie wytrzymały zderzenia z ziemią.
Kasjo na obecną chwilę przebywa w szpitalu dla koni na Służewcu.
 Diagnoza: całkowite spiralne złamanie kości ramiennej prawej. Lekarze podali dwa rozwiązania- uśpić lub pozwolić naturze działać przy pomocy leków i hospitalizacji. Wybór był prosty- WALCZYMY.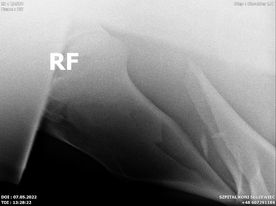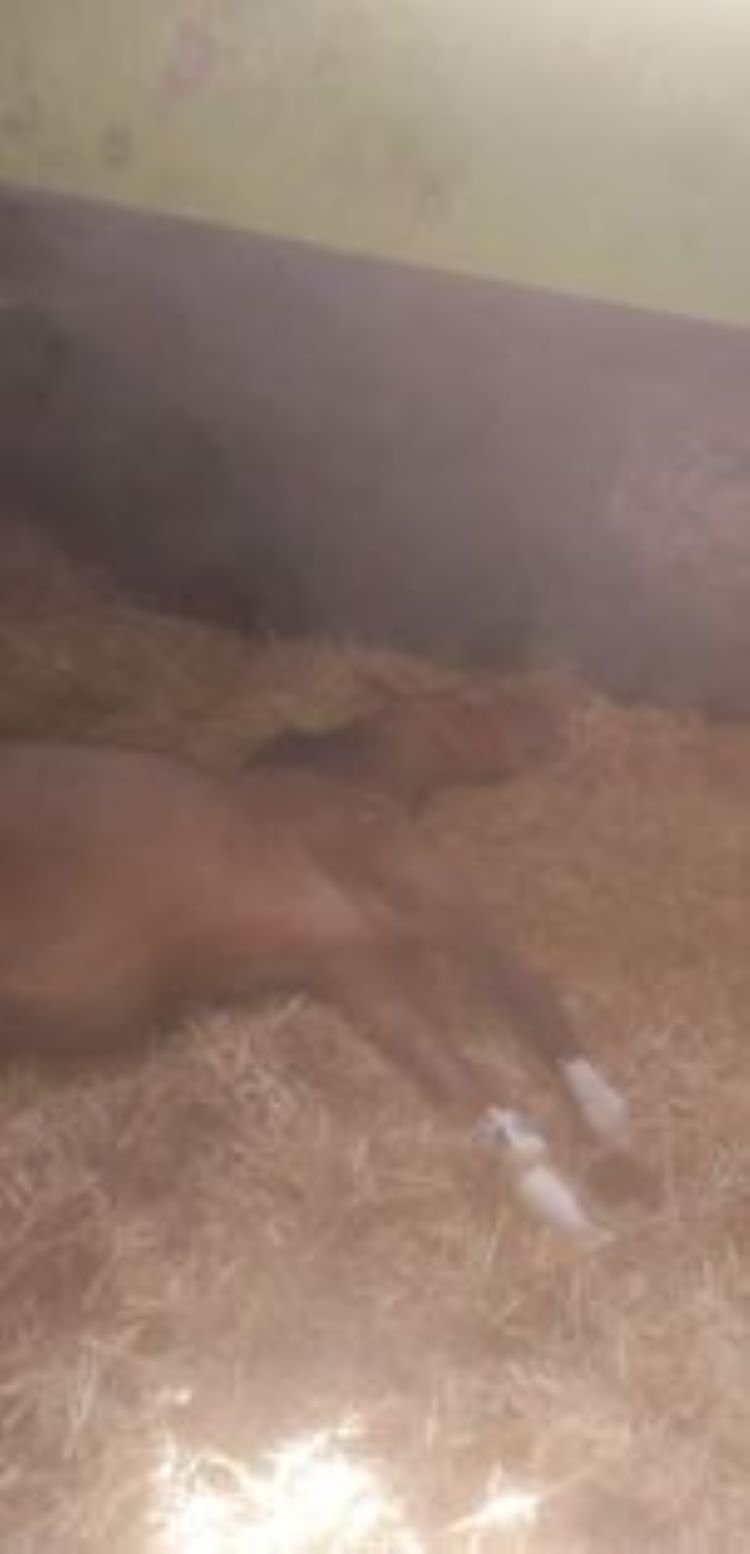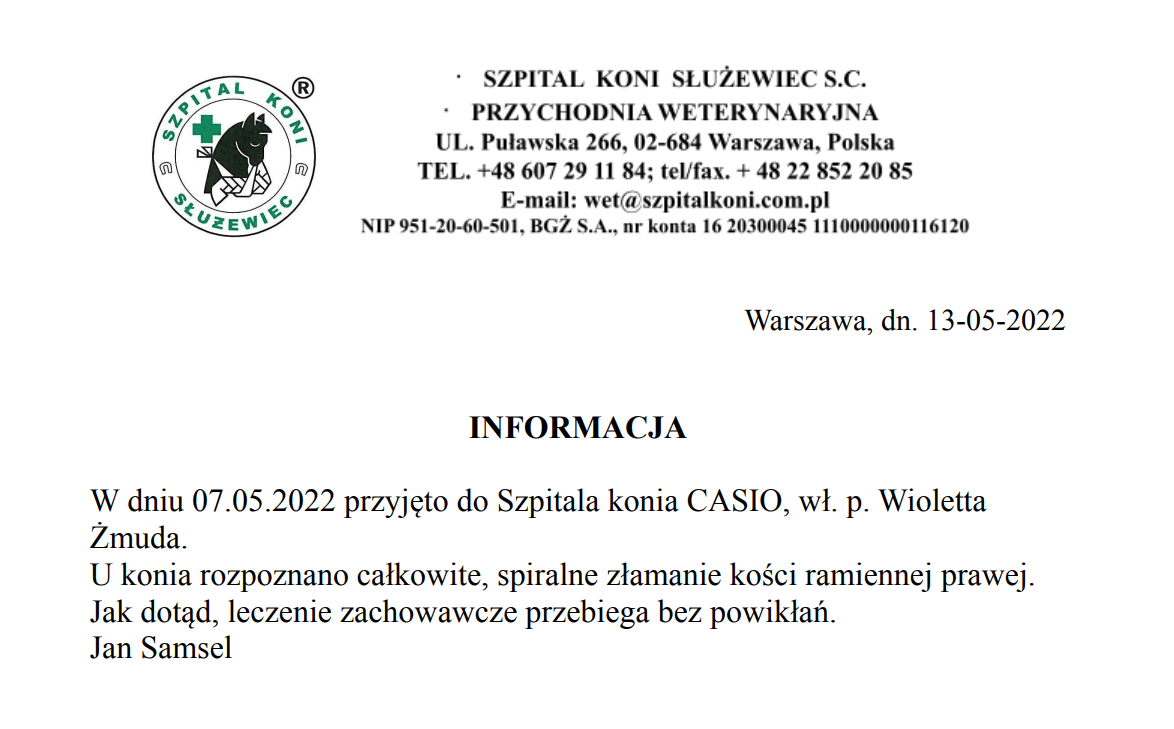 Nigdy nie pozwoliłabym odejść przyjacielowi bez podjęcia próby jego ratowania. Niestety brak możliwości operacji utrudnia sprawę, co wymusza długi pobyt w szpitalu i generuje koszty. Moja sytuacja też nie napawa optymizmem.
Diagnoza: Mnogie złamania podudzia, złamanie wieloodłamaniowe nasady bliższej kości piszczelowej prawej, złamanie nasady bliższej piszczeli, kłykcia bocznego kości piszczelowej lewej.
 Jestem po pierwszej operacji gdzie lekarze dosłownie poskładali mnie za pomocą śrub i płytek. Na najbliższe parę miesięcy jestem przykuta do łóżka. Próbuje przyzwyczaić się do wózka.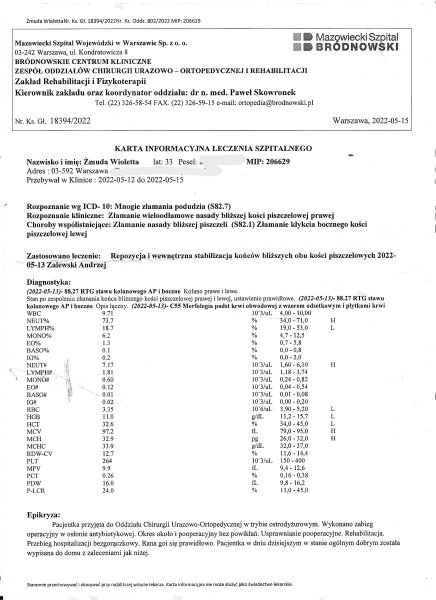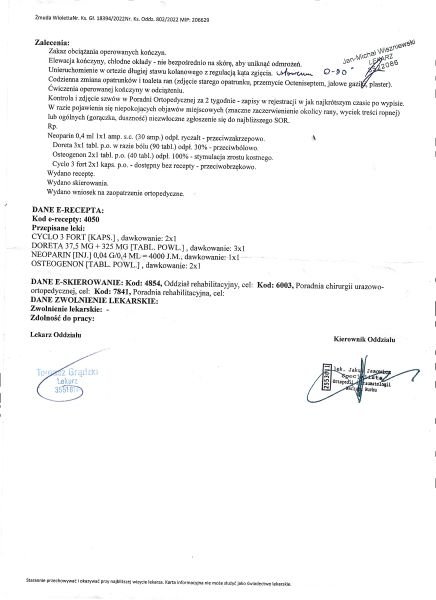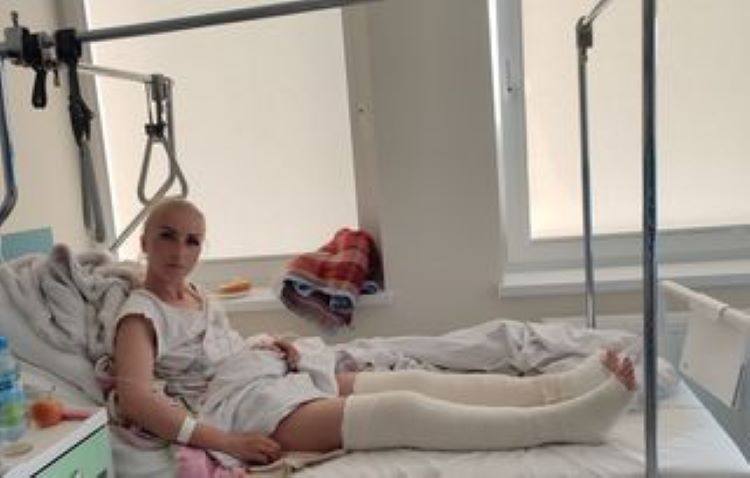 Jak mówi przysłowie nieszczęścia chodzą parami. Nie minął tydzień a wypadkowi uległa moja ukochana sunia Luna. Suczka w ferworze zabawy wpadła pod konia.
Wieloodłamowe złamanie kości przedramienia lewego, otwarte z całkowitym przerwaniem tętnicy przedramiennej wspólnej. Weterynarze, aby ją uratować musieli amputować łapę.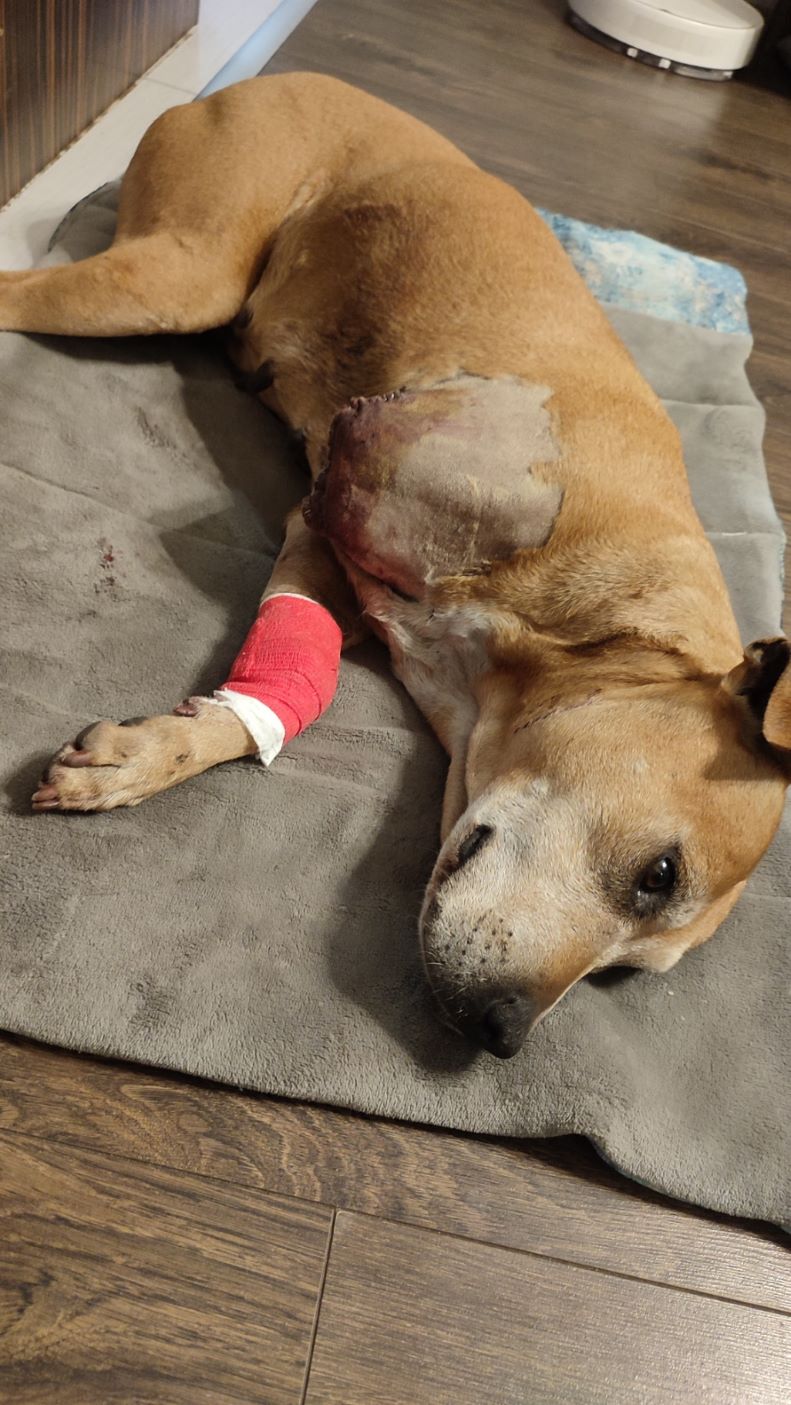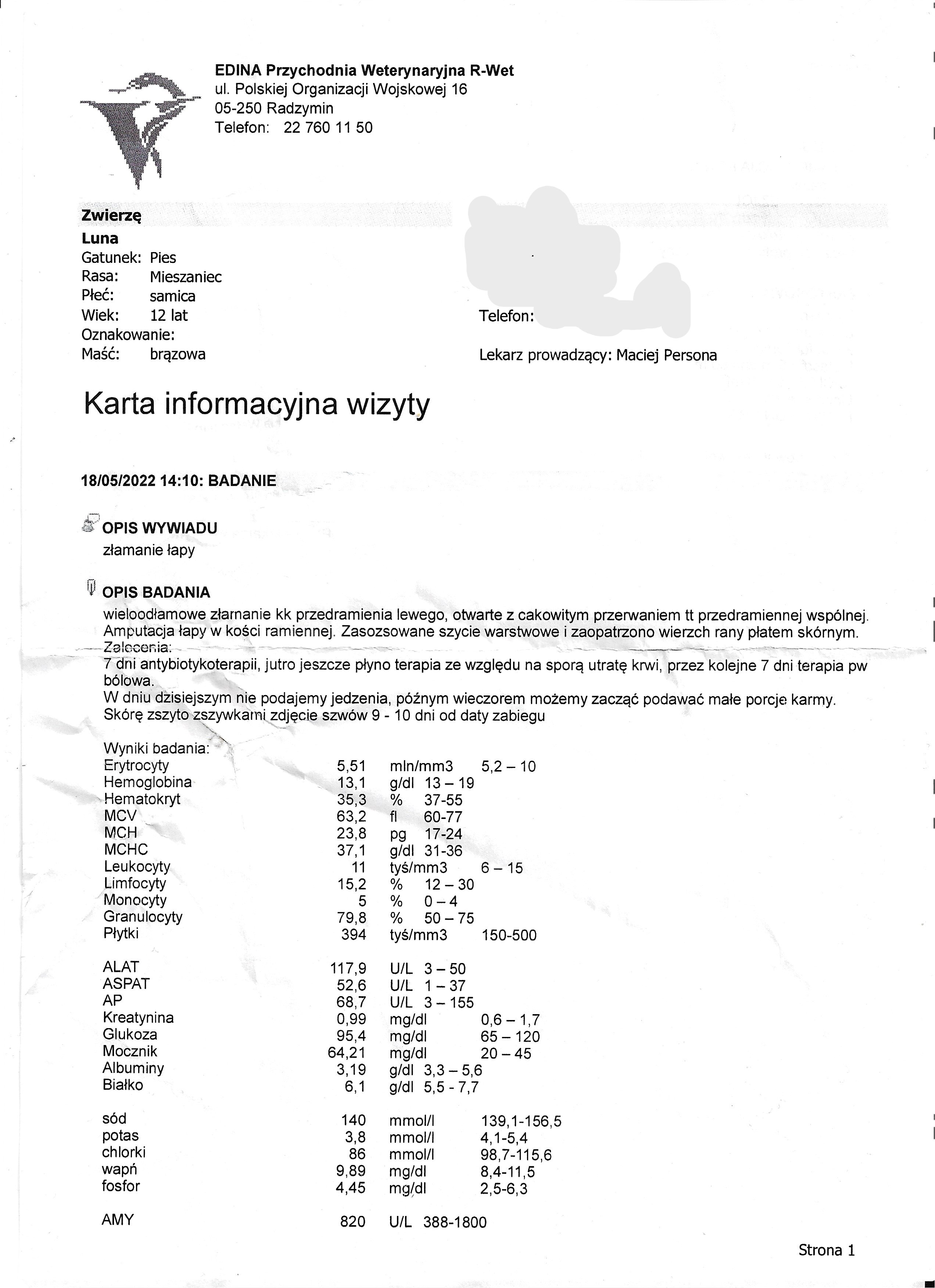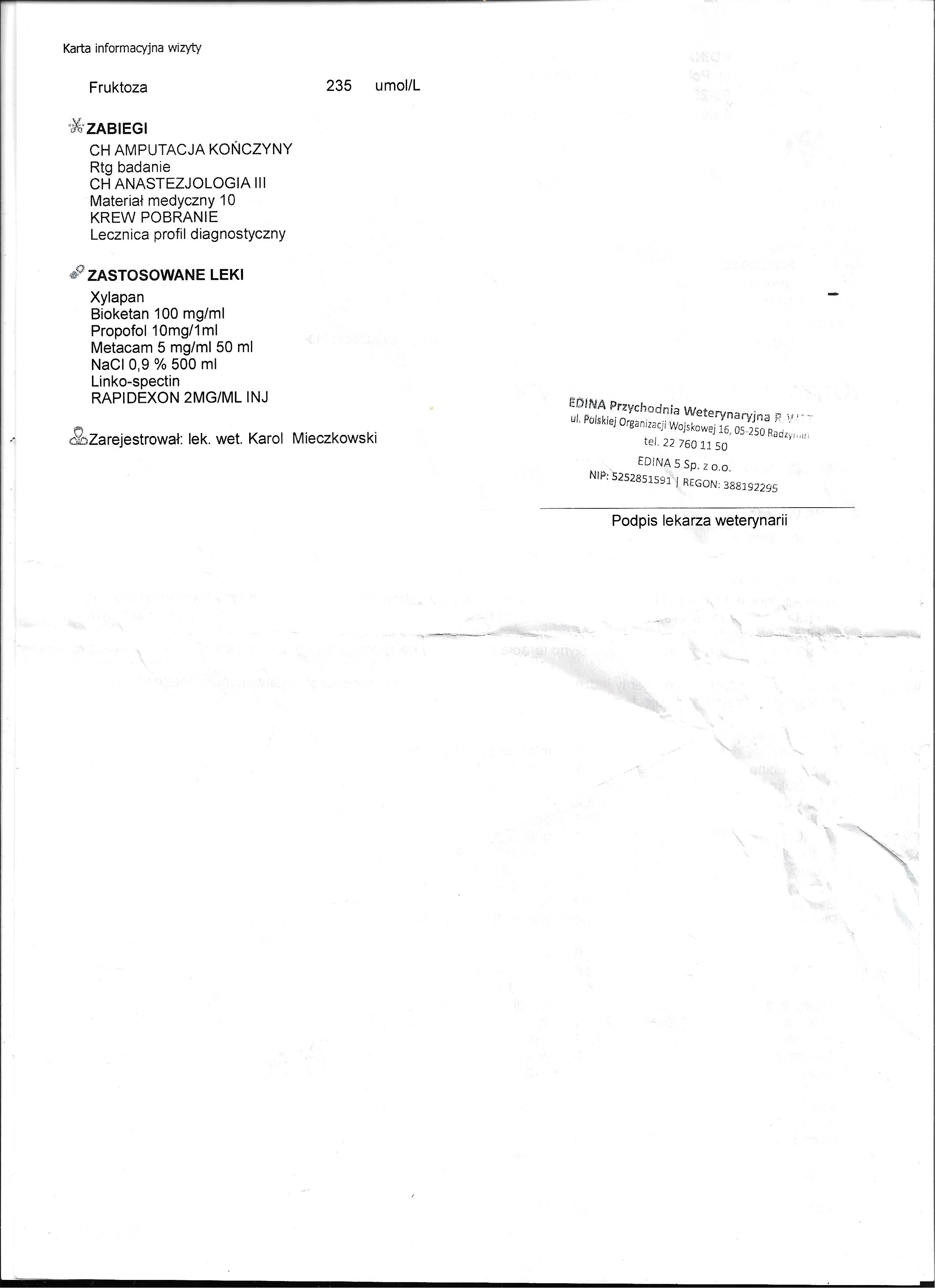 Nie mogłam w to uwierzyć. Wszystko to brzmiało jak zły sen, z którego chciałam się jak najszybciej obudzić. Wszystko działo się tak szybko, a moje marzenia o rozwoju firmy stanęły. Historia niczym z najgorszego koszmaru, a jednak to rzeczywistość.
Ogromnym wsparciem są dla mnie bliscy, bez których nie dałabym rady. Potrzebuję jednak wsparcia finansowego. Jestem niezdolna do pracy, a rachunki związane z opieką nade mną, Kasjo i Luną przerastają moje możliwości. Dodatkowo przeprowadzka stajni generuje dodatkowe koszty, wszystkie oszczędności jakie miałam wydałam na nową stajnie.
 Proszę pomóż mi stanąć na nogi, abym dalej mogła przekazywać swoją wiedzę młodym adeptom jeździectwa i dosiąść moich koni i znów poczuć wiatr we włosach…
Dziękujemy wszystkim za wsparcie .
The world's first Payment Card. Your mini-terminal.
The world's first Payment Card. Your mini-terminal.
Find out more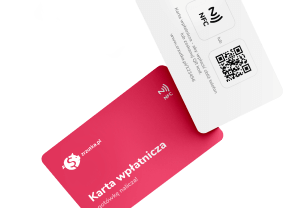 Our users created
865 443 whip-rounds
and collected
766 536 885 zł
What are you collecting for today?