id: xycptz
Wsparcie :) / Support :)
Wsparcie :) / Support :)
Our users created 913 494 whip-rounds and collected 876 698 638 zł
What are you collecting for today?
Description
Dzień dobry,
Witaj na mojej stronie - jest to zbiórka prywatna dla największych fanów mojej twórczości. Jak wiesz, uwielbiam prowadzić mojego bloga oraz instagrama, ale wiąże się to z dużymi kosztami. Nie zarabiam na reklamach, nie współpracuję z żadnymi firmami, ponieważ chcę tworzyć dla Was miejsce pozbawione sponsorowanych wpisów i bannerów, co jest rzadkie w tych czasach. Dzięki temu mogę skupić się na sztuce, dać od siebie to co najlepsze czyli piękne kobiece zdjęcia. Dlatego zrzutka to dla mnie szansa na uzyskanie środków na realizacje kolejnych planów i marzeń. Zebrane środki zostaną przeznaczone na tworzenie kolejnych sesji zdjęciowych, zakup sprzętu fotograficznego, kupno nowych ubrań i dodatków, które potrzebuję na sesje, opłacenie fryzjera, kosmetyczki, wynajmu miejsc do sesji, biletów lotniczych itd. dzięki czemu mogę tworzyć coraz ciekawsze treści z różnych pięknych miejsc przez cały rok.
Pamiętaj, że Twoją darowiznę traktuję jako prezent, nie wiążą się z tym dodatkowe korzyści, poza ofiarowaniem mi przez Ciebie wsparcia w rozwoju: "Darowizna to forma umowy, w której darczyńca zobowiązuje się do bezpłatnego świadczenia na rzecz obdarowanego, kosztem swego majątku"
Dzięki dodatkowemu wsparciu, będę mogła w pełni skupić się na mojej pasji i spełnić swoje marzenia: tworzyć dla Was regularnie jak najwyższej jakości treści, inwestować w rozwój oraz pokryć koszty związane z tym co robię. Wszystkie zdjęcia, filmy, teksty są tworzone przeze mnie oraz dostępne za darmo i uwielbiam dzielić się nimi z moimi fanami - i chociaż pochłania to całe moje życie, dzięki temu czuję się spójna z tym co robię, ponieważ wyrażam za ich pośrednictwem siebie :)
Bardzo dziękuję za Wasze wsparcie oraz wszystkie bezinteresowne wpłaty z całego świata. To niesamowite, jak wiele osób docenia to co robię. Dzięki Waszym darowiznom mogę wciąż tworzyć i być sobą.

Dziękuję!
Wasza Ari
English below:
Support me and my sites :) Choose an amount or enter your own.
My sites are free from banners and intrusive ads. Thanks to your donations I will still be able to focus on creating regular, high-quality content for you, invest in developing the blog further, and cover expenses relating to my social media activities. All photographs, videos and texts are created by me. And although it takes up every waking moment of my life, I love doing it because it allows me to express myself...
Note - all donations are selfless, so they don't oblige me to send you anything. However, for each donation, I will try to send a personal thank you message. Thank you for your support!


Thank you,
Ari
The world's first Payment Card. Your mini-terminal.
The world's first Payment Card. Your mini-terminal.
Find out more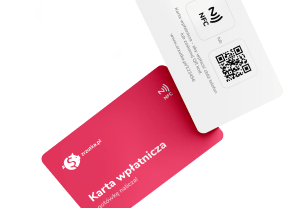 Buy and support whip-rounds.
Novelty! Now you can support the whip-round by adding a awards / offers yourself. You sell and the funds go directly to the whip-round, helping is so easy - read more.
Buy and support whip-round
Active created by organizer: