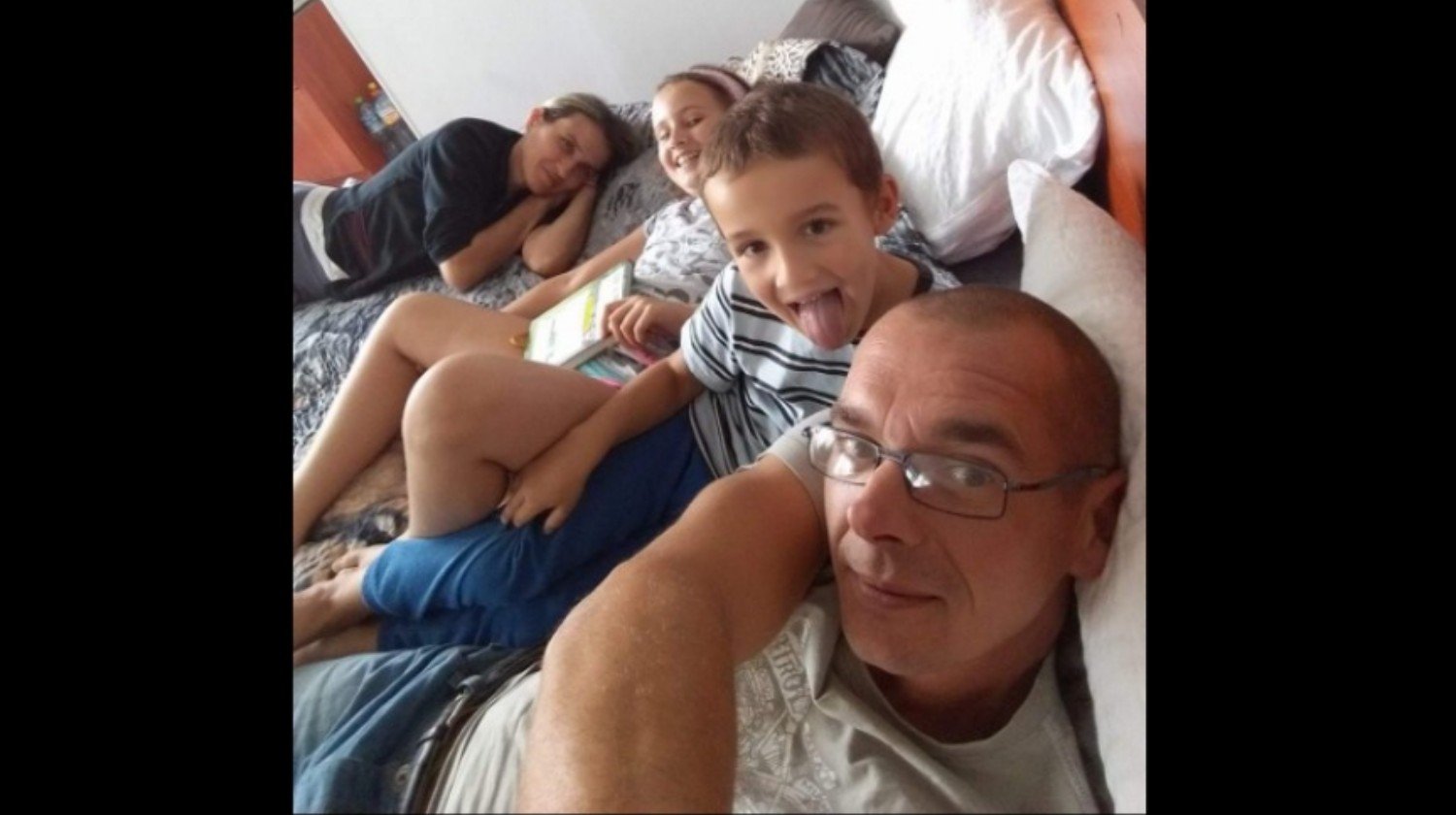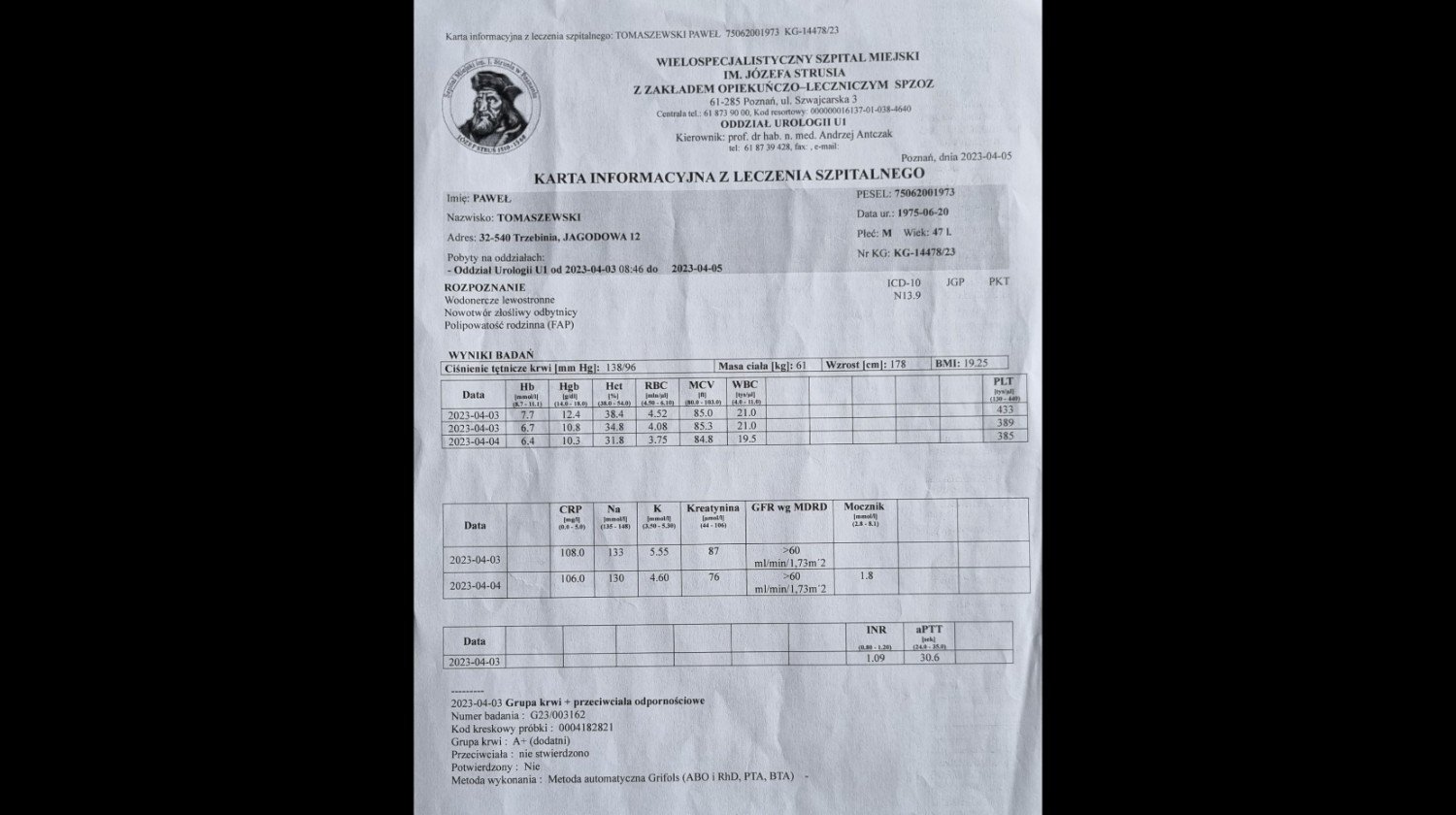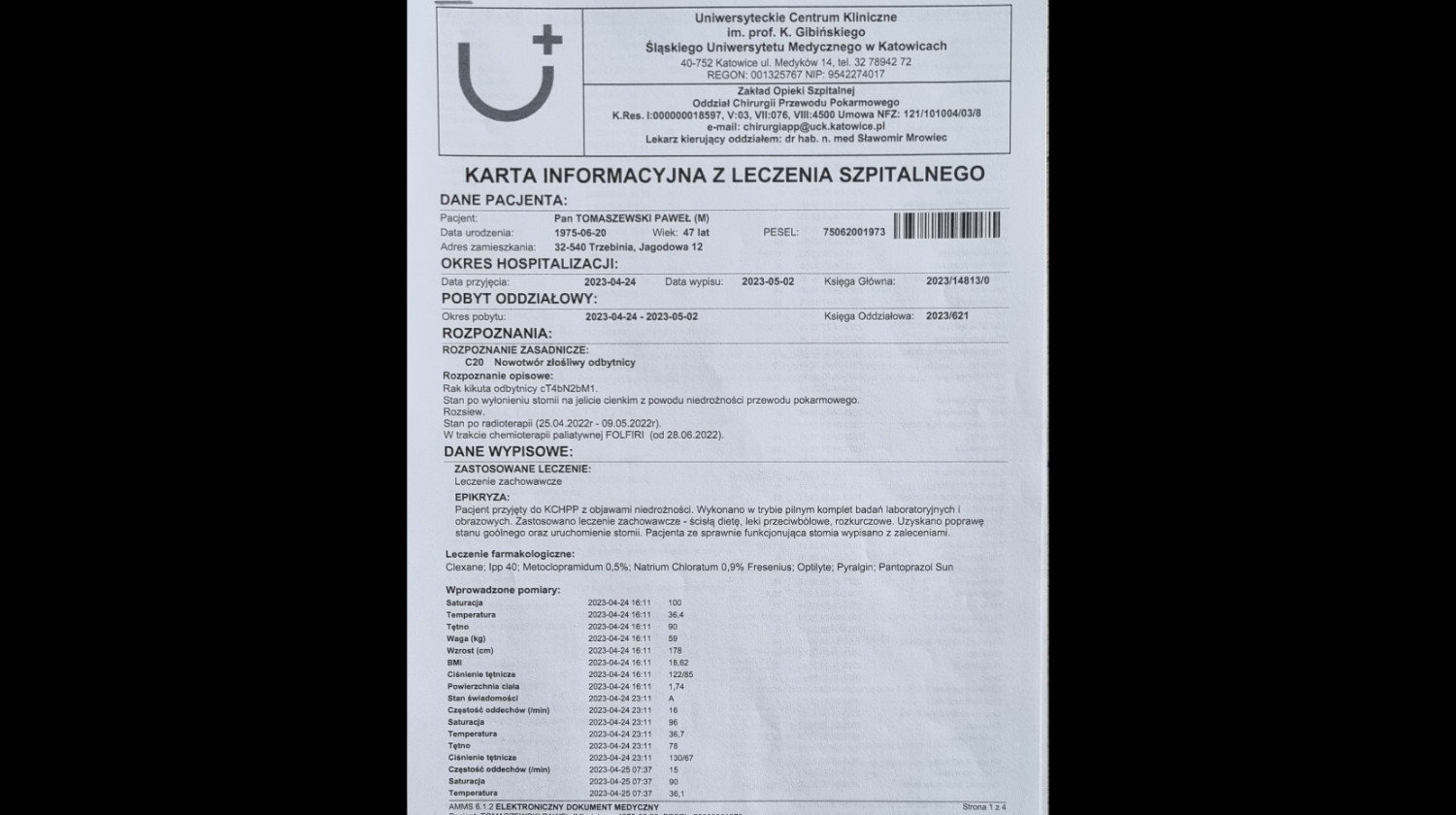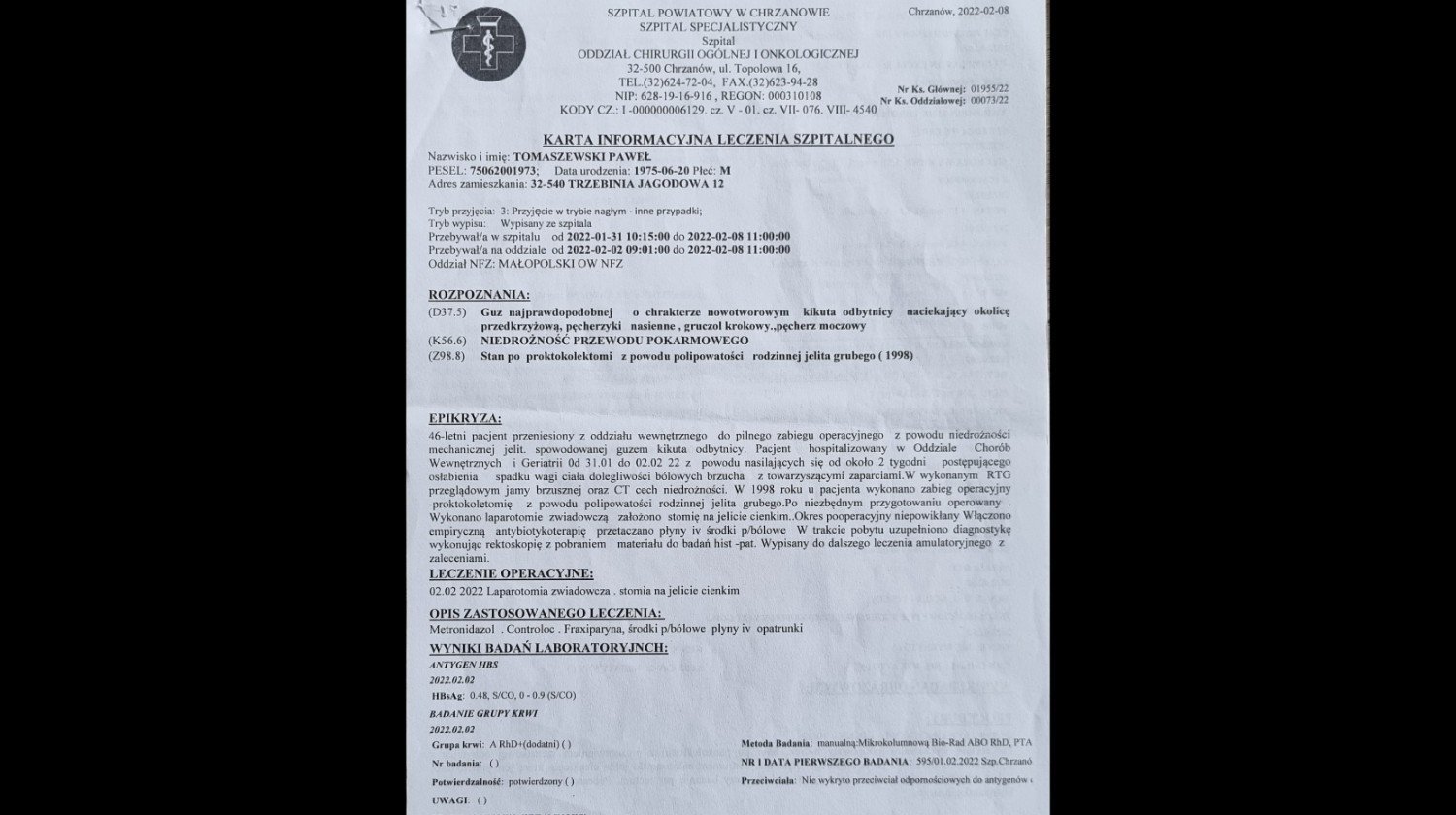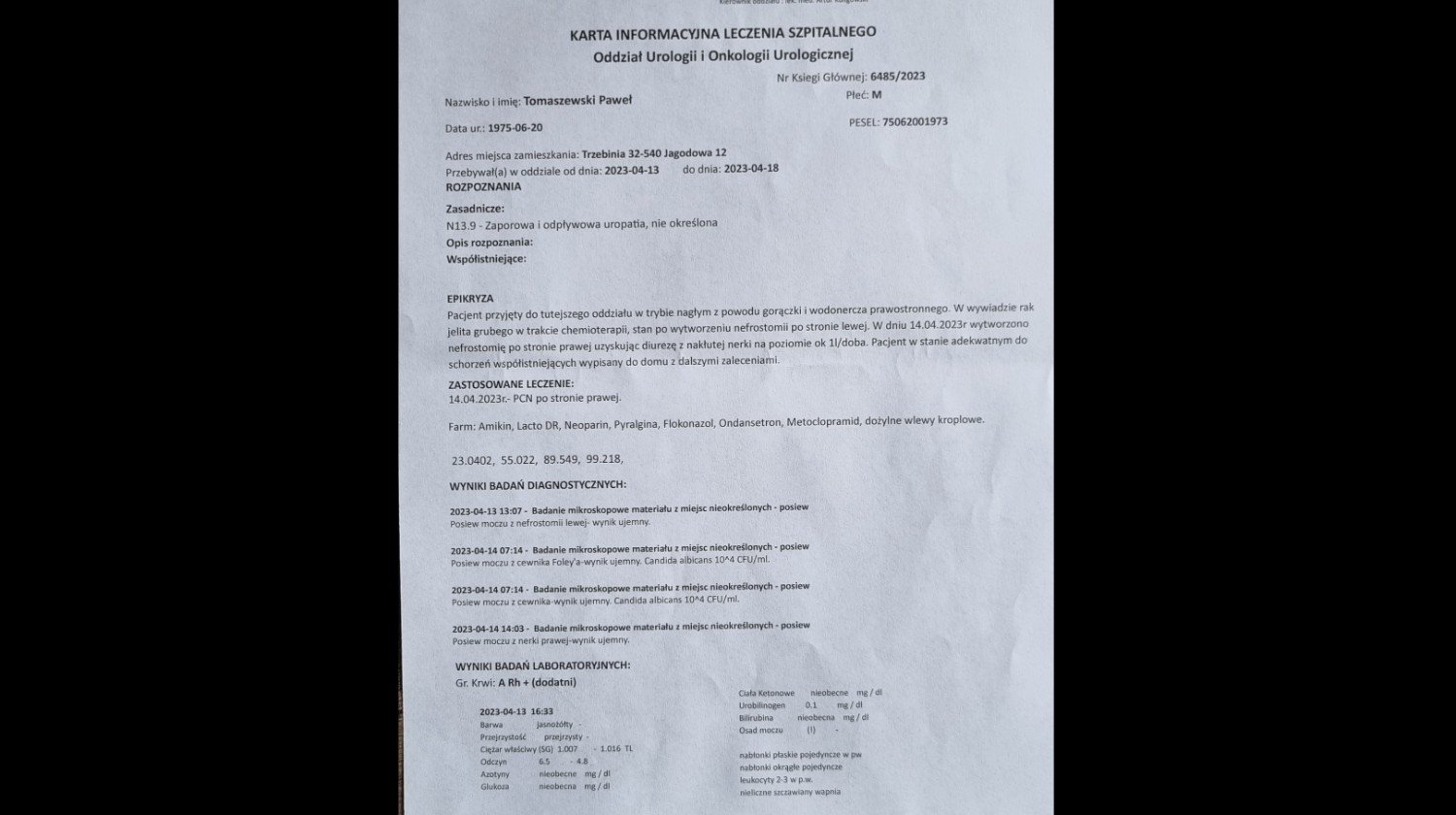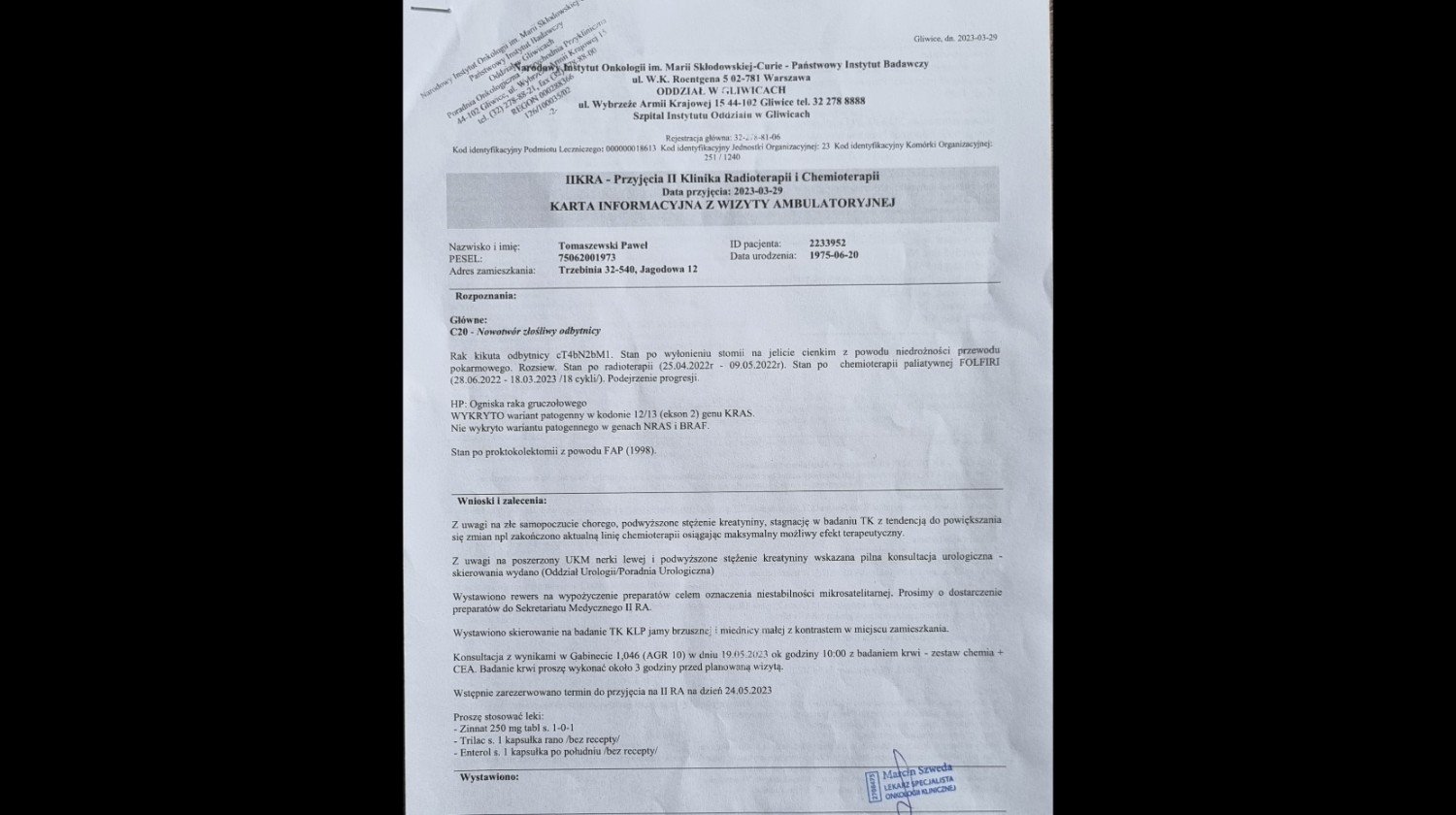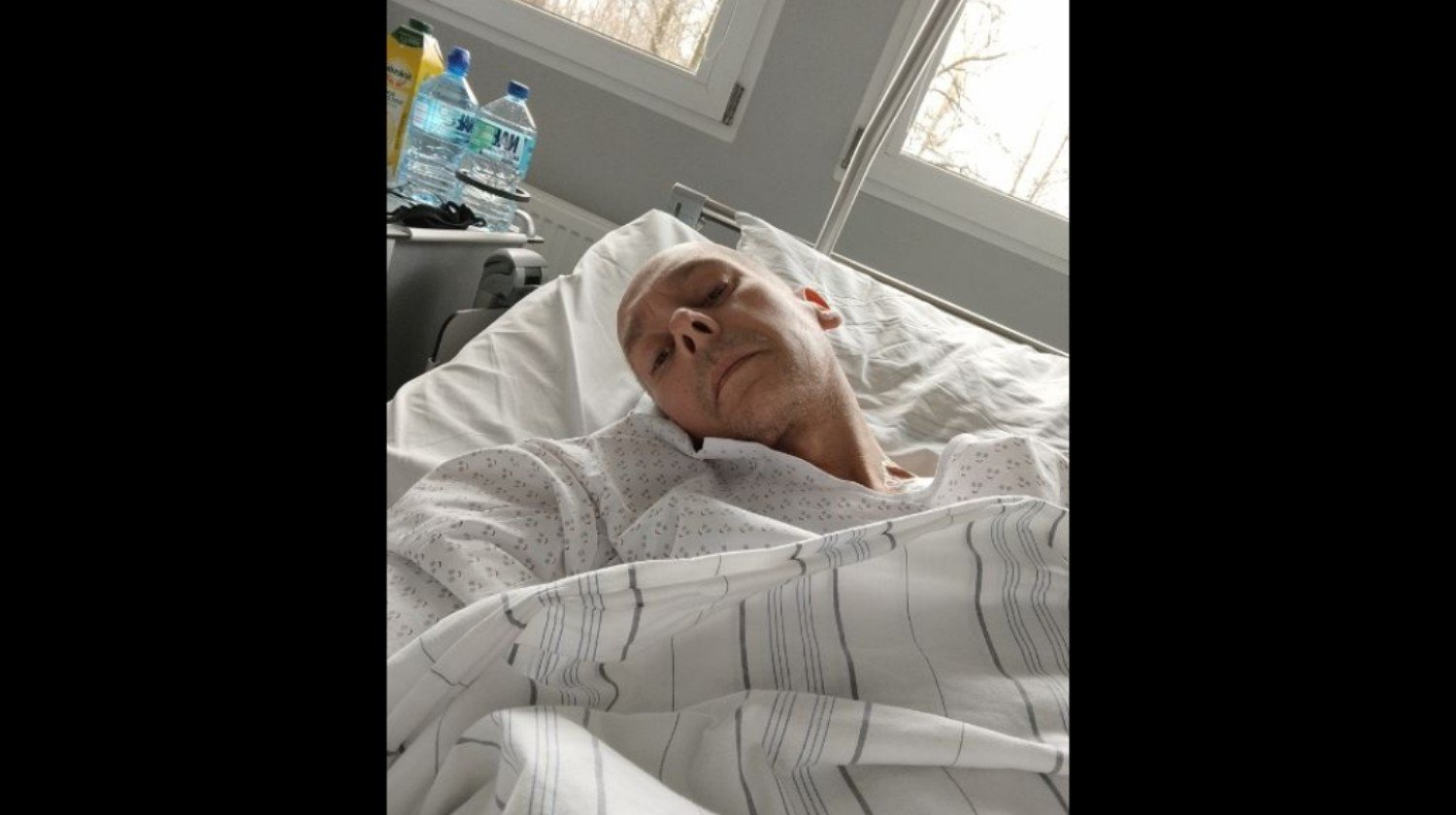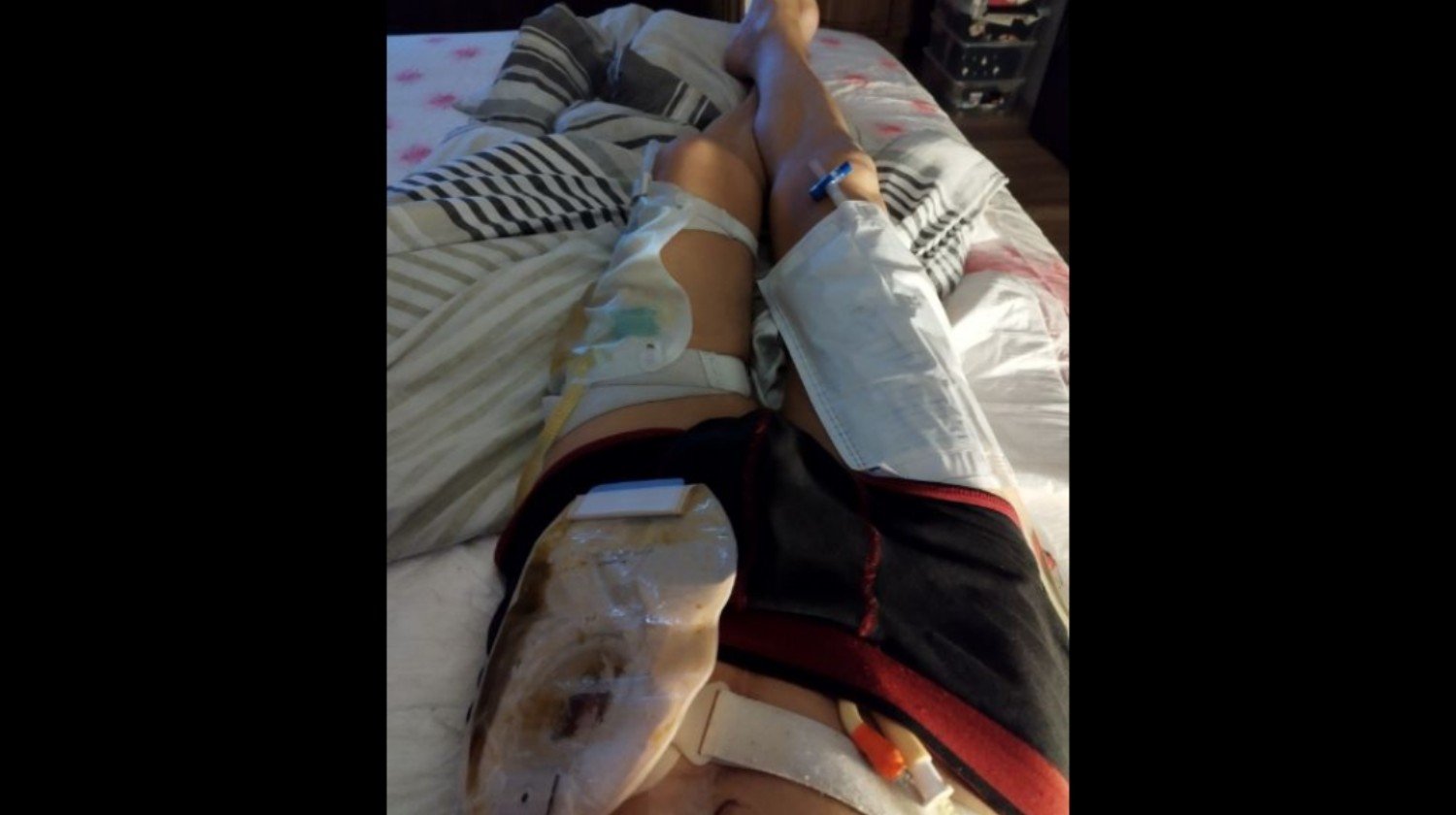 id: z97ukc
"Walka z nowotworem złośliwym Pawła. Pomoc rodzinie"
"Walka z nowotworem złośliwym Pawła. Pomoc rodzinie"
Our users created 978 870 whip-rounds and collected 998 920 449 zł
What are you collecting for today?
Description
Drodzy przyjaciele, nieznajomi, ludzie dobrej woli!
Wraz z rodziną zwracam się do Was z wielką prośbą o pomoc i wsparcie dla mojego męża Pawła w walce z nawrotem nowotworu.
W 1998 roku, w wieku 23 lat zdiagnozowano u Pawła nowotwór jelita grubego. Niestety bardzo zaawansowane stadium wykluczyło leczenie i trzeba było usunąć całe jelito grube. Ze względu na młody wiek lekarze podjęli decyzję o rezygnacji ze stomii i zszyciu jelita cienkiego z okrężnicą.
Od tamtego czasu żyliśmy szczęśliwie, urodziła nam się córka, cztery lata później syn, Paweł spełniał się zawodowo. Nic nie wskazywało, że wszystko to co razem zbudowaliśmy legnie w gruzach. Niestety nowotwór odrodził się i zaatakował ponownie.
W styczniu 2022 roku nowotwór powrócił ze zdwojoną siłą. Diagnoza potwierdziła najgorsze - pojawiły się przerzuty, (naciek na kości ogonowej oraz zaatakowane zostały węzły chłonne). Konieczna była operacja ratująca życie, podczas której wyłoniono stomię i założono Pawłowi worek stomijny. W kwietniu rozpoczęliśmy radioterapię w Narodowym Instytucie Onkologii w Gliwicach, niestety nie przyniosła rezultatu. Kolejna była chemioterapia. Po 20 cyklach okazało się, że nowotwór uodpornił się i leczenie trzeba było wstrzymać. Od tego czasu guz zaczął rosnąć w bardzo szybkim tempie. Powiększył się do rozmiaru 11 cm, zaczął uciskać obie nerki powodując ich niedrożność. Paweł trafił do Wielospecjalistycznego Szpitala Miejskiego im, J. Strusia w Poznaniu, lekarze musieli wykonać zabieg ratujący życie - nefrostomię obu nerek.
Niestety wstrzymanie chemioterapii spowodowało kolejny bardzo niebezpieczny przerzut na jelicie, doszło do wciągnięcia oraz skręcenia jelita krętego, które uniemożliwiło przepływ pokarmów i spowodowało zagrożenie perforacji jelita.
Tym razem w stanie zagrożenia życia Paweł trafił do Uniwersyteckiego Centrum Klinicznego w Katowicach, w którym ustabilizowano jego stan i wypisano do domu.
Na obecną chwilę guz jest nieoperowalny, a chemioterapia (jeśli będzie możliwa) nadal pozostaje wstrzymana ze względu na zły stan zdrowia. Jeżeli stan zdrowia się ustabilizuje to kolejna seria chemioterapii zostanie wznowiona.
Paweł jest wspaniałym i wyjątkowo silnym człowiekiem. Przez ostatni rok mimo wielu negatywnych zwrotów akcji, operacji ratujących życie oraz konieczności zrezygnowania z pracy Paweł nadal stara się chwytać, w tej całej sytuacji, nawet najmniejsze pozytywy, dzięki którym zawzięcie trzyma się życia. Jego wewnętrzna siła wielokrotnie pomagała innym pacjentom z sąsiednich łóżek szpitalnych utwierdzić się, że nie ma sytuacji bez wyjścia i trzeba walczyć do końca nawet jeśli dają Ci 5-10% szans na przeżycie. 
Do chwili zetknięcia się z tą straszną chorobą Paweł był niezawodną głową rodziny. Zajmował się wszelkimi sprawami finansowymi. Ja spełniałam się w roli matki i żony. Brutalna rzeczywistość zrzuciła cały ciężar na mnie na co nie byłam gotowa ale codziennie uczę się walczyć o każdy nasz dzień. Niestety w kwestii finansów przestałam już sobie radzić. To czym Paweł finansowo nas zabezpieczył oraz pożyczone pieniądze od bliskich czy znajomych pochłonęły wydatki związane z chorobą. Codzienna pielęgnacja stomii i nefrostomii, staranność o to by nie wdała się infekcja, nawet najmniejsza jest w Pawła przypadku zagrożeniem życia, to duży wydatek finansowy. Każdy z nas zdaje sobie sprawę z rzeczywistości,  refundacja środków pielęgnacyjnych, leków i niezbędnych suplementacji nie jest wystarczająca, dużą część trzeba pokryć z własnych środków. Ponadto Paweł wymaga codziennej rehabilitacji, którą staram się wykonywać sama gdyż na zleconą mnie nie stać, a która z pewnością przyniosłaby większą ulgę w cierpieniu Pawła.
 Paweł wymaga opieki całodobowej, przez co nie mam możliwości pracy, jednocześnie opiekuję się 15 letnią córką i 11 letnim synem. Mimo, że nie jest to łatwe dla mnie i była to dla mnie ostateczność, zwracam się do Was z wielką prośbą o wsparcie finansowe. Będę bardzo wdzięczna za wpłatę nawet najmniejszej kwoty, wiem że dla Pawła każda forma wsparcia da mu dodatkowe siły do walki i poczucie, że nie jesteśmy sami w tym ciężkim dla nas czasie.
Wierzę w dobro i w to, że ono zawsze wraca. Pomóżcie nam proszę!
Kasia, Paweł, Agata i Kuba
The world's first Payment Card. Your mini-terminal.
The world's first Payment Card. Your mini-terminal.
Find out more