Słysząc o Szlachetnej Paczce, większość osób myśli o wspólnym zakupie świątecznych paczek dla potrzebujących rodzin. A co jeśli chciałbyś wesprzeć tę akcję, ale nie masz czasu albo możliwości, żeby zarejestrować się jako lider, jeździć po sklepach, pakować i dostarczać prezenty? Załóż zrzutkę pod patronatem Stowarzyszenia Wiosna!
Wsparcie Szlachetnej Paczki jeszcze nigdy nie było tak proste! Wystarczy, że założysz zrzutkę patronowaną, a zebrane przez Ciebie środki trafią prosto do Stowarzyszenia Wiosna - organizatora akcji Szlachetna Paczka.

Skala akcji jest ogromna - Szlachetna Paczka to niewątpliwie jeden z najbardziej rozpoznawalnych programów społecznych w kraju. To już 21. edycja akcji, a tylko w ciągu ostatnich 5 lat udało się dotrzeć z paczkami aż do 160 tysięcy rodzin w całej Polsce! Zeszłoroczna edycja programu zaangażowała w mądrą pomoc ponad 420 tysięcy Polaków. Wsparcie materialne o wartości 51 000 000 zł otrzymało ponad 14 tysięcy rodzin.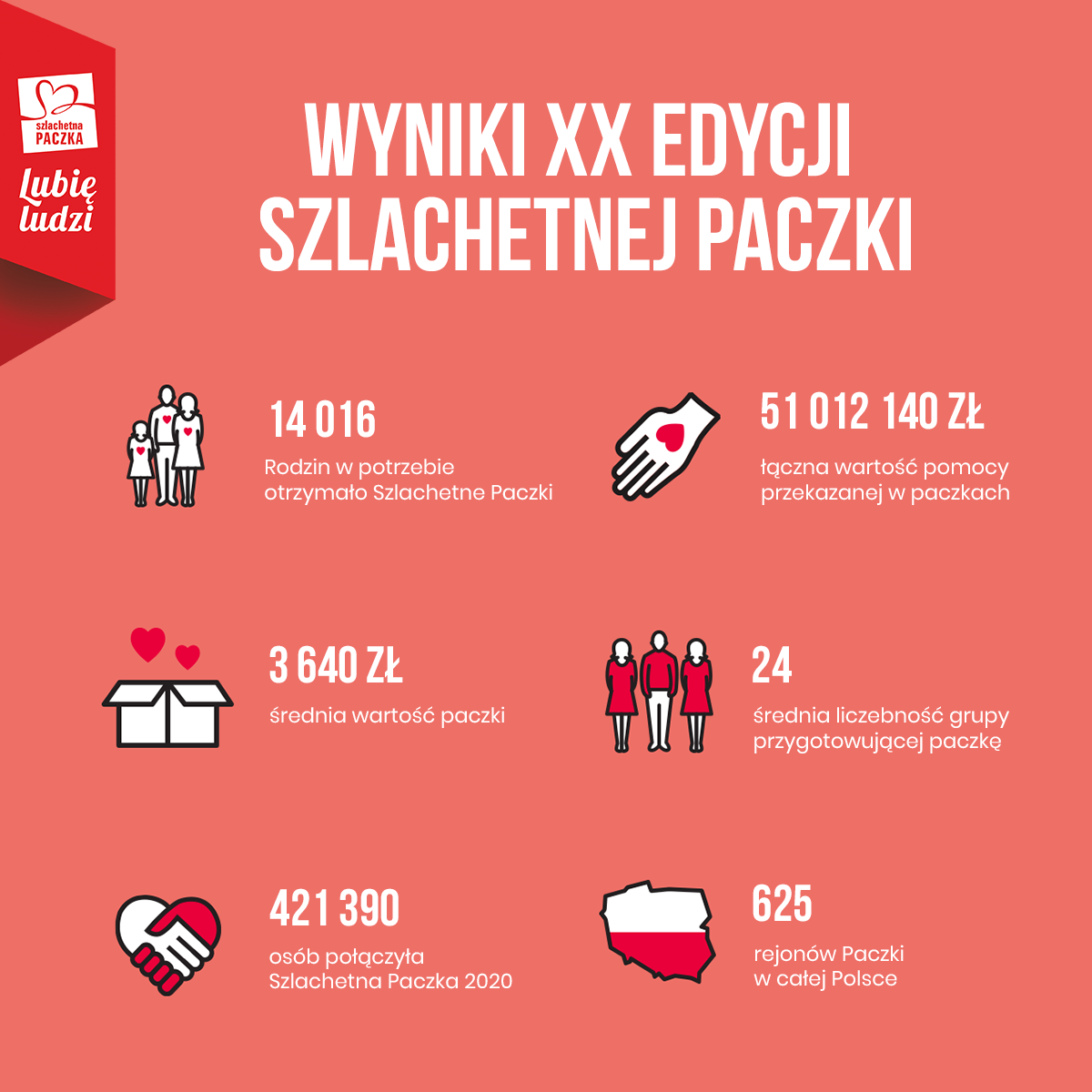 Choć akcja zwykle kojarzona jest z okresem świątecznym, wolontariusze Stowarzyszenia pracują przez cały rok - rekrutują i szkolą wolontariuszy, poszukują potrzebujących rodzin, poszukują darczyńców, koordynują przekazywanie paczek rodzinom, a także utrzymują stały kontakt z obdarowanymi rodzinami okazując im zainteresowanie i wsparcie również po przekazaniu paczki.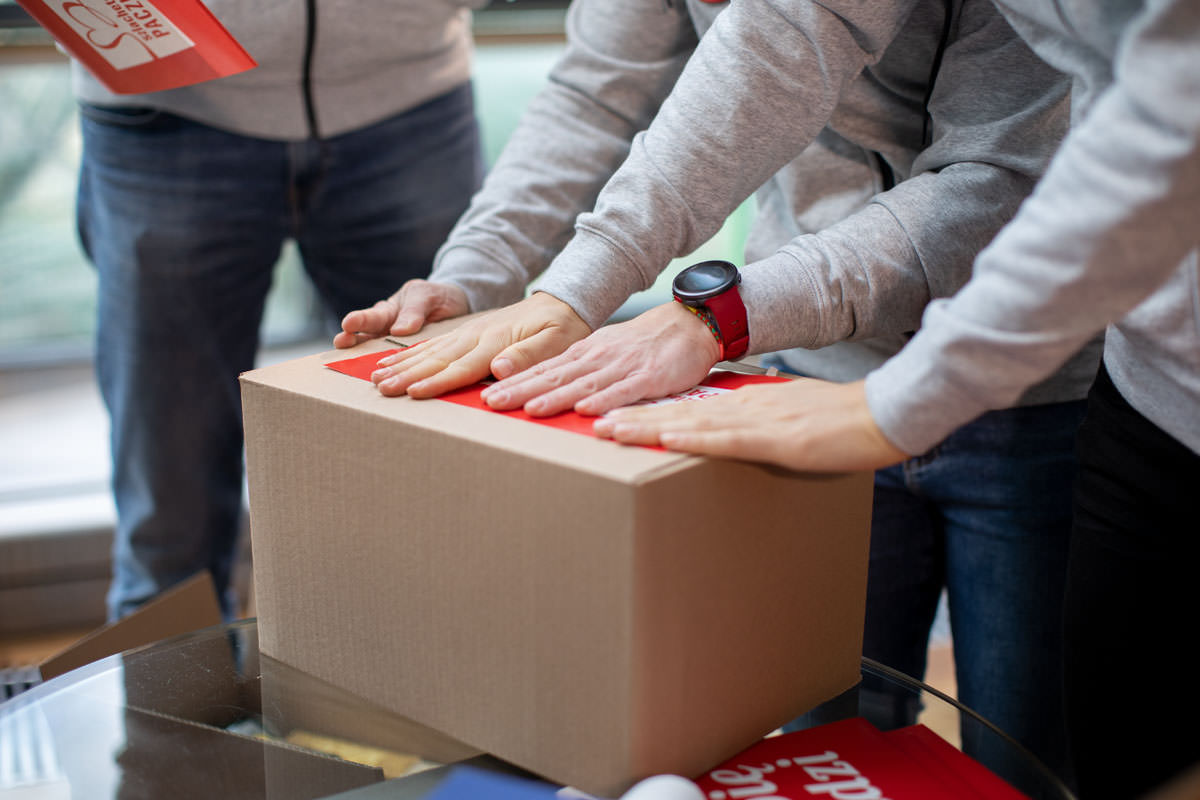 Przy tak wielkiej skali akcji nie możemy więc zapomnieć, że to co dzieje się za kulisami, czyli wszelkie działania organizacyjne Stowarzyszenia Wiosna, pochłaniają ogrom pracy i środków finansowych. Bez nich akcja Szlachetna Paczka nie mogłaby działać. Zakładając zrzutkę patronowaną, możesz wesprzeć działalność Stowarzyszenia i dalej poszerzać zasięg programu Szlachetna Paczka.
Pomóż sprawić, aby każdy potrzebujący, nawet w najdalszych zakątkach Polski, mógł otrzymać Szlachetną Paczkę! Kliknij tutaj, załóż zrzutkę patronowaną i w prosty sposób pomóż ubogim rodzinom, dzieciom, seniorom i chorym którzy liczą na Twoje wsparcie! A jeśli chcesz poznać więcej szczegółów o zrzutkach patronowanych, przeczytaj ten artykuł. A może zastanawiasz się, czy warto zostać patronem na zrzutka.pl? Daj się przekonać!
---
Zastanawiasz się nad założeniem własnej zrzutki? Zapoznaj się z informacjami poniżej!
Po pierwsze - jak to działa?
To proste - wchodzisz na zrzutka.pl (możesz też skorzystać z aplikacji mobilnej zrzutka.pl dostępnej w Sklepie Google Play oraz na App Store), podajesz dowolny cel zrzutki oraz kwotę i to wszystko - gotowe. Na utworzoną w ten sposób zrzutkę możesz od razu za darmo i błyskawicznie przyjmować wpłaty - wpłaty księgują się na Twojej zrzutce już w czasie około 1 minuty od ich zlecenia przez wpłacającego! Środki ze swojej zrzutki wypłacasz kiedy chcesz i tak często jak tego potrzebujesz, a dzięki opcji ekspresowych wypłat otrzymasz je na swoje konto w ciągu kilku minut od zlecenia wypłaty! Ważne - zrzutka.pl utrzymuje się głównie z darowizn - portalu możesz używać w 100% za darmo. Nie pobieramy żadnych obowiązkowych opłat od organizatorów zrzutek ani od wspierających - sprawdź.
Po drugie - czy to działa?
530 000 zrzutek, ponad 300 000 000 zł zebrane na zrzutkach. Nasi użytkownicy oceniają nas na niemal 5/5 na ponad 2 000 opinii w Sklepie Google Play zobacz opinie i na niemal 9/10 na naszej stronie z ocenami (ponad 2 000 opinii) - sprawdź opinie. Również nasza aplikacja w App Store posiada analogiczne oceny (niemal 5/5). Zrzutki prywatne, np. na prezenty urodzinowe, zrzutki na realizację marzeń, zrzutki projektowe, zrzutki charytatywne, zrzutka na #SerceJulki, która zebrała ponad 1 900 000 zł, zrzutka dla Zhiry - psa-ratownika, która zebrała ponad 70 000 zł w ciągu zaledwie 30 minut - to tylko przykłady. Na zrzutka.pl zbierasz na dowolne, ustalone przez Ciebie cele!
a. Rekordowa zrzutka na ponad 1 900 000 zł:
b. Rekordowo szybka zrzutka (ponad 70 000 zł w 30 minut):

c. Nasz wybór najciekawszych zrzutek znajdziesz na stronie głównej zrzutka.pl.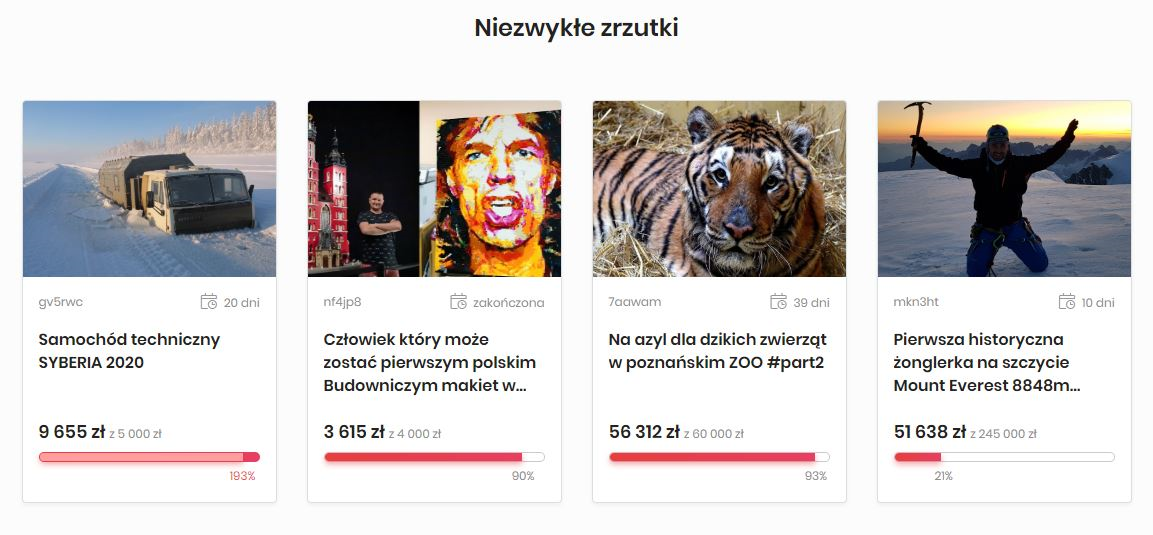 Zrzutka.pl to jednak przede wszystkim dziesiątki tysięcy zrzutek prywatnych - urodzinowych, wyjazdowych, mających na celu rozliczenie wspólnych inicjatyw i innych. Jeśli chcesz przejrzeć więcej zrzutek - skorzystaj z naszej wyszukiwarki.

'Zwykła' zrzutka.pl to nie wszystko! Ostatnio dodaliśmy nowy serwis w ramach naszego portalu. Zrzutka cykliczna to rozwiązanie dla każdego, kto ma coś do zaoferowania swoim odbiorcom bądź po prostu chce umożliwić chętnym stałe wspieranie swojej zrzutki - oczywiście w modelu subskrypcji. Wspierający wpłacają comiesięczne kwoty na konto organizatorów. Organizatorzy dostają możliwość rozwoju swoich pasji i talentów, a wspierający – wspaniałe nagrody i satysfakcję ze wspierania ciekawych projektów! Brzmi interesująco? Tutaj sprawdzisz jak to działa.


Zrzutka cykliczna oraz zwykła zrzutka to też nie wszystko! Dzięki zrzutce patronowanej, zbierzesz pieniądze dla organizacji, z której celami najlepiej się identyfikujesz! Logo wybranej przez Ciebie fundacji/organizacji (wraz z informacją o tym, że objęła ona patronatem Twoją akcję) ozdobi widok Twojej zrzutki. Prowadzisz fundację lub inną organizację? Chcesz, aby użytkownicy zrzutka.pl mogli zbierać pieniądze właśnie dla Ciebie i na realizację Twoich celów? Dołącz do innych Patronów! Aby dodać swoją organizację, przejdź trzy proste kroki opisane tutaj (w sekcji "Jak zostać Patronem?").

Jeśli nadal masz pytania lub wahasz się czy możesz założyć zrzutkę - napisz!
---