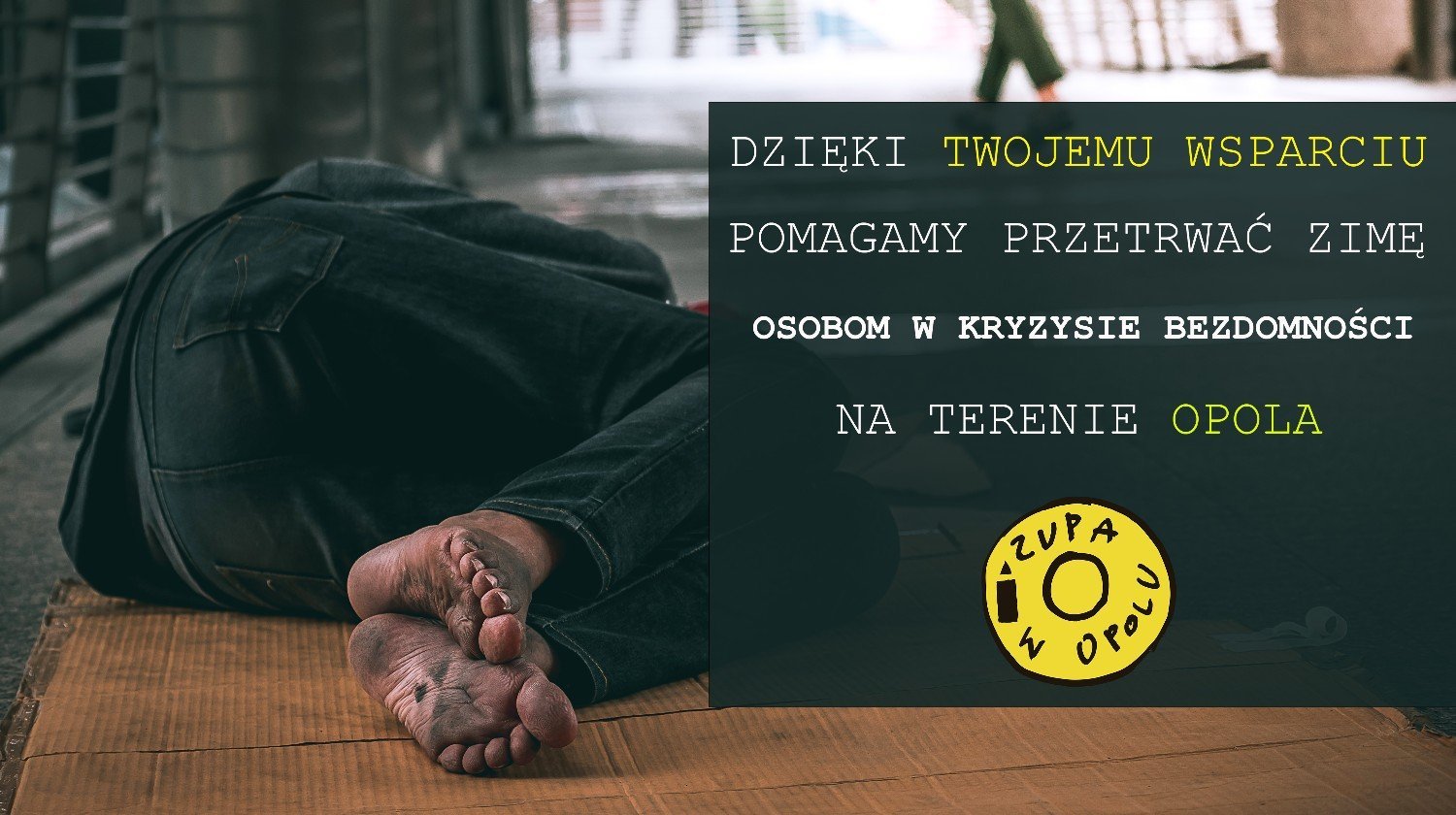 id: rzhb6f
Na śpiwory dla osób bezdomnych w Opolu
Na śpiwory dla osób bezdomnych w Opolu
Our users created 1 035 711 fundraisers and raised 1 103 498 810 zł
What will you fundraise for today?
Description
Co robisz, gdy jest Ci zimno?
Parzysz gorącą herbatę z dodatkiem cytryny, imbiru, miodu?
Zażywasz gorącej kąpieli?
Otulasz się ciepłym kocem?
Jesteś w domu.
Każdy z nas choć raz w swoim życiu zaznał przenikliwego zimna; wiatru, który przeszywa na wskroś. Wraz z tym nieprzyjemnym uczuciem doznajemy jednak innego - nadziei. Nadziei, że za chwilę, w murach swojego domu, ogrzejemy się na swój ulubiony sposób. Ta nadzieja pozwala nam znieść wszystko. Wichurę, deszcz, zamieć śnieżną, niskie temperatury. Wiemy bowiem, że za chwilę zatrzaśniemy drzwi i zrobi się cicho, sucho, ciepło i bezpiecznie.
Nie wszyscy jednak mają to szczęście. Dla niektórych ludzi chłód kończy się dopiero wtedy, gdy robi się cieplej na zewnątrz. Deszcz wtedy, gdy przestaje padać. Tym właśnie ludziom, osobom w kryzysie bezdomności, Fundacja "Zupa w Opolu" niesie pomoc.
"Zupa w Opolu" to nie tylko akcja wydawania posiłków osobom bezdomnym i potrzebującym. Pod opolską galerią handlową "Solaris", w każdą sobotę wydajemy ok. 90 porcji zupy i kanapek. Staramy się, by każdy, kto do nas przyjdzie po pomoc odczuł życzliwe wsparcie. Posiłek to okazja do nawiązania kontaktu i rozmowy. Pomagamy w rozwiązywaniu problemów, znajdujemy pracę, zapewniamy opiekę medyczną. Chętnych kierujemy na trudną drogę do wyjścia z bezdomności.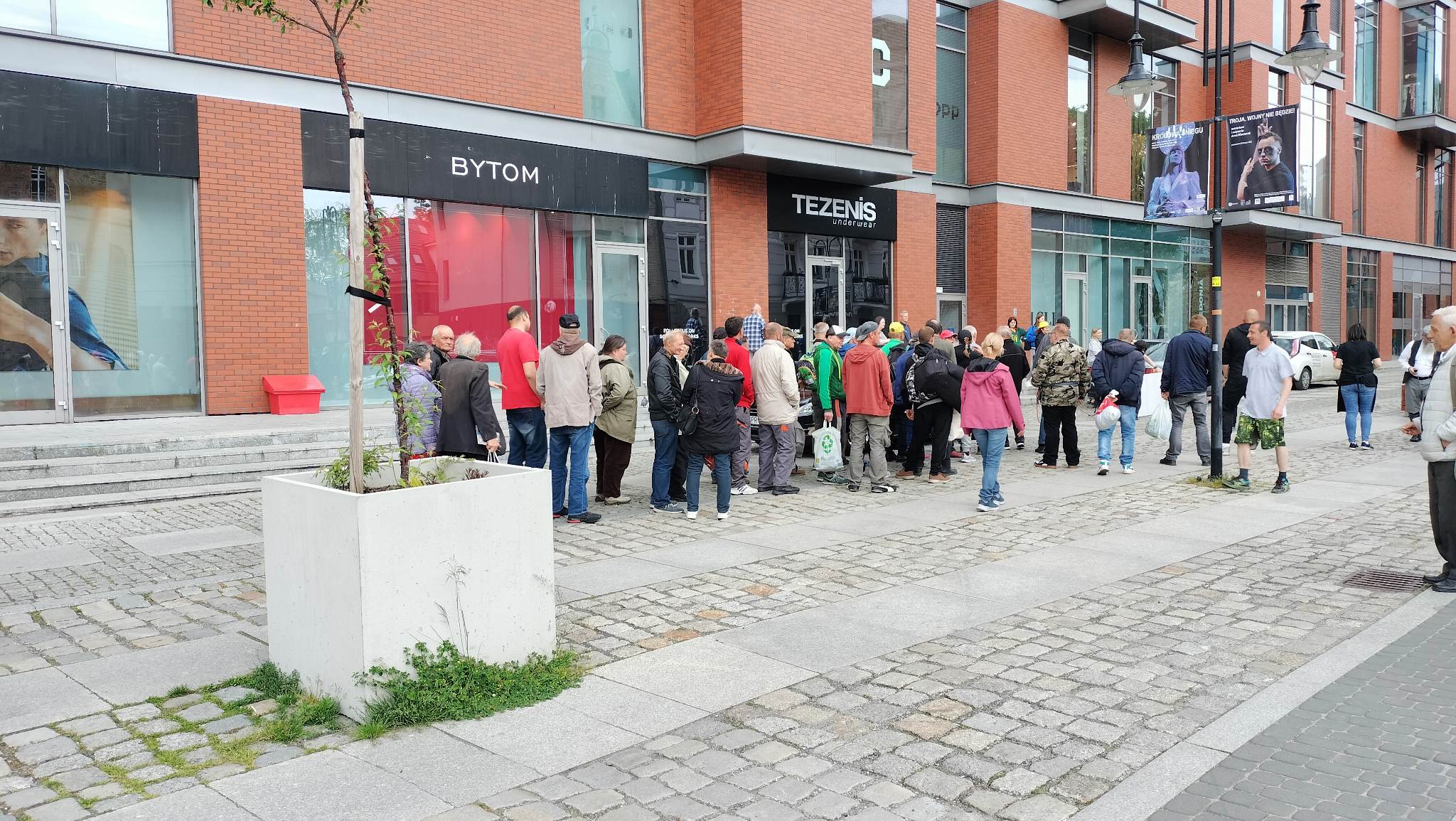 W każdą sobotę, na placu pod CH Solaris, czeka na nas spora kolejka osób w kryzysie bezdomności oraz ubogich.
W każdy piątek spotykamy się z naszymi podopiecznymi, by tworzyć wspólnotę. W samotności trudno zdecydować się na zmiany. Staramy się więc wspólnie tworzyć atmosferę zaufania, by pojawiła się u naszych podopiecznych gotowość. Prowadzimy warsztaty, prelekcje, razem gotujemy, oglądamy filmy, organizujemy wycieczki, śmiejemy się, żartujemy, płaczemy i rozmawiamy. Wspieramy na różnych etapach życia. Już dziś, po roku działań piątkowych, widzimy ich potrzebę i skuteczność.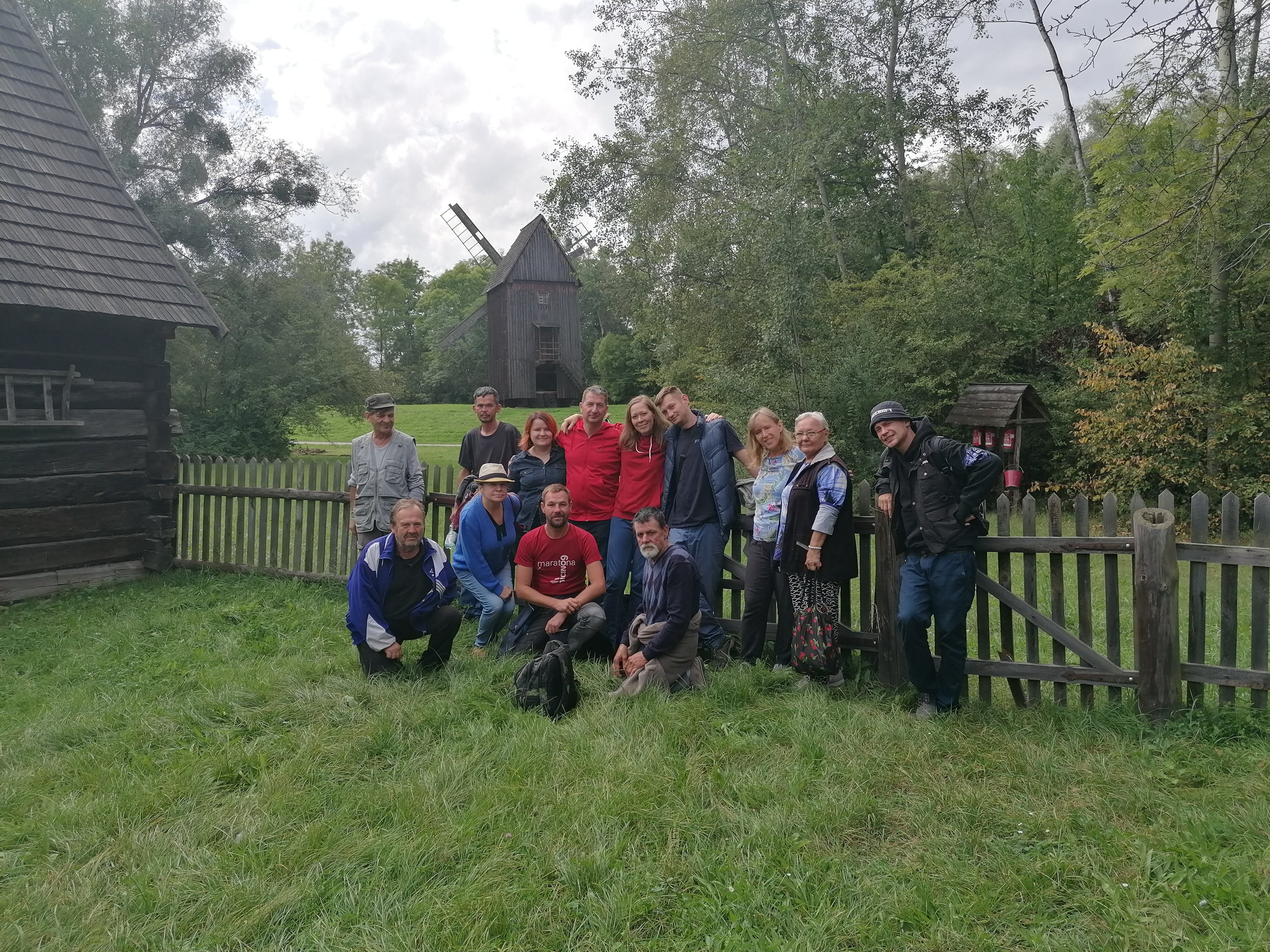 Wycieczka do Muzeum Wsi Opolskiej.
Nasi streetworkerzy działają codziennie na ulicach, w pustostanach, parkach, wszędzie tam, gdzie osoby w kryzysie bezdomności organizują sobie swoją mieszkalną przestrzeń. Docieramy do nich z doraźną pomocą medyczną, dostarczamy ubrania i posiłki, zawieramy kontrakty. Pomagamy wyjechać na detoks, terapię, organizujemy tymczasowe schronienia. Działamy w duchu redukcji szkód. Co to oznacza? Pomoc bezwarunkową. Bez oceniania. Kiedy spotykamy człowieka leżącego na gołej ziemi przy niskiej temperaturze, nie zastanawiamy się ile jest w tym jego własnej winy. Najważniejsze jest dla nas zabezpieczenie jego życia. Dlaczego to robimy? Ponieważ wierzymy, że jego sytuacja może ulec zmianie, że może nadejść moment gotowości. By taki moment gotowości nadszedł, musimy najpierw zabezpieczyć życie. Wiedza i doświadczenie podtrzymuje naszą wiarę w to, że ma to sens i że takie zmiany są możliwe.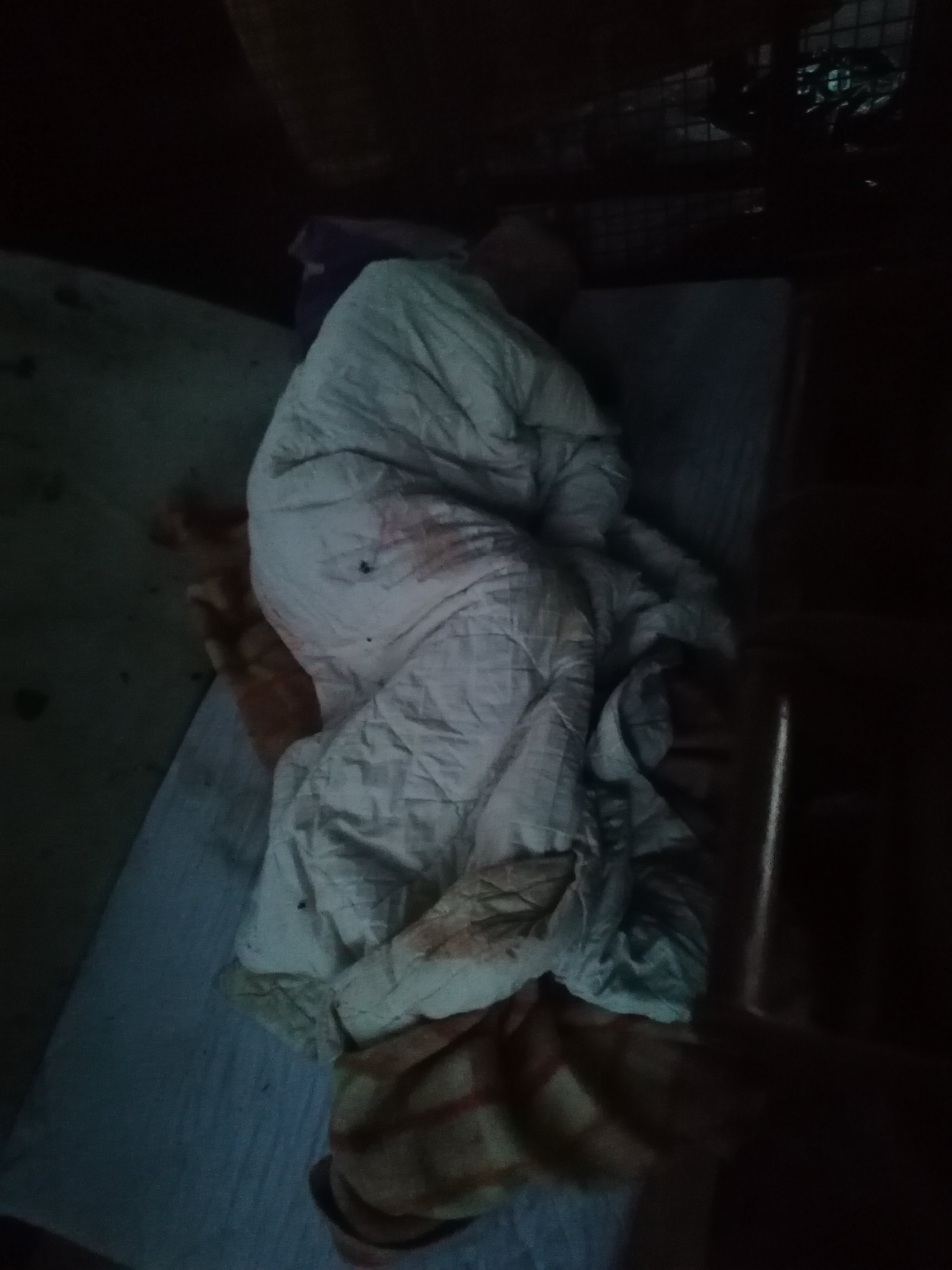 W pracy streetworkera spotykamy się z sytuacjami bardzo trudnymi emocjonalnie.
Wszystko to jednak nie byłoby możliwe, gdyby nie Wasza pomoc. Za każdym razem okazujecie wielkie serce tym, którym w życiu powodzi się gorzej. Otrzymujemy od Was ogromną pomoc, dzięki której możemy karmić, ubierać, opatrywać rany i zabezpieczać przed zimnem. Nie sposób wyrazić naszej wdzięczności słowami. Jesteśmy dumni, że mamy takich opolan!
Dziś prosimy Was o wsparcie zrzutki na śpiwory dla osób w kryzysie bezdomności. Jak co roku potrzebujemy ich około 100. Koszt jednej sztuki to 119 zł. Staramy się, aby śpiwór dla osoby bezdomnej miał jak najlepsze parametry, zapewniające ciepło nawet przy ujemnej temperaturze. By jednocześnie był lekki tak, aby można było przenosić go z miejsca na miejsce. Niektórzy z naszych podopiecznych to osoby niepełnosprawne, starsze i schorowane. Planujemy zakup śpiworów typu "Meteor Freedom", ponieważ w zeszłym roku analogiczne śpiwory spełniły swoją rolę i otrzymały pozytywne opinie nie tylko od nas, ale przede wszystkim od naszych podopiecznych.
Bardzo Was prosimy o pomoc w ich zakupie. Wierzymy, że razem możemy więcej!
The world's first card for receiving payments. The Payment Card.
The world's first card for receiving payments. The Payment Card.
Find out more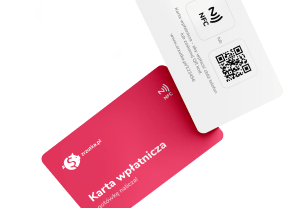 Buy, Support, Sell, Add.
Buy, Support, Sell, Add. Read more
Help the Organiser even more!
Add your reward - you sell, and the funds go directly to the fundraiser. Read more.
This fundraiser does not have any rewards!