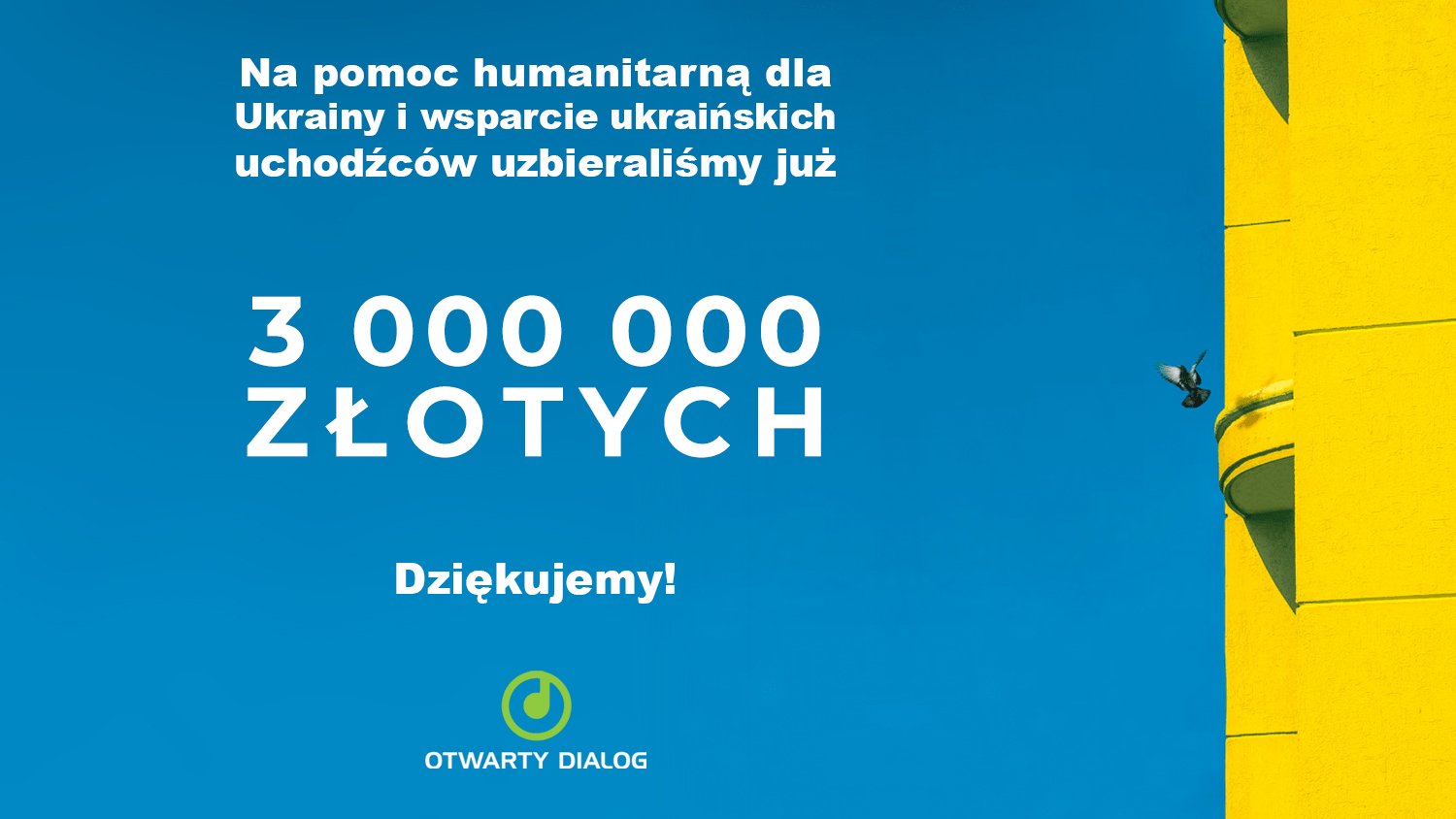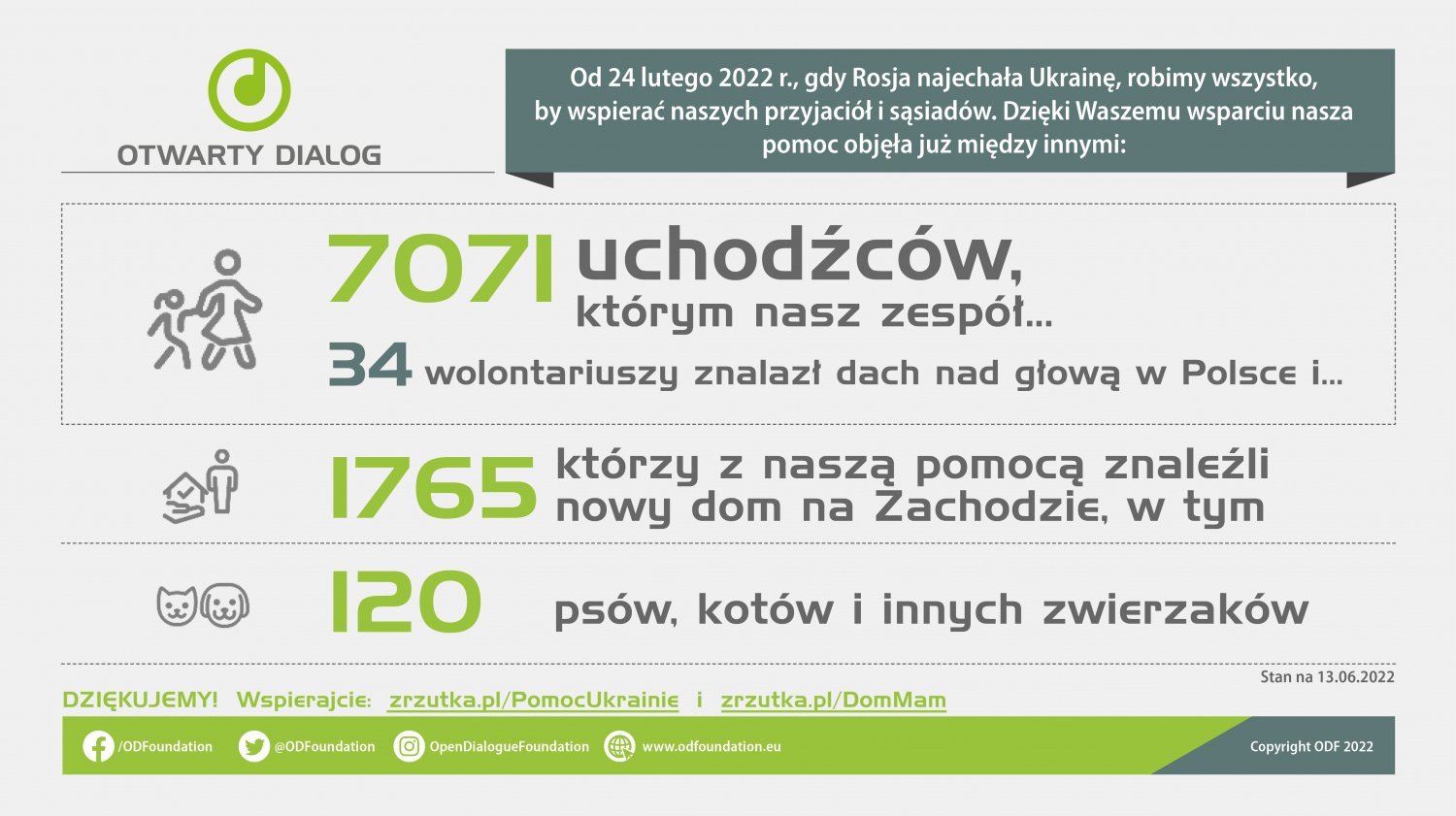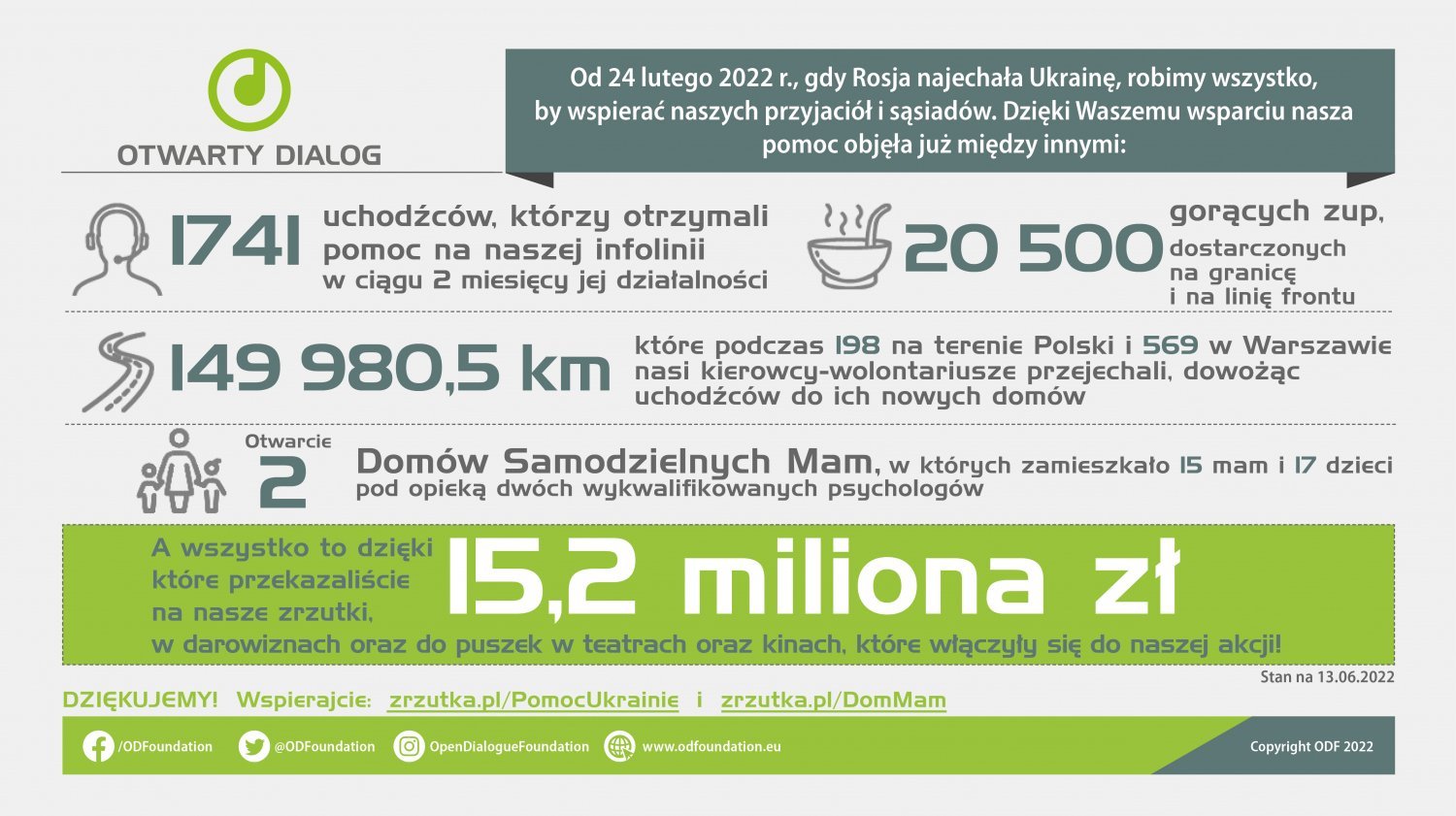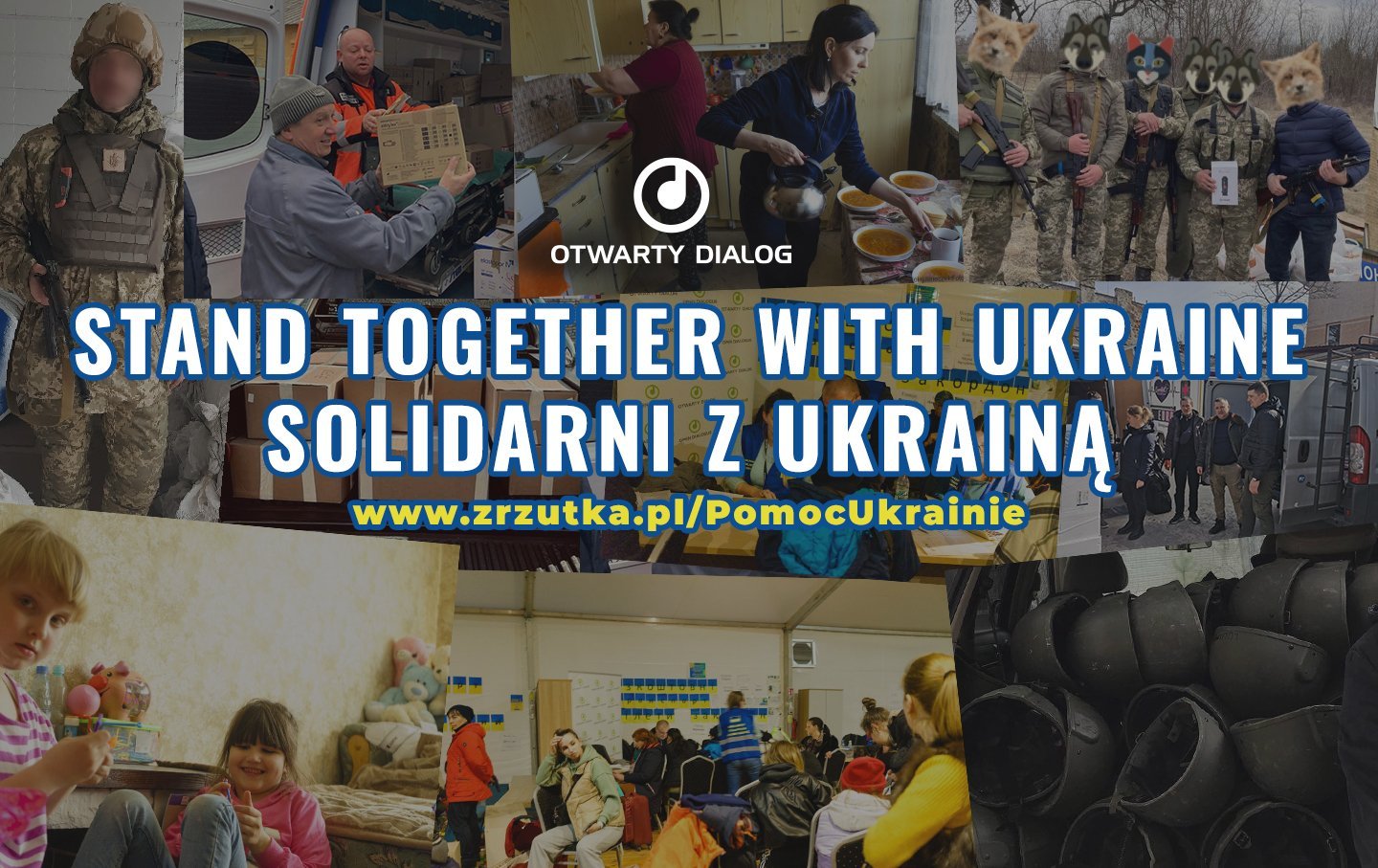 id: ba64zt
POMOC UKRAINIE / UKRAINE EMERGENCY AID #PomocUkrainie / HELP UKRAINE/ UKRAINE EMERGENCY AID #PomocUkrainie
POMOC UKRAINIE / UKRAINE EMERGENCY AID #PomocUkrainie / HELP UKRAINE/ UKRAINE EMERGENCY AID #PomocUkrainie
Our users created 916 808 whip-rounds and collected 884 328 095 zł
What are you collecting for today?
Zobaczcie poniżej, jak dzięki Wam udało nam się pomóc Ukrainie od momentu inwazji! Jesteście wielcy! Nie poddawajmy się, tak jak nie poddają się dzielni Ukraińcy, i pomagajmy dalej - aż do zwycięstwa i wypchnięcia najeźdźców z Ukrainy!

No comments yet, be first to comment!

Read more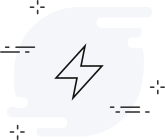 There are no updates yet.
Description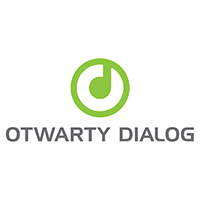 Od 24 lutego, gdy Rosja najechała Ukrainę, robimy wszystko by wspierać naszych przyjaciół i sąsiadów. Ukraińcy bronią dziś Polski, Europy i wartości całego Zachodu - płacąc za to najwyższą cenę. Nie zostawimy ich samych!
🇺🇦 Українська версія - НИЖЧЕ
🇬🇧 English version - LINK
W latach 2013-2016 na dużą skalę prowadziliśmy zbiórki i akcje pomocy humanitarnej na rzecz wsparcia protestujących na Majdanie, a następnie ukraińskiego społeczeństwa i żołnierzy w związku z agresją rozpoczętą przez Rosję w marcu 2014 roku. Mamy w tym doświadczenie, a obecna sytuacja nakazuje nam wznowienie tych działań. Wspierały nas wtedy tysiące darczyńcow w całej Polsce - dziś znów musimy odwołać się do Waszej ofiarności. Niżej przypominamy podsumowania tego co - dzięki Wam - udało się wtedy zrobić i jak nieśliśmy pomoc Ukrainie i ukraińskim uchodźcom w pierwszych dwóch miesiącach wojny po agresji wojsk Putina na Ukrainę pod koniec lutego br.
Dzięki Waszemu wsparciu w od marca 2022 roku zebraliśmy już ponad 15,2 milionów złotych na pomoc humanitarną dla Ukrainy. Środki te - przesłane do nas w formie darowizn na portalu zrzutka.pl, konta bankowe, wysłane przez PayPal czy zebrane podczas kwest w warszawskich teatrach - zostały przeznaczone na wysyłkę pomocy humanitarnej do Ukrainy oraz wsparcie ukraińskich uchodźców w znalezieniu schronienia w Polsce i w innych krajach Unii Europejskiej. 
Nasza pomoc objęła 56 transportów. W ich ramach dostarczyliśmy na Ukrainę prawie 58 tys. sztuk sprzętu, w tym 5448 kamizelek kuloodpornych i 587 wkładów balistycznych, 1012 hełmów, 144 noktowizory i termowizory, 8 dronów rozpoznawczych, 86 przenośnych radiostacji, 2 karetki, 2 respiratory i tysiące sztuk sprzętu taktycznego i materiałów medycznych.
Obok wysyłki pomocy humanitarnej za wschodnią granicę, nasze działania obejmują także wsparcie dla ukraińskich uchodżców. Dzięki pomocy naszych wspaniałych wolontariuszy, udało się znaleźć dach nad głową w Polsce dla 7071 uchodźców. Pomogliśmy też w relokacji do innych krajów Unii Europejskiej 1765 osób oraz 120 kotów, psów i innych zwierzaków. Transportując osoby uchodźcze z granicy Ukrainy w głąb Polski, 40-stka naszych kierowców pokonała prawie 200 tysięcy kilometrów - tj. odległość równą np. 29 przelotom Warszawa-Nowy Jork!
Otworzyliśmy też dwa Domy dla Samodzielnych Mam z Ukrainy - jeden w Jakubowiźnie, drugi w Warszawie na Alejach Ujazdowskich. Schronienie znalazło w nim już 15 mam i ich 17 pociech, którym chcemy zapewnić start w nowe życie w Polsce - pomagamy w znalezieniu pracy, zapewniamy opiekę terapeutyczną i tworzymy wspólnoty, w ramach których kobiety wspierają się nawzajem. 
Obok wyżej wymienionych działań nasza pomoc to także szereg innych akcji, jak dostarczenie 20 500 gorących zup na granicę i na linię frontu, tysiące tymczasowych noclegów dla osób czekających na relokacje i wiele, wiele innych. I wcale nie zamierzamy zwalniać tempa…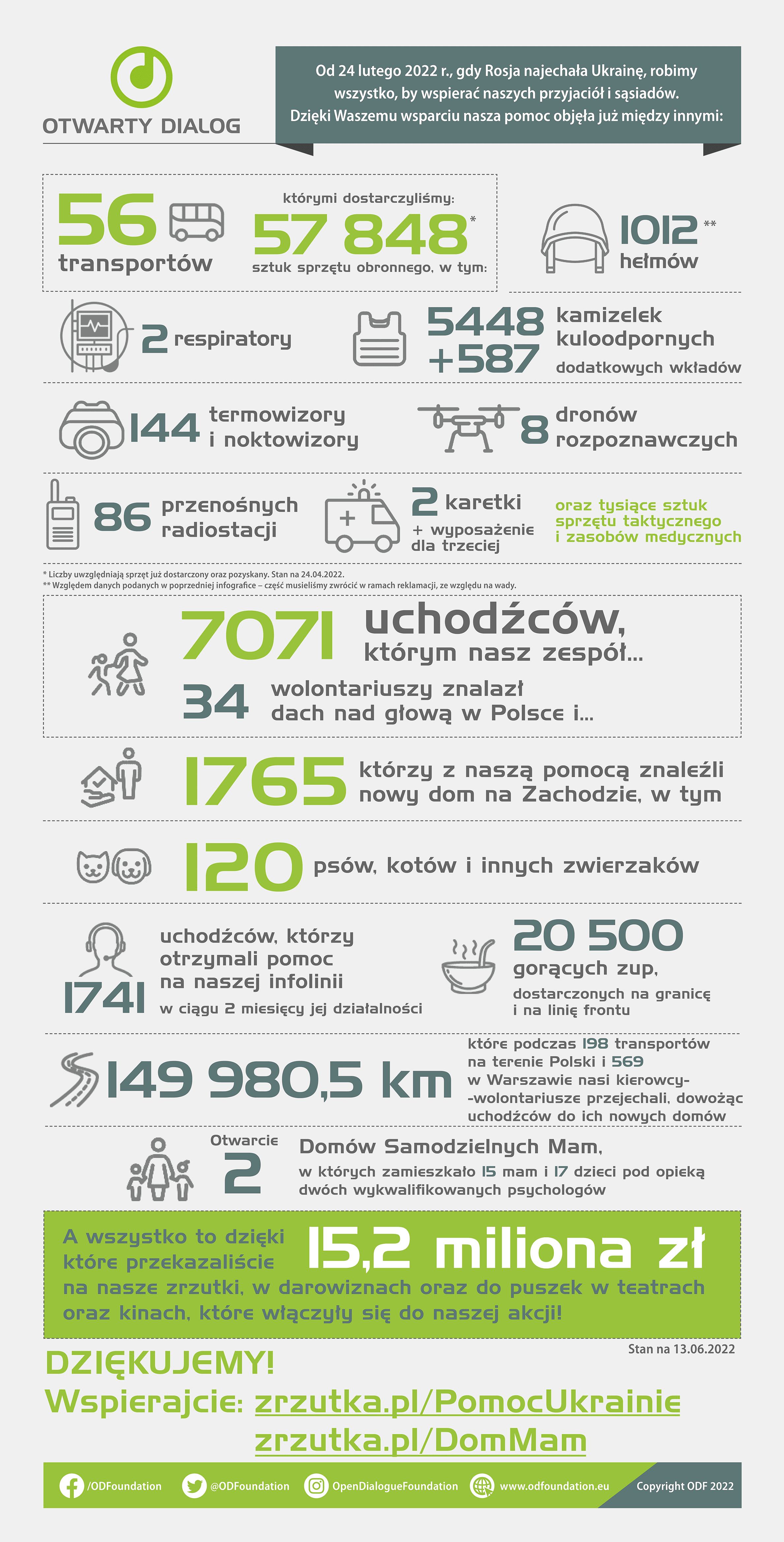 Dziękujemy, że jesteście, a jeśli podoba Wam się co robimy, cały czas można nas wspierać na: zrzutka.pl/ba64zt & zrzutka.pl/DomMam. Ukraińcy potrzebują dziś nie tylko solidarności, ale i bezpośredniej pomocy. Liczy się każda złotówka. Pokażmy, że sprzeciw wobec agresji Putina i solidarność wobec cierpienia naszych sąsiadów nie są pustymi deklaracjami. Środki zebrane w ramach zbiórki zostaną przekazane albo bezpośrednio do Ukrainy albo w formie pomocy humanitarnej Ukraińcom. Jak zawsze, szczegółowo się też z nich rozliczymy.
***
Fundacja Otwarty Dialog (ODF), założona w Polsce w 2009 r., specjalizuje się w obronie demokracji, praworządności i praw człowieka, w szczególności na obszarze post-sowieckim, a od 2017 roku także w Polsce. ODF była pierwszą zagraniczną organizacją pozarządową, która bezpośrednio wsparła walczących o wolność Ukraińców podczas Euromajdanu i w późniejszych latach wojny w Donbasie, zbierając i przekazując wsparcie o wartości ponad 1 miliona zł w latach 2013-14 i ponad 200 tysięcy zł w 2015 roku. Dostarczyliśmy wówczas ponad 42 tony transportów z pomocą humanitarną, w tym ponad 12 tys. opakowań leków, ponad 500 zestawów medycznych, setki kamizelek kuloodpornych i hełmów ochronnych, jak również ambulanse ratujące żołnierzy na froncie (zobacz szczegółowe podsumowania i rozliczenia tu i tu).
Transparentność i odpowiedzialność przed naszymi darczyńcami traktujemy bardzo poważnie. W ostatnich latach, wraz z zaprzyjaźnionymi aktywistami, ruchami i organizacjami społecznymi z sukcesem zorganizowaliśmy i rozliczyliśmy wiele zbiórek promowanych na portalu zrzutka.pl, m.in.:
Kontakt w sprawie zapotrzebowania: [email protected]
Kontakt w sprawie dostaw (prosimy o kontakt tylko dostawców kamizelek/hełmów i wyposażenia wojskowego art. pierwszej pomocy): [email protected]
Kontakt wyłącznie dla mediów: [email protected] (inne tematy pozostaną bez odpowiedzi)
Numer konta PLN: Fundacja Otwarty Dialog, 42 1140 2004 0000 3502 7758 3001, mBank S.A.
🇺🇦 Українська версія - НИЖЧЕ
🇬🇧 English version - LINK
З 24 лютого, відколи росія вторглася в Україну, ми робимо усе, щоб підтримати наших друзів і сусідів.  Українці сьогодні захищають Польщу, Європу та цінності всього Заходу і платять за це найвищу ціну. Ми не залишимо їх у біді!
З 2013 по 2016 рік ми проводили масштабні збори та кампанії гуманітарної допомоги на підтримку протестувальників на Майдані, а потім українського народу та солдатів після агресії, започаткованої Росією у березні 2014 року. Ми маємо досвід у цьому, і нинішня ситуація зобов'язує нас відновити цю діяльність. Тоді нас підтримали тисячі людей по всій Польщі – сьогодні ми знову звертаємось до вашої щедрості. Нижче наводиться коротка інформація про те, що нам тоді вдалося зробити завдяки Вашій допомозі і як ми змогли допомогти Україні та українським біженцям у перші два місяці війни — військової агресії Путіна проти України, розв'язаної наприкінці лютого цього року.
Завдяки вашій підтримці протягом березня-квітня 2022 року ми зібрали понад 14 мільйонів злотих на гуманітарну допомогу для України. Ці кошти — надіслані нам у вигляді пожертв на порталі zrzutka.pl, переказів з банківських рахунків, надісланих через PayPal або зібрані під час кампаній зі збору коштів у варшавських театрах — були використані для відправки гуманітарної допомоги в Україну та підтримки українських біженців, які шукали притулку в Польщі та інших країнах Європейського Союзу.
Наша допомога в березні-квітні нараховує 45 перевезень. У рамках цих перевезень ми доставили в Україну майже 57 тис. одиниць техніки, зокрема 5 097 бронежилетів та 500 балістичних вставок, 978 касок, 141 прилад нічного бачення та тепловізор, 6 розвідувальних дронів, 80 портативних радіостанцій, 2 карети швидкої допомоги, 2 апарати  штучної вентиляції легень, тисячі одиниць тактичного спорядження та медичного обладнання.
Окрім надання гуманітарної допомоги через східний кордон, наша діяльність також включає підтримку українських біженців. Протягом березня-квітня, завдяки допомозі наших чудових волонтерів, нам вдалося знайти прихисток в Польщі для 5 000 біженців. Ми також допомогли у переселенні 952 людей та 50 котів, собак та інших домашніх тварин до інших країн ЄС. Перевозячи біженців від українського кордону до Польщі, 40 наших водіїв проїхали 142 000 кілометрів – це відстань, еквівалентна 20 рейсам між Варшавою та Нью-Йорком!
Ми також відкрили два Будинки для незалежних матерів з України — один у Якубовізні та один на Алеї Уяздовській у Варшаві. У ньому ми вже надали прихисток 15 матерям та їхнім 17 дітям, яким ми хочемо допомогти почати нове життя в Польщі — ми допомагаємо їм знайти роботу, надаємо терапевтичну допомогу та створюємо таку спільноту, де жінки підтримують одна одну.
Окрім вищезазначених заходів, наша допомога включає також низку інших дій, як-от доставка 20 500 гарячих супів на кордон та на передову, тисячі тимчасових місць для проживання для людей, які очікують переїзду та інше. І ми зовсім не збираємося зупинятись...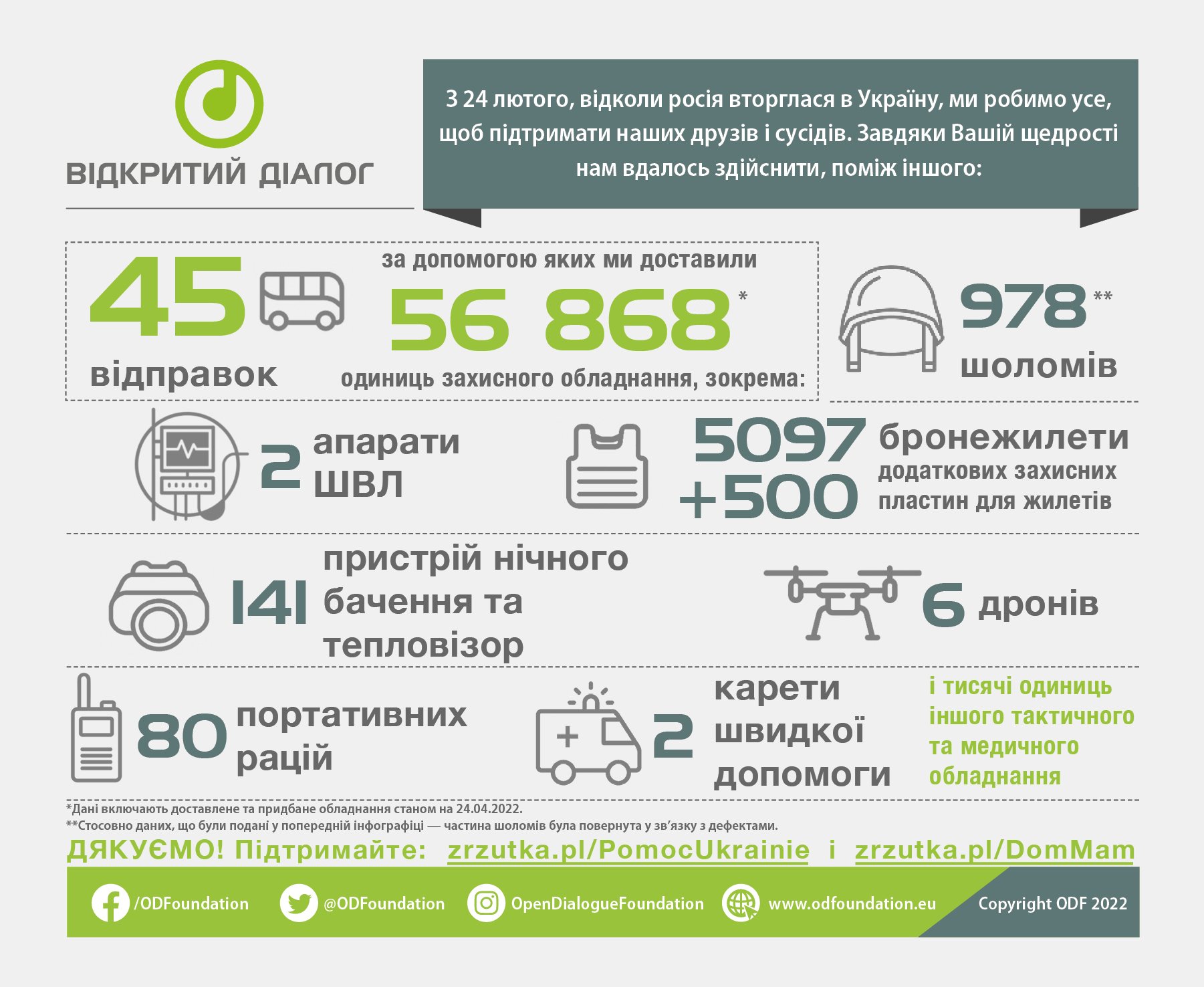 Дякуємо за те, що ви є, і якщо вам подобається те, що ми робимо, ви можете підтримати нас відвідавши сайти: Pomoc Ukrainie та zrzutka.pl/DomMam. Кожен злотий має значення — адже українці сьогодні потребують не лише солідарності, а й прямої допомоги. Давайте покажемо, що протистояння агресії путіна і солідарність із стражданнями наших сусідів — не порожні слова.
***
Фундація «Відкритий Діалог» (ФВД) заснована в Польщі у 2009 році і спеціалізується на захисті демократії, верховенства права та прав людини. ФВД була першою іноземною НУО, яка безпосередньо підтримала українських борців за свободу під час Євромайдану у 2013-2014 роках, та у наступні роки війни на Донбасі, зібравши та передавши допомогу на суму понад 1 мільйон злотих у 2013-14 роках та понад 200 000 злотих у 2015 року. За цей час ми доставили понад 42 тонни гуманітарних вантажів, включно  з понад 12 000 упаковок ліків, понад 500 медичних аптечок, сотень бронежилетів, захисних шоломів, а також машини швидкої допомоги для порятунку солдатів на передовій. (Дивіться детальні зведення та звіти тут та тут.
Ми дуже відповідально ставимося до прозорості та підзвітності перед нашими донорами. В останні роки разом з друзями-активістами, рухами та громадськими організаціями ми успішно організували та прозвітували про багато зборів коштів, що рекламуються на Zrzutka.pl, а саме:
Контакт для запитів: [email protected]
Контакт для постачання (цей контакт для постачальників жилетів/шоломів та військового спорядження предметів першої допомоги): [email protected].
Контакт тільки для ЗМІ: [email protected] (інші теми залишатимуться без відповіді).
English below: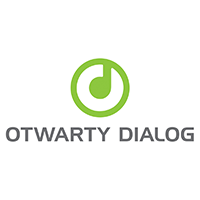 Since 24 February, when Russia invaded Ukraine, we have been doing everything to support our friends and neighbours. Today, Ukrainians are defending Poland, Europe and the values of the entire West - paying the highest price. We will not leave them alone!
In the period from 2013 to 2016, we ran large-scale collections and humanitarian aid campaigns, first in support of the Maidan protesters and then of the Ukrainian people and soldiers in the wake of the aggression launched by Russia in March 2014.  Having already had experience in this, the present state of affairs obliges us to resume this activity. Back then, we were supported by thousands of benefactors from all over Poland - today, once again, we must appeal to your generosity.  Below we remind you of the summaries of what - thanks to you - we were able to do then and how we brought help to Ukraine and Ukrainian refugees in the first two months of the war after Putin's military aggression against Ukraine at the end of February this year.
Thanks to your support during March-April 2022 we collected over PLN 14 million for humanitarian aid for Ukraine. These funds - sent to us in the form of donations to bank accounts, public collections on the zrzutka.pl portal, sent via PayPal or collected during fundraising events in Warsaw theatres - were used to send humanitarian aid to Ukraine and support Ukrainian refugees in finding shelter in Poland and other countries in the European Union. 
Our help in March-April included 45 transports. As part of these transports, we delivered nearly 57,000 pieces of equipment to Ukraine, including 5097 bulletproof vests and 500 ballistic inserts, 978 helmets, 141 night vision and thermal imaging devices, 6 reconnaissance drones, 80 portable radios, 2 ambulances, 2 ventilators and thousands of pieces of tactical equipment and medical supplies.
In addition to sending humanitarian aid across the eastern border, our activities also include support for Ukrainian refugees. During March-April, with the help of our wonderful volunteers, we managed to find a roof over the head in Poland for 5000 refugees. We also helped relocate 952 people and 50 cats, dogs and other pets to other EU countries. Transporting refugees from the Ukrainian border into Poland, 40 of our drivers have travelled 142,000 kilometres - a distance equivalent to 20 flights between Warsaw and New York!
We have also opened two Houses for Independent Mothers from Ukraine - one in Jakubowizna and one on Ujazdów Avenue in Warsaw. It has already sheltered 15 mothers and their 17 children, whom we want to help start a new life in Poland - we help them find a job, provide therapeutic care and create communities where women support each other. 
In addition to the above-mentioned activities, our assistance also includes a number of other actions, such as the delivery of 20 500 hot soups to the border and to the front line, thousands of temporary accommodations for people waiting for relocation and a number of others. And we do not intend to slow down at all...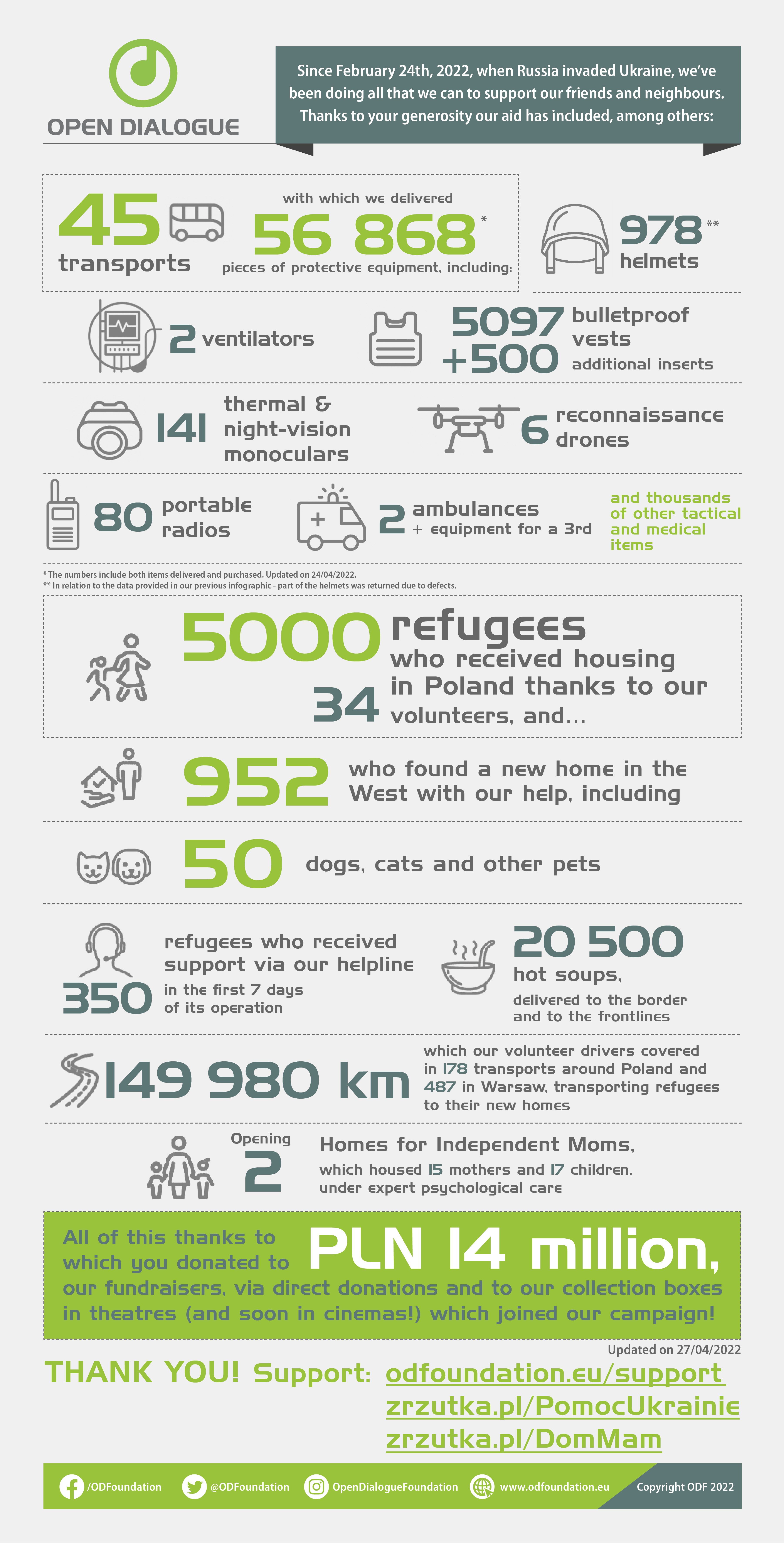 Thank you for being there, and if you like what we do, you can still support us at: zrzutka.pl/PomocUkrainie & zrzutka.pl/DomMam. Every zloty counts - as Ukrainians today need not only solidarity, but also direct help. Let's show that resistance to Putin's aggression and solidarity with the suffering of our neighbours are not just empty words.
***
The Open Dialogue Foundation (ODF), was established in Poland in 2009 and specialises in the protection of human rights, democracy and the rule of law. ODF was the first foreign NGO to directly support Ukrainian freedom fighters during the Revolution of Dignity in Kyiv's Maidan square and in the later years of the war in Donbass, collecting and donating support worth over PLN 1 million in 2013-14 and over PLN 200,000 in 2015. During that time, we delivered over 42 tonnes of aid supplies, including over 12,000 medicines, over 500 medical kits, hundreds of bulletproof vests and protective helmets, and also ambulances to rescue soldiers on the front line. (See detailed financial summaries and reports here and here).
In recent years, having the support of activist friends, movements and civil society organisations, we have successfully organised and reported on many fundraising campaigns advertised on Zrzutka.pl, among others:
Contact for requests: [email protected]
Contact for supplies (this contact is for suppliers of vests/helmets and military equipment first aid items): [email protected]
Contact for media only: [email protected] (other topics will remain unanswered)
Bank account in PLN: Fundacja Otwarty Dialog, 42 1140 2004 0000 3502 7758 3001, mBank S.A.
---
The world's first Payment Card. Your mini-terminal.
The world's first Payment Card. Your mini-terminal.
Find out more